by: Lizabeth Phoenix
Fans of Sly Cooper have been waiting for another installment in their favorite franchise for nearly a decade, and it looks like their loyalty is about to be rewarded! Recent leaks suggest that a new game could be revealed as early as this year!
If you're not familiar with Sly Cooper, Sucker Punch's original trilogy follows Sly, a suave raccoon thief, after his father's brutal murder by the notorious Fiendish Five. As he discovers more about Cooper's legacy, he faces his family's villains head-on.
A descendant of master thieves, Sly learns to treasure what is truly valuable – both his friendship with his gang, Bentley and Murray, and his relationship with Inspector Carmelita Fox–over his family's untold wealth.
When his thieving ways fail to provide true fulfillment, he chooses what life's really about. Plus, there's plenty of smooth-talking, cane-wielding cops and robbers gameplay to keep you hooked from start to finish. See what I did there? "Hooked." 'Cause of the cane? No? Fine.
All of my terrible puns aside, Sly Cooper is a resonant story that isn't afraid to lean into thought-provoking themes and give gamers a complex, character-rich plot. Not to mention, the last installment ended on a cliffhanger that fans are eager to see resolved!
If you've been following my articles (or recent gaming news!), you'll know that Sly's long-awaited return has been in the works for quite a while now. When an easter egg appeared in the 2021 PlayStation Showcase, hope exploded.
Since then, several tweets have claimed that the new Sly Cooper game is in development. Some of these leaks have been taken down, but luckily, we have pictures, thanks to my super-secret Sly source! One particular tweet by noteworthy leaker AccountNGT corroborates that a Sly Cooper game and a new Infamous are both in development.
NEW DEVELOPMENTS
Quite a few leaks have popped up online asserting that gamers can expect a Sly reveal sometime in the second half of 2022. As Sly's 20th anniversary is September 23, 2022, it would make perfect sense to tease the new title and honor the beloved franchise.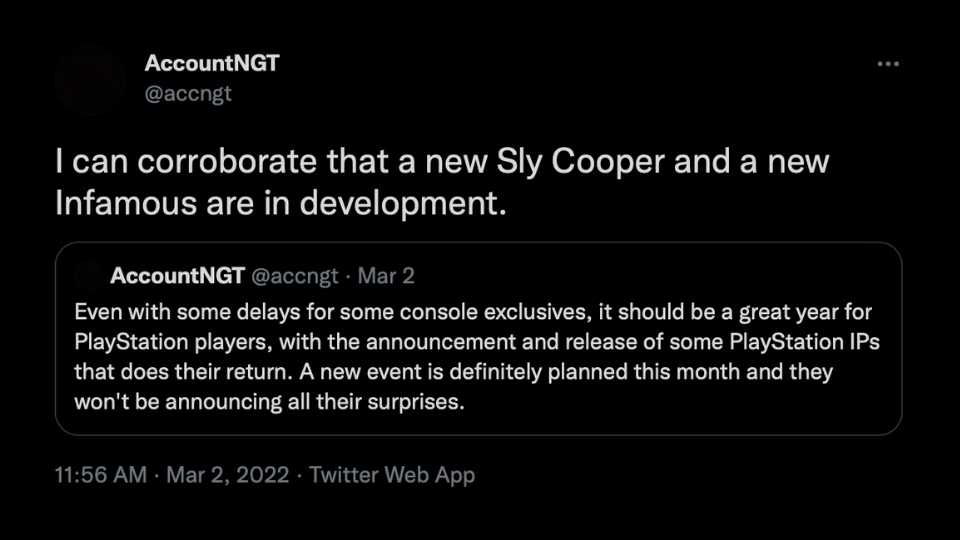 Additionally, @Shpeshal_Nick tweeted that he'd been given permission by an anonymous source to share that PixelOpus, the developer that made Concrete Genie, is suspected to be developing the game in collaboration with Sony Pictures Animation. If PixelOpus is the developer, there's a lot of pressure on them to uphold the Cooper legacy and deliver a title that not just meets fan expectations after all this time but also brings something new and canon-faithful to the table.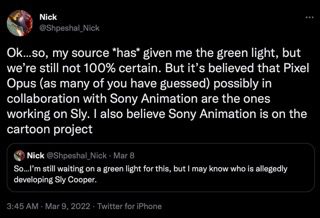 Also, surprise: Sony Pictures Animation is rumored to still be working on the Sly Cooper animated series that's been in development for several years. Again, none of this is for certain. But it's all very exciting, nonetheless! With video game adaptations like Arcane (based on League of Legends) performing so well, I can only imagine the excellence they could achieve with Sly's wisecracking persona. I appreciate animated series with grit and heart, so I'm overjoyed Sony recognizes Sly's unlimited potential.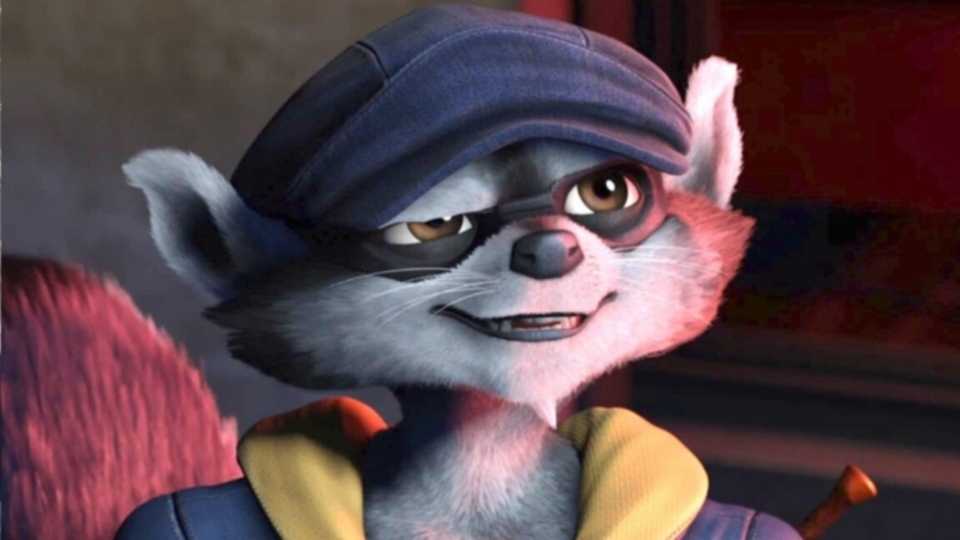 WHY IS THIS CREDIBLE?
Despite the lack of official confirmation from Sony or Sucker Punch, both AccountNGT and Shpeshal_Nick have previously shared reliable information. AccountNGT accurately shared a few images from the Star Wars: Eclipse trailer before it had even been released. Shpeshal_Nick is a well-known and reliable leaker in the online community- and has accurately shared information on many PS Plus games.
On top of that, notable gaming news outlets such as Screenrant, Gamerant, and Comicbook have all covered these new developments. If that isn't enough to convince you, Sly Cooper's domain name has been revived.
One Twitter user even shared screenshots from AccountNGT's Discord server, anticipating that it won't be a remake and might be expected sometime in 2023.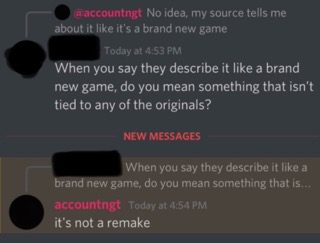 Sly Cooper: Thieves in Time left fans with a major cliffhanger in 2013, and they've been waiting to see what would happen to their favorite thief ever since. How dare they leave Sly out there in the desert all alone! I'm personally offended by this, and if Sly doesn't come back as the badass he is, someone is getting a very strongly worded letter from me. Who, I have no idea, but someone….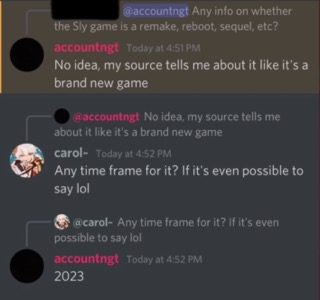 Why? Because people genuinely can't wait for Cooper's revival. Many in the Sly community have been replaying The Sly Trilogy and Sly Cooper: Thieves in Time on PS Now (now PlayStation Plus) in anticipation. It's amazing seeing everyone rally around the latest news and share their excitement, including skyrocketing Sly's popularity by making him trend on Twitter. With such credible gaming news platforms sharing their thoughts on these rumors, I think it's safe to say fans can get their hopes up for Sly's return.
Cautiously, of course. The industry regularly experiences delays due to unforeseen circumstances and development complications, so there are no concrete promises. However the number of credible recent leaks and news coverage is enough to make even the most skeptical of Sly supporters raise an eyebrow….
If you want to hear even more evidence supporting Sly's return, check out this video by Canadian Guy Eh talking about how Sly 5 might use Unreal Engine 5!
Until Sony announces it for real, I vote we do like Murray and grab a donut or two while the fans wait for more news!