Until now, the battle royale game format has been something I've enjoyed watching others play but dreaded playing myself. The multitasking is nuts: picking up and sorting a bunch of gear and weapons while staying on the move and making sure my team stays alive. So, when I heard that the next big video game in the My Hero Academia franchise would be a battle royale, I cringed a little. Of course, I was going to play it as a gamer who's a mad MHA fan. But would I be able to handle it?
After playing the recent open beta for My Hero Ultra Rumble, I can finally answer that with a resounding "HELL YEAH!" The free-to-play open beta period for MHUR ran from May 25 to June 2, 2023, and I played it on PlayStation 4. To my delight, I was able to play as my beloved Denki Kaminari, shocking everyone with lightning attacks. Plus, for a few matches, I was able to team up with fellow MHA fan and Couch Soup member Tahu250. Neither of us ranked very high in the player standings, but we had a ton of fun!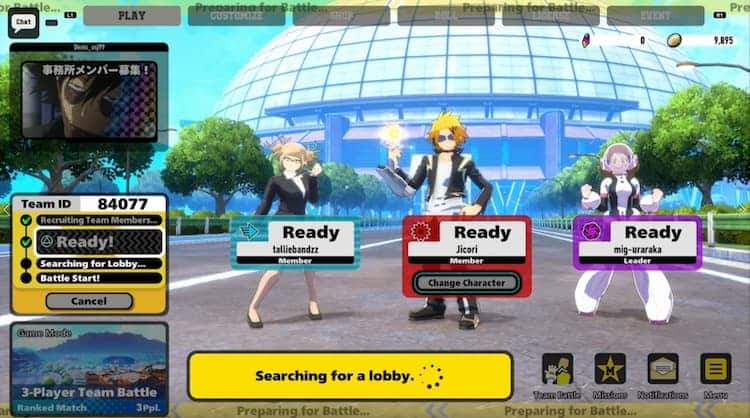 The battle royale setup in MHUR is pretty typical: team up with friends (if they're playing), select a game mode, join the battle, get assigned other players to fill any team vacancies, hang out in a lobby while other teams arrive, and then it's game on. During the open beta, there was a single PvP game mode available, and it followed this typical setup with eight 3-player teams (24 players total unless someone jumped out while in the lobby). Once the lobby was full, the battle started, and players had a few seconds to select a starting point on the map before being dropped in. The battleground had an ever-shrinking area of play, and the winning team was the last one with at least one player standing in the end.
The first thing that eased my anxiety in this battle royale was how the developers split the ability and resource systems. Instead of having to quickly find any weapon and ammo available the moment I stepped onto the battleground, my character already had a basic attack and four special abilities they could use for either assault or support. These abilities were all associated with the character's Quirk (innate superpower) in My Hero Academia, so they varied depending on the character I chose. So, no matter my luck with battleground resources, I could still serve a role as one of the game's five archetypes: Strike, Assault, Rapid, Technical, and Support.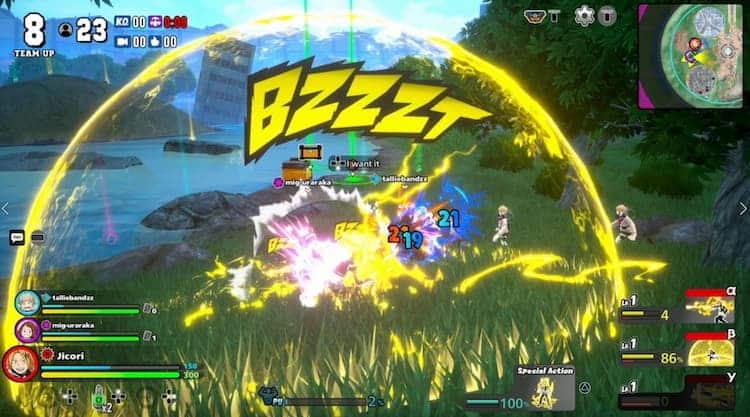 Instead of weapons and gear, those battleground resources were items used to boost a character's abilities, resist attacks, restore health, and revive teammates. As in any battle royale, MHUR players still need to hone their skills in gathering and using those resources. More efficient players will have the edge over those who hesitate or fumble their controls (yup, that's usually me). I was just starting to get the hang of it in the last few hours of the open beta.
Another anxiety relief for me in MHUR was being able to practice gameplay outside the PvP. MHUR has multiple ways to acclimate to characters and controls. The game started with a tutorial to show off the controls and what to expect on the battleground. From there, I could keep practicing with CPU-powered matches at easy, medium, and hard levels. Those CPU matches proved to be great ways for me to learn how to play new characters or to hone my resource-gathering skills.
This is not just a battle royale with a My Hero Academia skin (sorry, Fortnite!). The game developers have thought this through when it comes to making this an immersive MHA experience. In the beta, the setting for the battles was the MHA universe's Unforeseen Simulation Joint, or U.S.J. for short. It's a circular battleground with various "simulated" disaster areas like a fire zone and a flood zone. It felt like being in the U.S.J. arc during Season 1 of the My Hero Academia anime.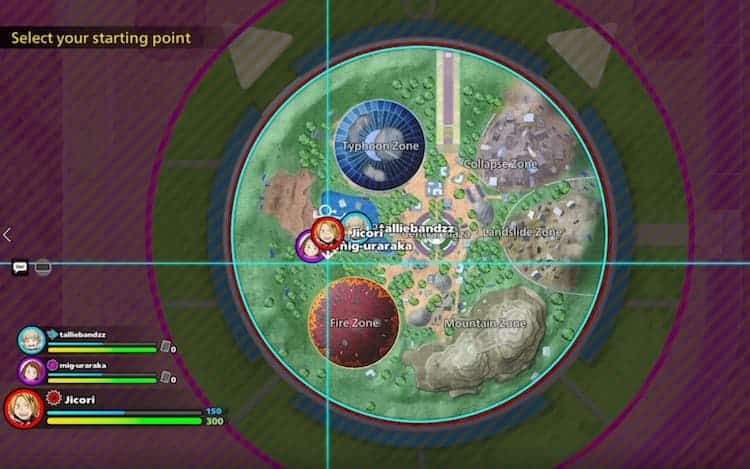 Both easing my anxiety further and adding to this immersive feel are the characters that players can choose from. They're all heroes and villains from the manga and anime series, and they're voiced by the anime cast. Their abilities align with the characters' canon abilities in MHA, so nothing felt awkward or out-of-place. The characters also have emotes and soundbites that I could use for communication with my team during each match, so I truly felt like I was playing the game as that character.
But it wasn't just that immersion that kept me playing battle after battle. The game has been designed with some popular RPG, social, and gacha game features that create a secondary game experience for the individual player. Here's a quick look at those features:
Missions – There are daily, weekly, and event missions that have micro-achievements, giving players that perfect little dopamine hit after every match. Even when I died horribly in a match, I made progress on missions and earned some of the in-game currencies.
Roll tickets – Part of MHUR's gacha game comes in the form of roll tickets, giving players chances to win some unique items and some items they might otherwise buy with in-game currency. In the beta, items had a star rating (1 to 3) that indicated their level of rarity in the game. Another in-game currency was tied to getting duplicates in rolls, so duplicate items turned into that currency.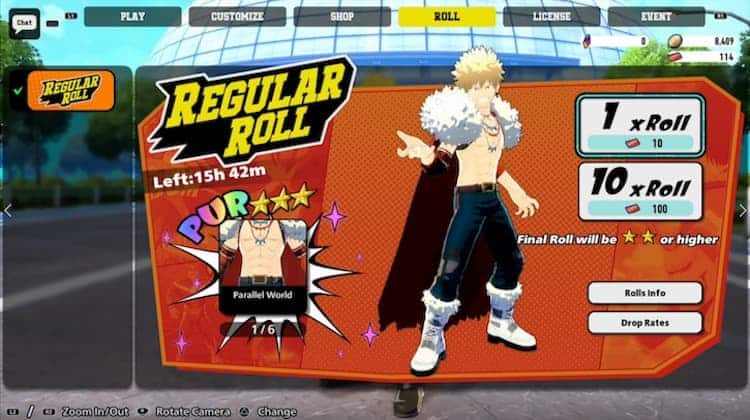 Character customization – For every character, players can customize their outfit, emote selection wheel, and voice (soundbite) selection wheel. I unlocked quite a bit of these between the roll tickets and other in-game currencies. Most outfit customizations in the beta were like shaders in Destiny that changed the color of the character's hero costume. However, the beta had some fun alternative outfits, too, like All Might's iconic yellow suit and some of the fantasy alternate universe costumes for Class A characters that were originally made popular by a piece of artwork created by MHA author Kōhei Horikoshi. My guess is that the final release of the game will gradually introduce new outfits for all the characters. (Can I get that archer Kaminari outfit from the fantasy AU, please and thank you?)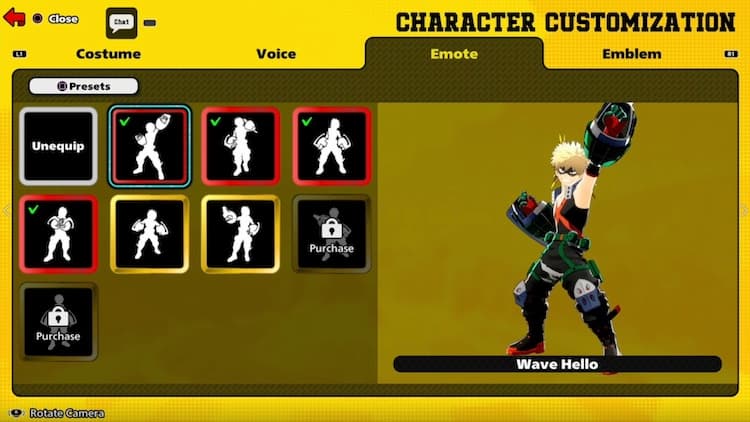 Banners and emblems – The banners and emblems in MHUR are similar to other online games in giving other players an idea of who a player is and how they like to play. I saw these across players' profiles when viewing their info during and between matches.
Agencies – This is the guild system in MHUR. A player can join an Agency with other players or create their own Agency. Being part of an Agency earns additional rewards for individual players and the Agency as a whole. There's a ranking system for Agencies, too, so players can work toward becoming the top Agency in the game.
Shop – During the MHUR beta, the in-game purchase screen was disabled. But these stores are expected for a gacha game. I'm now curious as to whether Bandai Namco will have exclusives that can only be purchased this way or if it's just an alternative to grinding the F2P roll ticket system.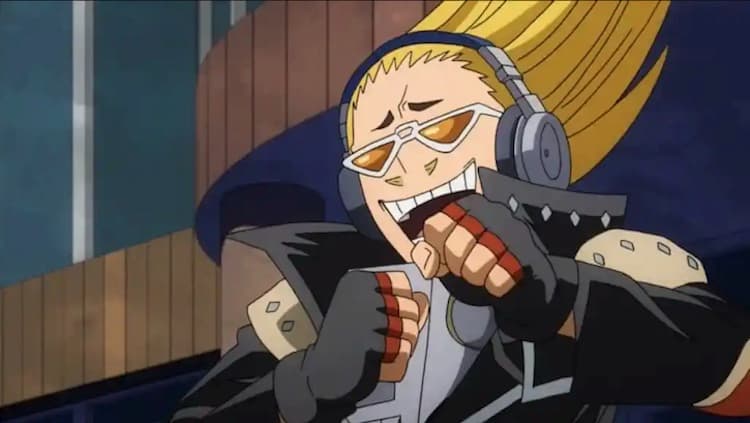 The cherry on top of relieving my anxiety was having delightful color commentary during battles, delivered by MHA's favorite DJ and event announcer, Present Mic. Something would seem missing if Mic wasn't on the mic providing his boisterous, humorous jabs throughout the match! Hearing Sonny Strait delivering the English VO for Present Mic's commentary kept me smiling even through the roughest of matches.
There are more features tucked into every corner of this game, and I've barely scratched the surface by telling you about my experience with the open beta. For now, the game developers will no doubt be rebalancing some characters and fixing a few minor glitches (typical of a beta). Based on the open beta experience, Tahu and I are both really impressed and can't wait until the final release. Bring on the rumble! Plus Ultra!