After what has felt like ages, PlayStation has finally given us another State of Play. This time, we got news and new looks at various upcoming games for the end of the year and beyond. Both 1st and 3rd party games were shown off, so there was something for everyone. From VR Ghostbusters to horror and even a dash of fantasy, I'm excited for it all. We even got new looks at Spider-Man 2 and Avatar: Frontiers of Pandora. That's a lot to take in; luckily, Couch Soup is here to break down these exciting announcements from this State of Play.
PSVR 2 is Going Strong
Things kicked off with new announcements for upcoming games coming to PSVR 2. The first is a new Ghostbusters VR game called Ghostbusters: Rise of the Ghost Lord. In this game, you take control of your fully customizable ghostbuster. You can work with your friends to hunt ghosts and save the day. The other VR title they showcased was Resident Evil 4 VR. Now you can play through Resident Evil 4 Remake in VR and be terrified by having all those unholy monsters right in front of your face. Sony is putting more experiences onto PSVR 2, and I'm excited to see what else is soon. Maybe not any more horror, please, my heart can't take it.
Updates, Demos, Oh My
We got a whole bunch of updates on already-released games and ones coming soon. Resident Evil 4 Remake is getting a DLC dedicated to Ada Wong called Seperate Ways that runs parallel to the main game. A free Mercenaries update will accompany this and will be available on September 21st. We got a story trailer for Avatar: Frontiers of Pandora, and while there wasn't too much gameplay, it looks promising. Tales of Arise is getting a new story DLC in November this year that takes place after the main game's events. Hopefully, this encourages me to return and finish the story (I keep getting distracted. Don't judge me). Honkai: Star Rail has also received a release date for PS5 and will be released on October 11th.
A new trailer for Ghostrunner 2 was shown off as well. The first game was an exhilarating romp through a sci-fi city as a robot ninja assassin, and the sequel looks even better. The trailer didn't show much, but from the glimpses, the gameplay, visuals, and story look better than ever. At the end of the trailer, it was announced that a demo for the game was available right now! So, if you're curious about the sequel or have an hour or two, you can try out the demo right now.
Web-Slinging Action
With its release date fast approaching, it was a no-brainer that Spider-Man 2 would have some presence at this State of Play. We got a new look at the map, side activities, traversal, and general quality of life improvements coming to the sequel. The one that stood out to me was seeing all the side-mission icons as you swing around the city. Some people might find it cluttered, but I appreciate not having to open my map every five minutes as someone who has to 100% the games I play.
The wide variety of suits was also on full display, with a confirmed number of over 60. Spider suits from all parts of Spider-Man history will be featured, allowing you to live out your wildest Spider fantasies. Each suit also has multiple colour options for further customization. We also got a first look at another villain, that being Mysterio. He wasn't on screen for long, and I would guess he's part of a side mission. Seeing all these Spider-Man villains and suits making their way into the game is still cool, and I'm excited to get my hands on the game soon.
FINAL FANTASY VII!!
FINAL FANTASY VII REBIRTH RELEASE DATE!! *Cough* Sorry for that, I'm just really excited. We got a brand new gameplay trailer that revealed so much. We got new looks at the different environments we will explore throughout the game, which included green fields and tropical cities. It's a welcome change compared to Final Fantasy VII Remake, which occurred entirely within Midgar. We also got some crumbs of the story, such as Zack and Cloud returning to Midgar and Sephiroth appearing out of nowhere again like the cheeky boi he is. It was also shown that in combat, different party members can team up and unleash powerful attacks, and they all look so goddamn beautiful. Those particle effects are like drugs for my eyes.
Speaking of party members, some new characters were shown off as well. Cait Sith (the magical creature that looks like a cat) was given some time in the spotlight. We finally heard their voice (which was way deeper than I thought it would be) and saw some gameplay. Vincent Valentine was also shown as he was freed from his coffin and began levitating (I got nothing). It also looked like Sephiroth is playable at some point in the story, which means we can swing around that massive sword! A February 29th release date was announced at the end of the trailer, and pre-orders for deluxe editions went up. I don't even have a PS5 yet, but you can bet your butt that I've already got that deluxe edition on pre-order!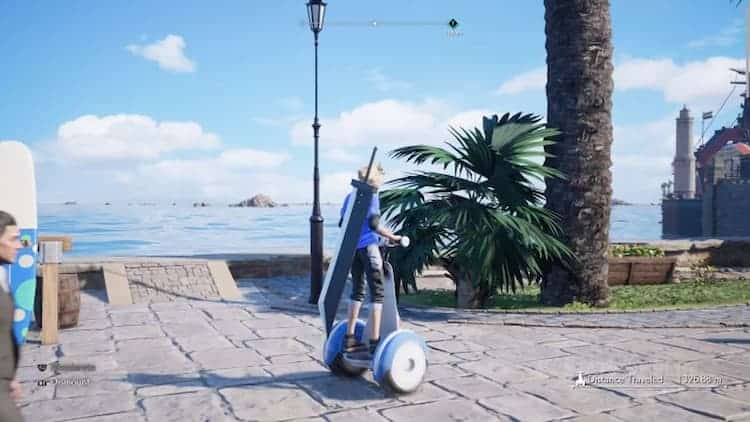 This State of Play was a rollercoaster that never slowed down. There was something for everyone, from the updates and DLC for Resident Evil and Tales of Arise to the new trailers for Avatar and Ghostrunner. That's not even mentioning the latest look at Spider-Man 2 and that fantastic Final Fantasy VII Rebirth trailer. The next few months are shaping up to be an amazing end to the year for video games. Keep it locked to Couch Soup for all things PlayStation (and Final Fantasy VII).
You can check out the full show below.
Did you watch the State of Play? What did you think? Spider-Man 2 or Final Fantasy VII? Let us know in the comments where we can talk about our most anticipated games.