I fell in love with the anime series Bleach in 2011 near the end of its 2004-2012 run. I was all in: DVDs, manga, companion guides, cosplay, fan art, fan fiction. Unfortunately, though, the anime came to an awkward and unsatisfying end in 2012 after 366 episodes. That was shortly after Bleach creator Tite Kubo announced that he would soon be ending the manga series that served as the anime's source material. I definitely wanted a more satisfying anime ending, but also didn't want any more of Bleach's notorious anime-only "filler" arcs while we waited for Kubo to finish his story (though I admit I did like the zanpakuto spirits). For me, it had to be Kubo's original narrative or I'll just stop watching and appreciate what Kubo gave us.
Kubo brought the manga for Bleach to a far more satisfying ending. The manga releases continued in Shonen Jump through 2016, reaching a total of 698 chapters and wrapping up with Bleach's final story arc: "Thousand-Year Blood War." After reading that arc, I knew that this was the ending that the anime deserved. I had hoped since that time that we might actually see that arc animated and performed by the amazing Japanese and English casts that I've grown to love.
And now that it's here?… WOW!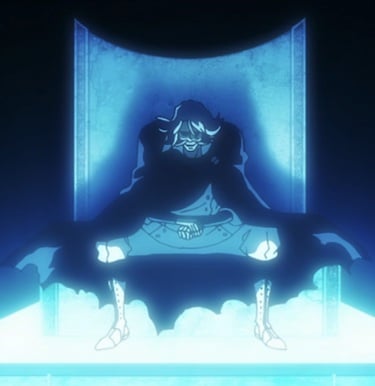 The first episode of Bleach: Thousand-Year Blood War dropped on Hulu in the U.S. on October 10 following its New York City Comic Con debut. Tip: Wherever you watch it, look for this series under its full title (Bleach: Thousand-Year Blood War) because it's NOT a new season of the original series, it's its own separate series that picks up where the original left off. Expect the 52 episodes of this series to drop weekly from this point forward with some breaks in between.
Quick note for both you subs and dubs fans: These initial Hulu drops are in the show's native Japanese with subtitles. The original Japanese cast is back, including the fabulous Masakazu Morita as Ichigo. VIZ also let us know that our English dub cast is back, too, with our frickin' hero Johnny Yong Bosch as Ichigo. However, I don't yet see a date announced for when the English dub is dropping.
Okay, I have to gush on how incredible this show looks so far! It's visually stunning with detailed line work and with color and shading that gives the show a closer-to-life look. The scale and positions of the shots taken directly from the manga, linked with perfect transitional movement, feel like they've come alive and jumped off the page. The city details in Karakura Town look particularly lifelike, and the animators even took time to use a focus-change effect during shots to simulate live camera work. Overall, this is a viewing experience that shows that the anime has matured along with its fan base.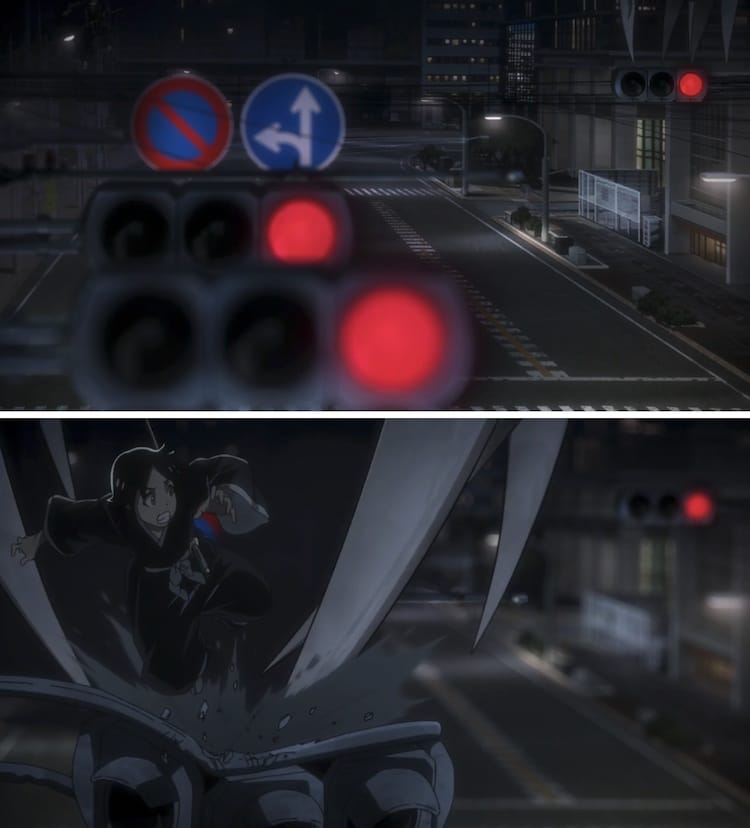 This visual experience is a dramatic shift from the original anime series. Kubo Sensei is an incredible artist and storyteller, but the original anime series got into a rhythm of visually simplifying some of the details depicted in the manga. This is not a knock against Noriyuki Abe, though: I suspect Abe and the other directors made choices that allowed for producing Bleach at a consistently high rate with the animators and technology they had at the time. After all, the anime was a hot property in high demand, and they probably assumed Kubo would continue the series indefinitely. Gotta keep that yen rolling in!
In contrast, Bleach: TYBW is a closed-ended series, and we all knew that from the start of production. Bleach's production company, Studio Pierrot, tapped producer Yoshihiro Tominaga and director Tomohisa Taguchi for the series, both new to Bleach. It's clear that they're both committed to applying the time, technology, and people necessary to bring the best of Kubo's work into animation. In an interview earlier this year, Taguchi shared his driving goal to make the anime even better than the manga. Also, Tominaga reiterated the pair's commitment to following through on a quality production with no apologies for shifting their schedule to make that happen. (Check out the interview in the embedded tweet below.)
One of the things that made Bleach such a unique and iconic anime in the past is the music. Composer Shiro Sagisu is back for Bleach: TYBW. Sagisu captures a range of emotions so well, from melancholy moments to full-out battle sequences. I've even bought a couple of the Bleach soundtracks so I could experience those emotional moments on repeat. Sagisu brings something new and fresh with each new anime season or arc, and this new series is carrying on that fresh and satisfying music experience. Plus, I was surging with excitement hearing the new version of Ichigo's theme, "Number One," during the hollow fight that kicked off this new series.
So, yeah, I'm all in once again! The second episode just dropped this week (also amazing!), and I will be anxiously awaiting each new episode ahead. I especially look forward to revisiting this final story: I won't spoil it for those that haven't read it, but I'll mention that I'm most looking forward to the backstory on Ichigo's mother, which creates a more complete foundation for Ichigo himself. And, if you know me, you know I love all things Quincy in Bleach, so this arc is my jam… and bread… and peanut butter! I think my fellow Bleach fans are going to love it!
Sidenote for those that never finished the original anime series: I totally get it! The filler arcs and episodes sucked the life out of the anime. If I skip them completely whenever I rewatch the series, though, the story doesn't lose its energy like it does when interrupted by filler. However, you don't need to go back and finish the old series to appreciate this new one (even skipping the fillers). There will be characters that appear that, if you don't know who they are, you may not feel the weight of their backstory. But the main enemy is completely new, and our main protagonists should be familiar if you got through most of the first 63 episodes.
If you do want to binge some older Bleach episodes in preparation, here's what I call the "Kubo path" through the original series:
1-16 – Get to know our main Karakura Town characters
17-63 – World and character building for the 13 Court Guard Squads
110-127 – World and character building for the Visoreds
138-146, 150-167, 190-203 – World and character building for the Arrancars and Hueco Mundo
206-212 – The Visored backstory with the 13 Court Guard Squads
215-227, 267-286 – Part 1 of the battle to save Karakura Town while Ichigo and friends fight in Hueco Mundo
288-297, 288-297, 300-302, 306-310 – Part 2 of the battle to save Karakura Town now that Ichigo has arrived
342 – Epilogue for the Karakura Town battles
(optional) 345-366 – The Fullbringer arc: Ichigo works to regain his power (It's a dark psychological thriller!)
Have you started Bleach: Thousand-Year Blood War yet? Planning to watch? What do you think?