Compared to Marvel, The Lord of The Rings, and Star Wars, the fanbase for Zorro, aka "the fox," may not seem very large. But they are fiercely loyal. I spoke with Jack Clock, a fan and creator of the Discord server Zorro's Lair, who said, "I feel that Zorro fans are a forgotten fandom."
He went on to tell me what that meant. "A forgotten fandom is a fandom that has been buried by time, and by general audiences." So, I then asked fans from that Discord server as well as from the Facebook group ZORRO – 100 Year Anniversary Celebration, "What would you like people to know about Zorro that they may not know?" Mostly, they just want you to hear about all the great books, shows, and films they may have missed. So let's take a walk through a century of Zorro history!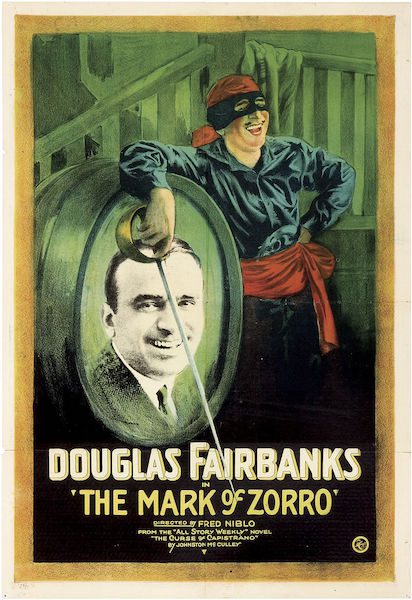 Zorro's Origins:
August 9, 2019, marks the 100th anniversary of the fictional character Zorro in a pulp fiction novel written by Johnston McCulley called The Curse of Capistrano. Actor Douglas Fairbanks read it while on his honeymoon cruise, then bought the rights to the book. Zorro then made his debut on the silver screen on January 1, 1920. The Mark of Zorro catapulted Fairbanks' career and started a new genre of film known as "action-adventure."
"What the fox, Batman?"
When I asked the Discord group about the connection between Zorro and Batman, member Nipuna Ginige said, "It's one of Batman's inspirations, for sure. It's been stated by the creators of Batman that Zorro was one of the influences. I mean, in the comics, the movie Bruce sees with his parents right before they die is literally The Mark of Zorro." In an article for Screenrant, How Zorro Created The Dark Knight, Jared Mason Murray makes that Batman connection back to Zorro.
Captain Love: "After all it's only one man-"
Don Rafael Montero: "It isn't just one man dammit! It's Zorro!"

The Mask of Zorro, 1998
The Mark of Zorro was reimagined in 1940 with Tyrone Power playing the fox. By that time, swashbuckling films were becoming the rage. The best part of the film is the fight scene between Don Deigo and Captain Esteban (Basil Rathbone).
Indeed, connoisseurs of swordplay on film consider it among the best sword fighting films ever made. The sword fights were choreographed by fencing instructor Fred Cavens, who had choreographed the fencing in the 1920 version of The Mark of Zorro, The Adventures of Robin Hood (1938), and The Sea Hawk (A Shroud of Thoughts: The Mark of Zorro (1940)). Here, I'll let you decide:
The Disney Zorro (TV Series 1957–1959). Guy Williams stars as the eponymous character. Even though this series only lasted 2 seasons, Guy changed the course of the fox's life forever! Talk to fans who grew up with the series when it originally aired on ABC or 80s kids who watched on the Disney Channel, and they will tell you, "Guy Williams IS Zorro." I admit if it wasn't for Guy I would not know who Zorro is. For me, Disney and Zorro go together like grilled cheese and tomato. It's also the first time we see Zorro with a companion named Bernardo (Gene Sheldon).
Lunge forward to 1981, and Zorro tests his rapier wit and comedic form in the film Zorro The Gay Blade starring George Hamilton. Depending on who you speak to within the fandom, this film is either a hit or a total miss. I personally love this film! It is very entertaining. George's acting skills get a real workout as he plays identical twin sons with very different personalities as well as fashion sense.
"There is no shame in being poor! Only dressing poorly!"

Bunny Wigglesworth, Zorro The Gay Blade, 1981
Then, just like that, the fox disappeared into the night… 8 years passed…
Thanks to The Family Channel, the fox came back stronger, bolder, and oh so handsome! In New Worlds Zorro (1990-1993), Duncan Regehr was in the lead role. This series is still a tremendous fan favorite, Zorro is renowned for its swashbuckling family-friendly adventure as well as its top-notch cast of featured characters and guests, including Daniel Craig, Andre the Giant, Philip Michael Thomas, Jesse Ventura, and Adam West.
Another thing that set this series apart from its predecessor is, that instead of a revolving door of beautiful women, there was but one woman whom Zorro (Diego) would give his heart: Victoria Escalante (Patrice Martinez).
Zorro slashes his way to the big screen in the Mask of Zorro (1998) starring Antonio Banderas as Alejandro Murrieta, a young thief seeking revenge for his brother's death at the hands of Don Rafael Montero (Tony Amendola). Anthony Hopkins as Don Diego de la Vega/Zorro is now in retirement and teaches Alejandro how to become Zorro while pursuing his own vengeance against the same man.
There are two reasons I love this film. First, Catherine Zeta-Jones' character Elena is equal parts beauty and strength. She even takes on Zorro's blade for a blade. The other reason is the hacienda fight. Here's a video clip of that sizzling scene:
Zorro rides again in The Legend of Zorro (2005). Both Antonio and Catherine reprise their roles from Mask of Zorro, and the sequel takes place 10 years after the events of that film. Alejandro and Elena are having marriage troubles: she wants him to stop being the protector of people and start being a father to their son. She then leaves him for Count Armand, played by Rufus Sewell, who is corrupt and has plans to keep not only Elena and their son, but also keep California from joining the Union. This film was not as strong as the first and has been described by some fans in the Discord as campy.
The Mark of Zorro (Dramatized) by Yuri Rasovsky and McCulley Johnston (2011) is an audio play that reimagines McCulley's novel. This time, Val Kilmer wore the mask, and he received a Grammy nomination for the performance. I listened to the sample on Audible, and I want to hear more, for sure!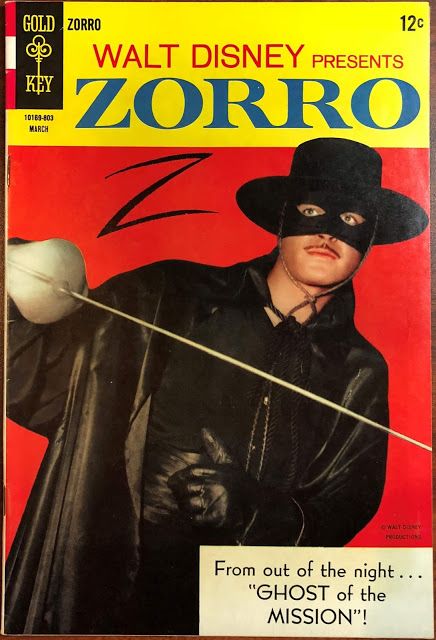 In a world of multimedia, Zorro's legend lives on.
Zorro Productions is devising ways to ensure McCulley's creation lives on 63 years after his death, not only in film and television, but in RPGs, dice games, and even video games! However, the best format to catch the elusive fox is still through literature.
Bold Venture Press has the complete reprint of all of McCulley's Zorro pulp fiction stories as well as new adventures like Zorro: The Daring Escapades, a collection of 16 original stories written by various authors. One of these authors, Susan Kite, went on to write 3 more original stories.
Born in Peru, Isabel Allende weaves her tale of El Zorro. Inspired by her work, Dynamite Entertainment writers Matt Wagner and Francesco Francavilla created Zorro Year One: Trail Of The Fox. American Mythology also has its collection of original stories. Check out the Zorro: Swords of Hell #1 in their series. Unlike the tales from the past in this series, the advisories he faces are literally from hell!
As you can see, this fandom is doing all it can not be forgotten! Let's continue to keep this legend alive for another 100 years and more.
Do you like Zorro? Who is your favorite actor to play the character so far, and what actor today might make a good Zorro?