AEW: Fight Forever (FF), the new game from AEW Games, THQ Nordic and Yukes, is the first based on All Elite Wrestling. It has been a difficult undertaking for the developers. AEW has been growing in popularity since the announcement that the game was in the works. Challenges such as an expanding roster and experimentation with shows and match types seem to have hampered development.
This is AEW's debut game, but it's not Yukes' first rodeo, they've been creating wrestling games since the mid-90s. They were the developers of some of my favorite older WWE (WWF at the time) entries, WWF SmackDown! 2: Know Your Role and WWF SmackDown! Just Bring It. Back in those days, wrestling games were less realistic and more arcade-y fun. That's exactly the style of Fight Forever.
But can it hang with the big boys of sports entertainment?
Modes
In addition to the obligatory Exhibition mode, which allows you to jump into a one-off match with the wrestler of your choice, there's an online mode and a story mode called Road to Elite. Online fighting games are… problematic for my skill level, so I focused on Exhibition and Road to Elite.
Exhibition boasts a variety of match types, from one-on-one to Casino Battle Royale (AEW's equivalent to WWE's Royal Rumble). The drawback of having the Casino Battle Royale mode available is that it draws attention to the concurrent player limitation. You can only have four wrestlers in the ring at once, which is a major downer. AEW in real life has Trios Tag Champions, and you can't even have six people in a match! The highlight of the match types is the Exploding Barbed Wire Deathmatch, which is exactly what it says on the tin. You have to experience it to believe it.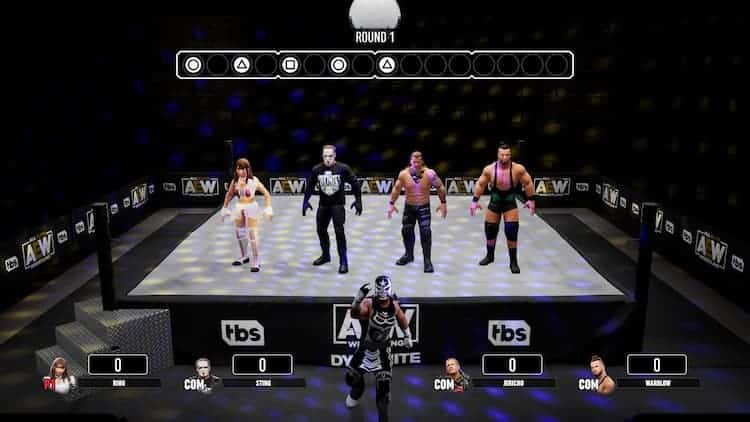 Road to Elite is AEW's story mode. Your chosen character (real or created) is entered through four months of AEW programming. Each week, you can choose to train, sightsee, eat out, or take part in mini-games before participating in your scheduled matchup. The mini-games are silly party games a-la Mario Party, like a trivia quiz or a Simon Says style rhythm game. They're fine but unnecessary to the story. What you do before the matches affects your character's journey, and your decisions are meaningful, as is your performance in the matches.
To coincide with the journey, occasionally clips from AEW programming play to display actual events from the company's history. These were welcome enhancements to the mode and kept me engaged. I wanted to unlock all of the clips!
Overall, though, there are too many distractions from the story to keep up the momentum. The constant dining experiences and TV interviews you can do pads the time in this mode and are detrimental to the experience. And you don't need filler content when you have to play through it TEN TIMES for an achievement!
Roster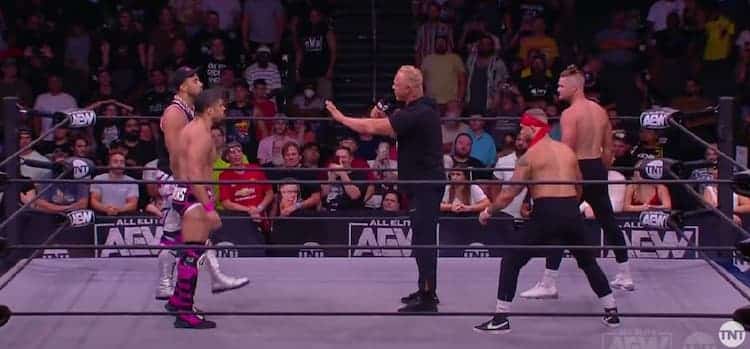 Kenny Omega, Mox, Jericho, The Bucks, "Hangman" Adam Page, CM Punk. Yeah, CM Punk, in 2023, is in a new video game! It's insane! There are 50 AEW stars unlocked to piledrive, DDT, or superkick your way to victory at the start of the game. That's a whole lotta ass-kicking potential right there.
But hold on. AEW's roster currently stands at 155 active competitors. It's so disappointing that there are so many current superstars missing from the game. And you can't blame everything on recent additions. Jake Hager, Santana, Ortiz, Shawn Spears, Serena Deeb, and almost everyone from the Dark Order are missing. They have been All Elite since close to day one!
Not only are AEW originals missing, but so are current and former champions! And yet, Cody Rhodes (now a WWE star) and Paul Wight (who has only wrestled in four matches) are included in the game. Don't get me wrong, they're great to have in the game, but if it's at the expense of The Acclaimed, I know who I'd be choosing.
And that's what's so frustrating! Some of the most popular stars are locked behind DLC content. The aforementioned Acclaimed (Max Caster and Anthony Bowens), as well as Hook, Danhausen, FTR and Swerve in Our Glory, are all locked behind that Season Pass.
I realize I've thrown a bunch of names at you, but It's such a shame!
Create-a-Wrestler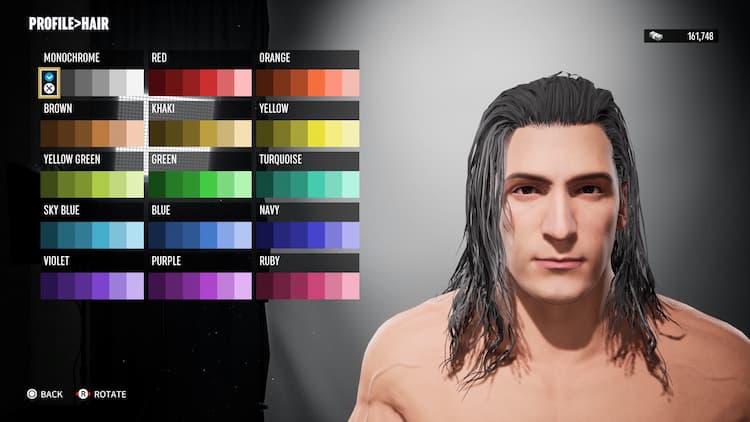 A staple in wrestling games has been Create-a-Wrestler mode. That mode where you are able to create yourself, your friends, famous figures, or, in my case, my mortal enemies that I want to go one-on-one with THE UNDERTAKER! It's one of my favorite features and a mode that I have spent hours crafting the perfect model, moveset, and entrance.
AEW: Fight Forever has an extremely limited create mode. There are template faces and body builds, but there is no advanced face modeling available. There is also disappointingly little choice for your hairstyle and ring gear. And the color palette is the equivalent of Microsoft Paint circa 1995, only having a discrete set to choose from. Come on, guys! RGB coding has been around for years!
The move-set creator is more promising, having a cornucopia of moves available to assign to your created character. However, the lack of a filter for these moves has you doom-scrolling through each move until you find the perfect one that can be used in the right situation. For example: when looking for two finishers to give my wrestler, I like to have one that is performed from the front of the opponent and one performed from behind. You cannot filter on those situations and are instead faced with everything from rope turnbuckle splashes to ground moves. It's frustrating.
I found myself saying, "f*ck it! This will do." That's what a mode I usually love has done to me!
Gameplay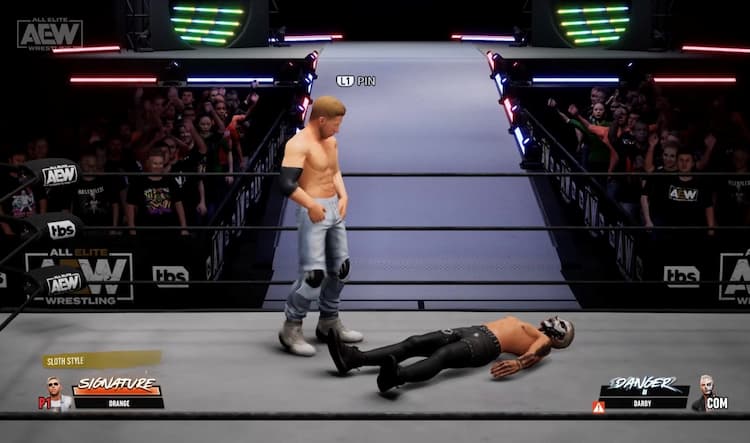 So here's the rub.
AEW: Fight Forever is absolutely, undoubtedly, a fun game. The arcade-y style sets it apart from the current generation of WWE 2K games, which take more of a realistic approach to the wrestling game. If you want realism, don't play FF. If you want some dumb fun that you can pick up and play, have three matches in ten minutes and bug out, this could be your jam.
Do you want your wrestler to skateboard down to the ring? You can do that. Do you want your wrestler to fight with their hands in their pockets? You can do that too. Do you want to have control over the pyro during your wrestler's entrance scene? FF has got you. It's weird and wacky, and it's awesome.
The game mechanics are pretty simple to pick up as well. You'll be able to have competitive matches without needing an extensive tutorial. There's one button for punch, one for kick, one for grab, and one for sprint. The controls can get more advanced, but for a basic match, you can get by. It's perfect to ease you into the game.
FF is enjoyable solo, but it's also great with friends. Local and online co-op and versus are available to challenge your buddies to grudge matches or to team up to take on AI or other player characters. And it won't stop there! AEW FF has announced an expansion promising a 30-player Fortnite-style Battle Royale mode called Stadium Stampede. I never thought I needed a wrestling BR mode, but, now it's been announced, I can't think of anything else!
Summary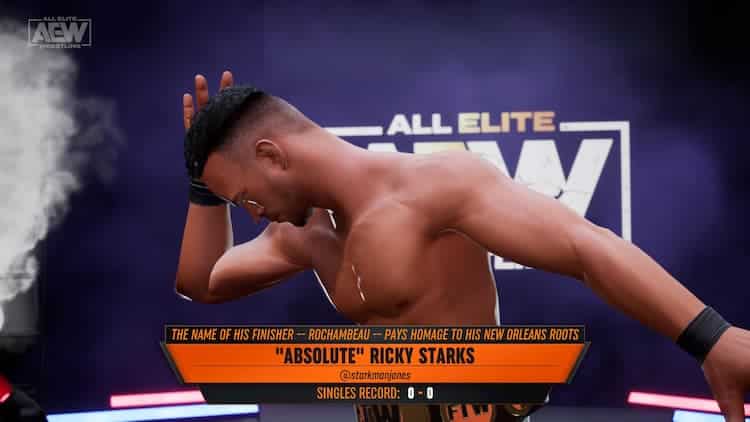 AEW: Fight Forever is a fun arcade-style game that takes me back to my childhood playing wrestling games on the PlayStation 2 and Gamecube. Its core mechanics are not a barrier to entry but are difficult to master; a perfect pick-up-and-play game. And that's what I'm going to do going forward.
But this was a missed opportunity, a waste of tremendous potential.
FF's incomplete (or paywalled) roster, limited creation suite, and lackluster different modes make you yearn for what could have been. Yes, this game is highly enjoyable for what it is, but it could have been so much more. And for a wrestling fan like me, it's a little disappointing.
AEW: Fight Forever is available on all consoles and PC right now for $59.99 for the standard edition or $79.99 for the deluxe edition, which includes the Season Pass.
Here are the additional thoughts of CouchSoup Contributor Emmanuel:
Playing Fight Forever harkens back to the days when wrestling games could be goofy. Titles like WWF No Mercy and WCW Nitro come to mind when I play Fight Forever at launch. The combat is simple and yet can take some time to master. Each wrestler has their own special move set as players face their rivals in either single-player or even playing multiplayer. And the mini-games such as the Casino Battle Royale are so fun that time just flies. Unless you have an N64 or a PlayStation, pick this game up down the line. It's worth the time, and after the upcoming DLC launches, it is worth the coin.