Not sure what to fill your Star Wars streaming gap until the upcoming Obi-Wan series? Check out these Westerns and samurai films.
Star Wars creator George Lucas was inspired by the American Western and Japanese samurai cinema films he grew up with. At the core of those films is typically a solitary male hero who's an expert fighter with a past life that he is eager to put behind him, a willingness to help others in need, and no hesitation to make sure people get swift justice for their crimes. He lives by his weapon and a strong moral code.
Jon Favreau and Dave Filoni brought a more explicit version of this core character to Star Wars in the form of Star Wars: The Mandalorian. When Favreau got his friend and fellow filmmaking genius Robert Rodriguez to direct some Mandalorian episodes, the creators doubled down on their commitment to these genres. Now, Rodriguez carries that forward as the showrunner on Star Wars: The Book of Boba Fett.
If you're enjoying what they've brought to the Star Wars universe, check out these films. Fair warning, though, some of these are for mature audiences and not typical of what you'd see on Disney+.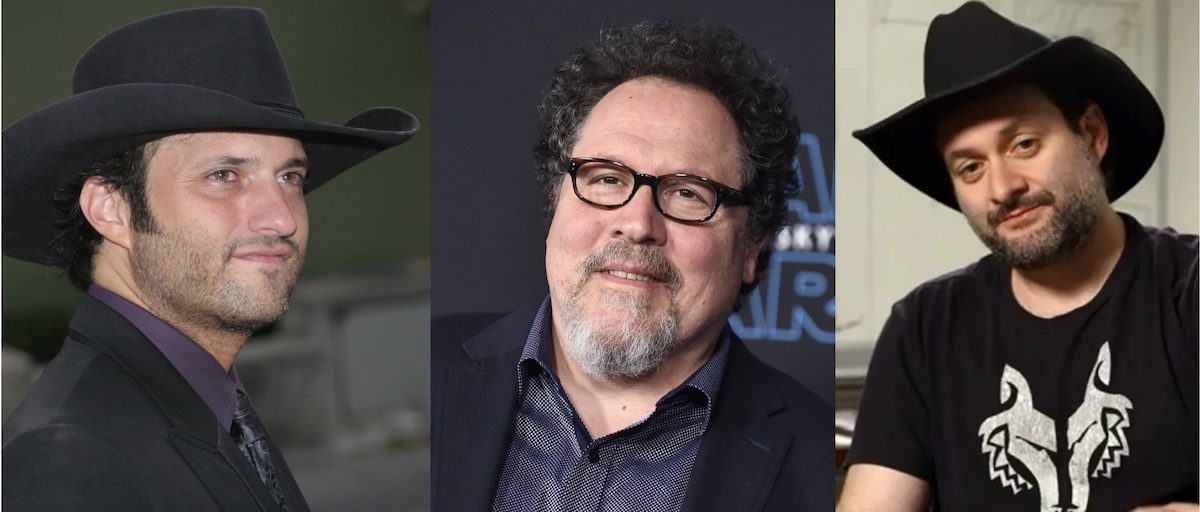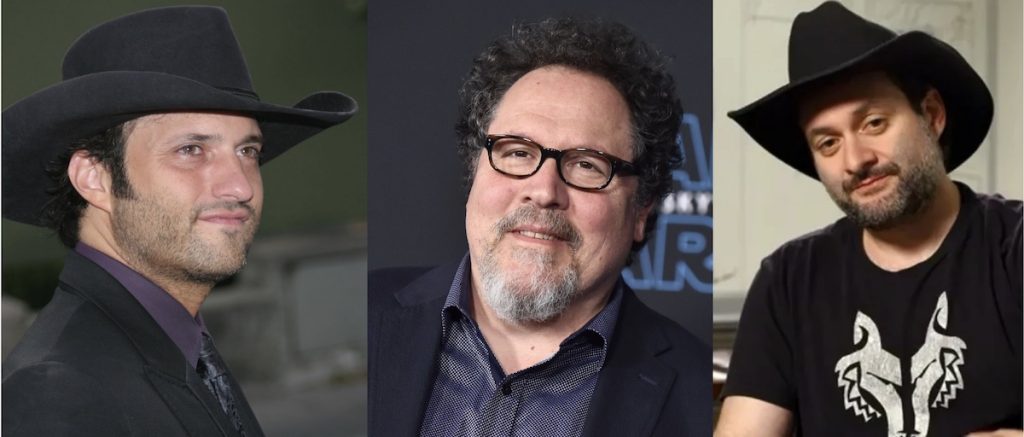 Where to find it: HBO Max
What to expect: When this film was released, filmmaker John Ford was already an established filmmaker who'd spent 30+ years building the landscape for the early 20th century Western. Stagecoach is an ensemble piece that includes legendary Western actor John Wayne. The motley group of strangers makes a multi-day journey in a stagecoach, a form of 19th-century public transportation consisting of a carriage pulled by a team of horses. If you can get past the comically stereotyped versions of women, Mexicans, and Native Americans in Stagecoach, you'll appreciate its adventure and humor. (Also recommended by my dad!)
Star Wars moments similar in this film:
A group of raiders pursue a fast-moving passenger vehicle. In the Star Wars example, though, the raiders are the people we're rooting for: Boba Fett and the Tuskens. (The Book of Boba Fett "Chapter 2: The Tribes of Tatooine")
Din Djarin has to disarm himself as a condition for riding public transportation. (TBOBF "Chapter 5: Return of the Mandalorian")
A group is surrounded during a firefight and have to come up with a plan to escape. Also, a character suddenly drops information into a conversation that's both unexpected and unwelcome. (The Mandalorian "Chapter 8: Redemption")
Allies enter a fight at the last moment to turn the tide and allow our heroes to escape to safety. (TM "Chapter 3: The Sin")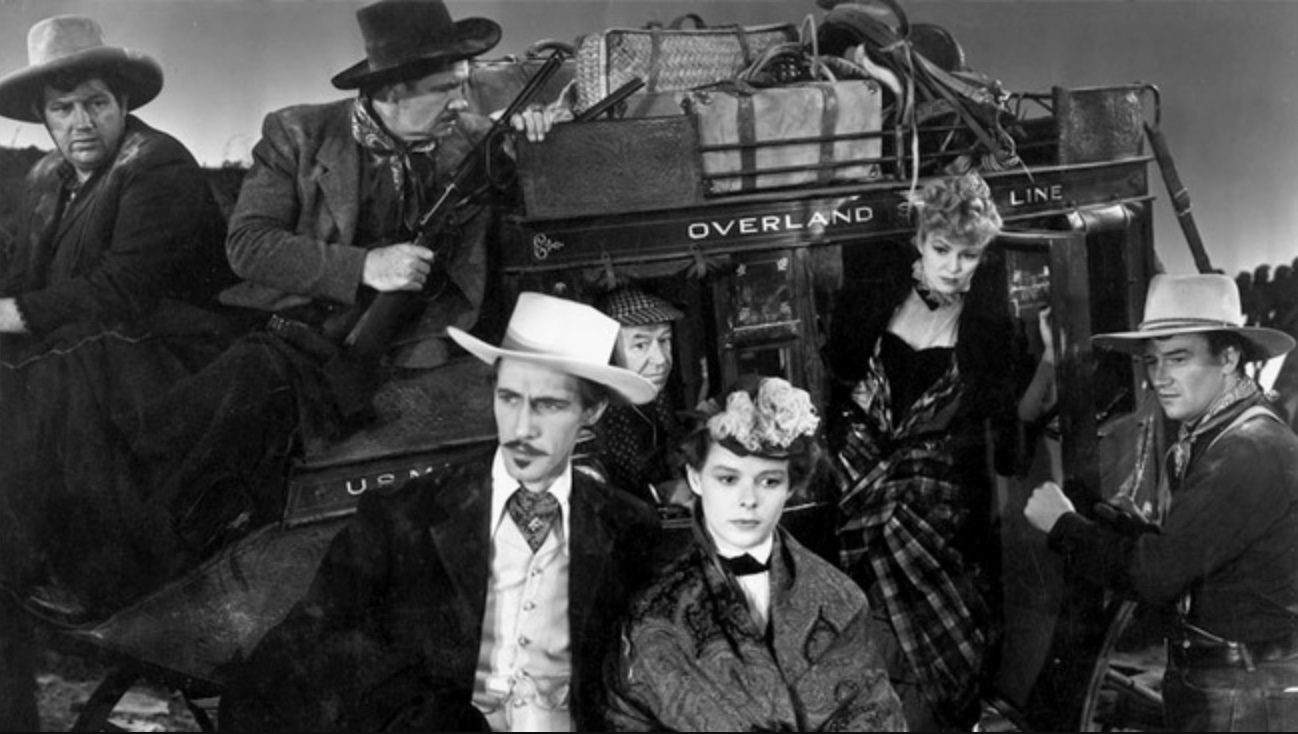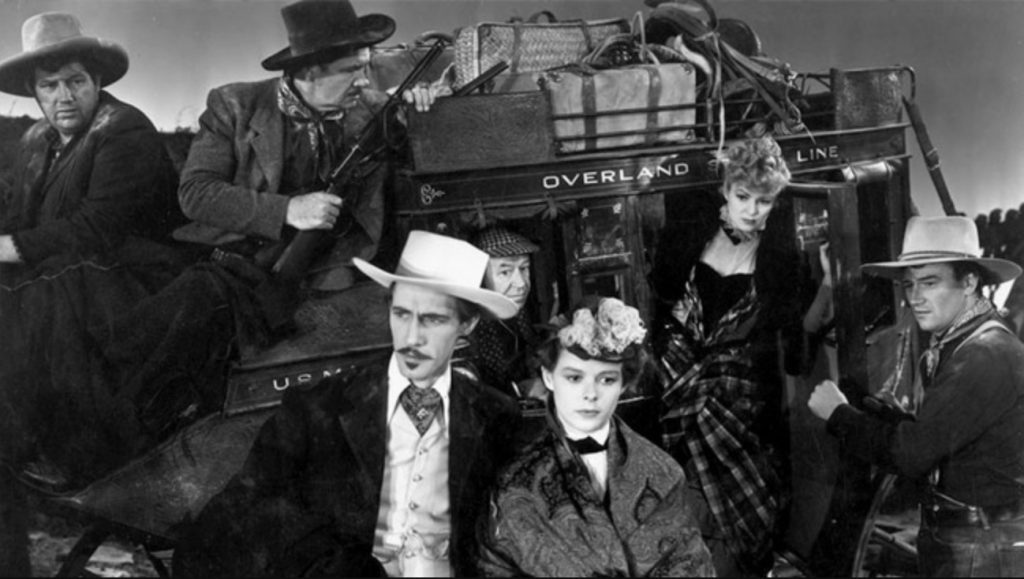 Where to find it: HBO Max
What to expect: Seven Samurai is one of the most revered projects by legendary Japanese filmmaker Akira Kurosawa. This ensemble piece is set in 1586 during Japan's Sengoku period, a time that had similar chaos and conflict to the 19th century West in the U.S. The film is also my favorite acting performance from the incomparable Toshirō Mifune. You'll find that the Samurai films of the 1950s and 1960s reflected a lot of the same themes and storylines of classic American Westerns. It's even hard to say who influenced who between the two genres with similar themes and storylines reflected in both.
Star Wars moments similar in this film:
Boba Fett witnesses gangs of bullies terrorize people and damage their homes and livelihoods. (TBOBF "Chapter 1: Stranger in a Strange Land")
Boba Fett helps a Tusken tribe prepare to take on the gangs that bully them. (TBOBF "Chapter 2: The Tribes of Tatooine")
Though they typically work solo, experienced fighters Din Djarin and Cara Dune feel compelled to team up and train a village to defend itself against raiders, and they lead the fight themselves. (TM "Chapter 4: Sanctuary")
Mercenaries with clashing personalities attempt to work together. (TM "Chapter 6: The Prisoner")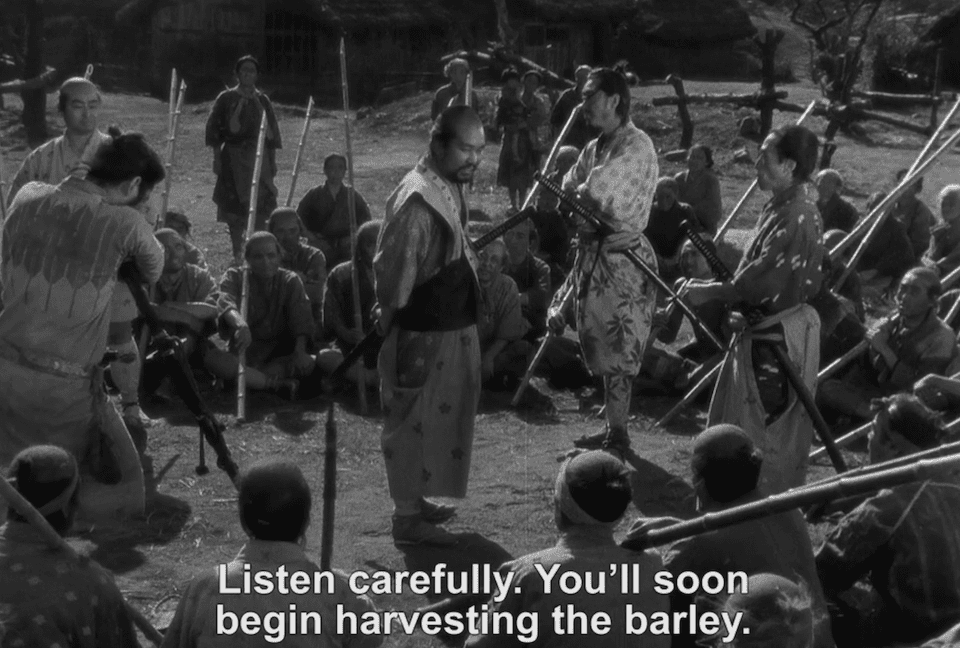 Where to find it: for rent from Amazon Prime, or on Apple TV+
What to expect: John Sturges translated Seven Samurai into the classic American Western genre, and it's great to watch it side-by-side with Kurosawa's original. It featured an all-star cast with Yul Brynner, Eli Wallach, Steve McQueen, Charles Bronson, James Coburn, and more. There was a remake of this film in 2016 that I admit I haven't seen, but I'd love to hear any thoughts you have on how it stacks up to the original.
Star Wars moments similar in this film: A blend of the things I listed in Seven Samurai with the Western settings and tropes you would see in films like Stagecoach or Shane (1953)
Where to find it: for free (with ads) on Roku TV or for rent from Amazon Prime, or on Apple TV+
What to expect: Sergio Leone created iconic films that started a subgenre: the Spaghetti Western. These films shared settings and tropes with American Westerns, but they were created in Europe with a mostly European cast and crew. The Dollars Trilogy refers to three consecutive films with separate stories but one common theme: they star Clint Eastwood as a master gunman and antihero, a wanderer trying to earn some money while keeping to a moral code. The films are A Fist Full of Dollars (1964), For A Few Dollars More (1965), and The Good, The Bad and the Ugly (1966). Lee Van Cleef is a counterpoint to Eastwood in the second and third films, and Eli Wallach (also in The Magnificent Seven) rounded out the title trio in the third film. The success of these films in the U.S. resulted in a revival and evolution for the Western genre for American filmmakers.
Star Wars moments similar in these films: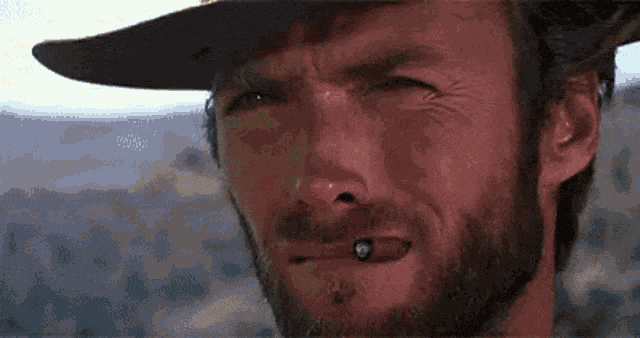 Favreau has explicitly described Din Djarin as being inspired by Clint Eastwood's characters in these films.
Many of Ludwig Göransson's musical creations for The Mandalorian and The Book of Boba Fett have instrumentation and structure evocative of the iconic themes created by Leone's frequent music collaborator Ennio Morricone.
Din Djarin reluctantly performs side missions that aren't profitable except to retrieve something that he considers very important. (TM "Chapter 2: The Child" and "Chapter 9: The Marshal")
Boba Fett suffers from sun exposure and lack of water while being dragged along as someone's captive in a dry desert. (TBOBF "Chapter 1: Stranger in a Strange Land")
Cobb Vanth, the marshal of Mos Pelgo, has a gunslinger's stance and a way of confronting his adversaries that feels straight out of Leone's playbook. (TBOBF "Chapter 6: From the Desert Comes a Stranger")
Filoni has mentioned that Cad Bane is inspired by Lee Van Cleef's Angel Eyes character in The Good, The Bad and the Ugly. (TBOBF "Chapter 6: From the Desert Comes a Stranger")
Where to find it: HBO Max
What to expect: If you have followed many internet reviewers of The Mandalorian, you may have heard buzz about it being a modern take on a 28-volume Japanese manga from the 1970s, Lone Wolf and Cub, by writer Kazuo Koike and artist Goseki Kojima. This film is the first of three adapted from the manga by director Kenji Misumi. Samurai cinema favorite Tomisaburo Wakayama plays a shogun's executioner, Itto, who is framed as a traitor during a political power play. After losing their household and livelihood, Itto and his son, Daigoro, become wanderers (ronin). In their travels, they get caught up in a series of adventures that involve helping others and fighting off bad guys.
Star Wars moments similar in this film:
Din Djarin takes long walks as the child (Grogu) floats alongside in his carrier. Also, the child contributes to the success of the pair. (TM "Chapter 2: The Child")
In flashbacks, we see that Din Djarin's family was wiped out in a traumatic attack. (TM "Chapter 3: The Sin")
Din and Grogu become a clan of two. Also, Grogu rides along with Din Djarin with a look of delight on his face. (TM "Chapter 8: Redemption")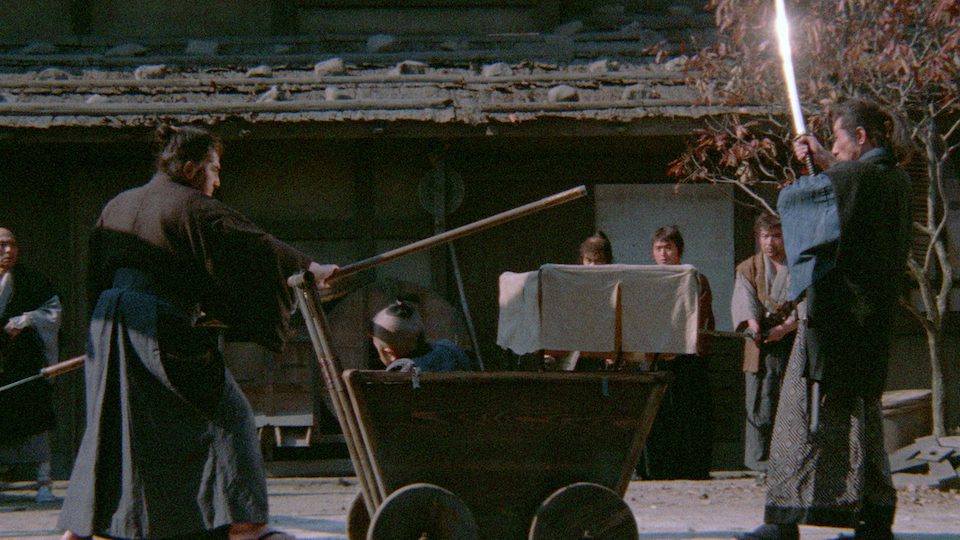 Where to find it: for rent at Amazon Prime and other services
What to expect: Even as Leone changed the landscape for Westerns in the 1960s, director Burt Kennedy and actor John Wayne (then in his 60s) sustained Ford's American Western-style from the 1940s and 1950s. The Train Robbers features a group hired to recover stolen gold hidden in the wreckage of a missing train engine. Ann-Margaret co-stars with Wayne in a female role that ditches the heavy skirts and perfectly curled hair for dungarees and a cowboy hat. If you're watching this film for the first time, you'll definitely not want to miss Ricardo Montalban's lines right at the end!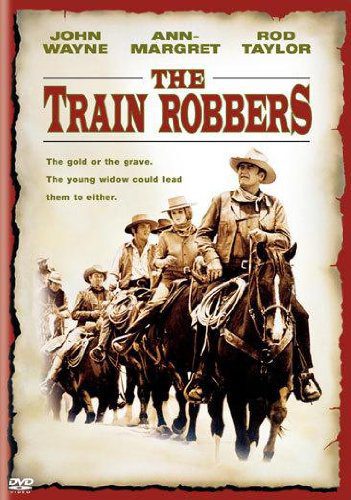 Star Wars moments similar in this film:
Veteran hunter Din Djarin mentors and helps a young upstart who's new to bounty hunting and in over his head. (TM "Chapter 5: The Gunslinger")
Din Djarin has to deal with an unruly animal that's critical to his mission. Later, we see a long sequence of Din and Kuill riding across wide open, undeveloped lands on mounts (blurrgs), accompanied by a beautiful soundtrack. (TM "Chapter 1: The Mandalorian")
Din Djarin protects a vulnerable character and her precious cargo until he can escort her to a safe place. (TM "Chapter 10: The Passenger")
A seasoned crew led by a salty veteran (Tobias Beckett) hires a couple of new guys (Han and Chewbacca) that they aren't sure they can trust in hopes of having the extra hands they need to complete the job. (Solo: A Star Wars Story)
Where to find it: The first film for rent on Amazon Prime; second and third films are on Netflix
What to expect: This three-film series follows a man known only as El Mariachi. The film El Mariachi (1993), famously made for only $7000, was the launch of Robert Rodriguez's career as a writer and director. This led to his meteoric rise and a higher-budget sequel two years later, Desperado, with Antonio Banderas as El Mariachi. Banderas reprised the role in 2003 to round out the trilogy in Once Upon a Time in Mexico. The storytelling styles and directing nuances in these films are part of Rodriguez' signature, and they've found their way into his work in The Mandalorian and The Book of Boba Fett. Throughout Desperado and Once Upon a Time in Mexico, you'll probably also recognize a lot of other familiar faces.
Star Wars moments similar in these films:
Danny Trejo, a famous face from several Rodriguez films, appears as the rancor keeper. (TBOBF "Chapter 3: The Streets of Mos Espa")
Din Djarin drops a name in a group of people to see how they react. (TBOBF "Chapter 5: Return of the Mandalorian")
Moff Gideon takes pride in the firepower he's been able to gather and how his sinister plans are coming together. (TM "Chapter 12: The Siege")
The first impression that Din Djarin gives off is a cold, calculating bounty hunter, but we see he has a heart of gold when he helps out children and innocent villagers. (TM "Chapter 4: Sanctuary")
Across both shows, we see Din Djarin, Boba Fett, and Fennec Shand clearing a room of enemies fast with seemingly superhuman reflexes, and being able to improvise when something doesn't go exactly as planned.
For a profile of Robert Rodriguez as a director, check out this IMdB Director Supercut:
Also don't miss these other productions:
It's hard to narrow down a recommendation list like this, but you can help me extend this list in the comments! Let me know what other Westerns and samurai cinema films you'd recommend to fans of The Book of Boba Fett or The Mandalorian.
Also, don't miss Candace Bissonette's series for more on Boba Fett:
Book of Boba Fett – Getting to Know the Man Behind the Mask