Ahsoka is nearly upon us, and the excitement levels are still rising. The latest Disney+ offering from Star Wars looks to be the convergence of multiple storylines and characters that we Star Wars fans have grown to love over the years. But with the long history behind this series, you might need to learn who some of the major players are. Rest easy, reader, because we here at Couch Soup have prepared a quick who's who guide for the major characters that will be showing up in Ahsoka.
Ahsoka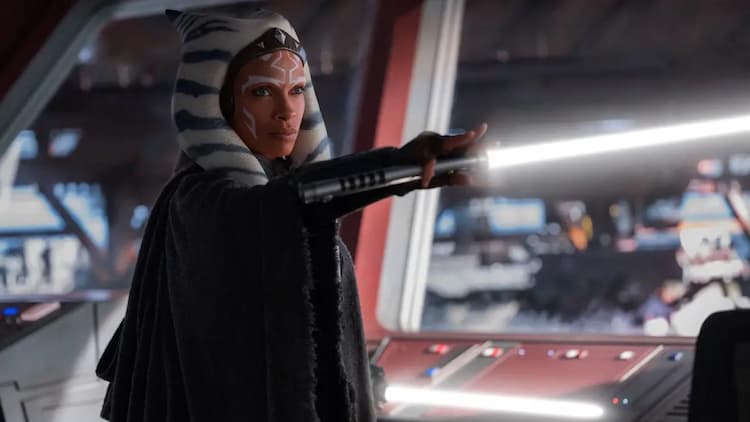 The star of the show, Ahsoka. This former Jedi turned rebel turned force god (maybe) will be the main character of the upcoming series (if the name didn't give it away already). She's the former padawan of Anakin Skywalker, having trained under him during the Clone Wars. After some unfortunate events, Ahsoka left the order and survived Order 66. She went on to help the Rebel Alliance fight the Empire and Thrawn. Now she's back to hunt down the remnant of the Empire, finish Thrawn for good, and find an old friend while she's at it.
Learn more about Ahsoka here and here.
The Ghost Crew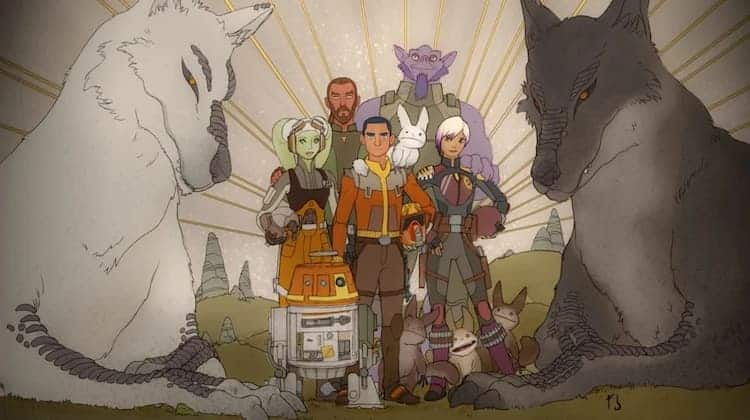 The Ghost Crew, also known as the Spectres, was a rebel cell active during the Galactic Civil War. The group was comprised of six members, with a 7th joining after the war. The members were Hera Syndulla, Kanan Jarrus, Zeb Orrelios, C1-10P (also known as Chopper), Sabine Wren, and Ezra Bridger. This group of rebels was a thorn in Thrawn's side during the war, being a major reason he was defeated. At the end of the Rebels series, most of the group went their separate ways (except for Kanan, who was allergic to explosions). Now, they appear to be making their way back together again.
Learn more about the Ghost Crew here, here, and here.
Huyang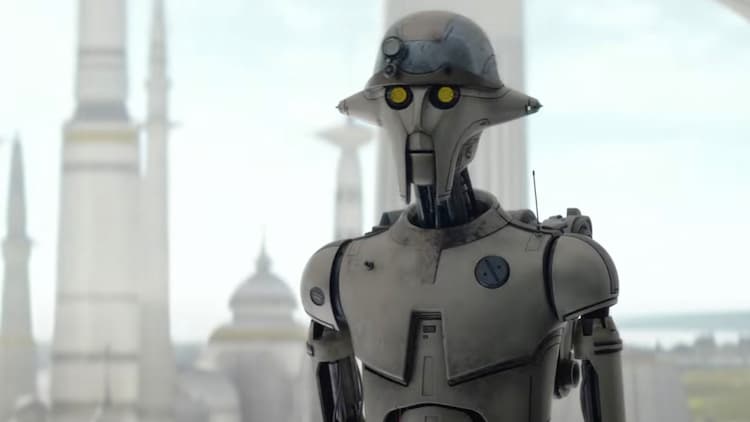 Huyang first appeared in The Clone Wars as a helper droid that aided younglings in constructing their first lightsaber. Huyang has been around for thousands of years, having helped Yoda build his lightsaber as well as countless others. No one knows where this droid came from, but he's been integral to the Jedi Order for as long as people can remember. Huyang and Ahsoka briefly worked together to keep a group of younglings safe from pirates during the Clone Wars. Now, it appears they've reunited decades later. But for what purpose?
Mon Mothma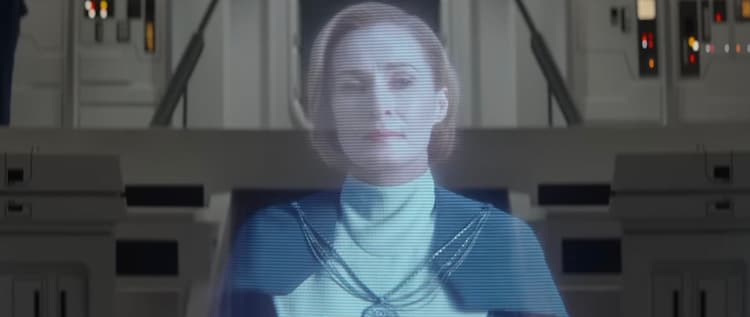 The leader of the Rebel Alliance, Mon Mothma. She was a crucial part of the rebellion during the Civil War, providing funds and insider information on the galactic senate for as long as she could. Since then, she's been working for the betterment of the galaxy. After the war ended, Mothma shifted her focus to rebuilding what was lost during the war. With the help of trusted allies such as Hera, Mothma aims to create a better government and ensure a brighter future for the galaxy.
Thrawn
The blue bastard himself, Thrawn. This super-intelligent Grand Admiral was one of the Empire's most brilliant and effective commanders during the war. His ability to outthink his opponents in any scenario, alongside his ruthless efficiency, led him to many victories. His TIE Defender program showed promise but was ultimately scrapped in favour of the Death Star. Thrawn appreciated the art and history of all cultures and went out of his way to collect it. Thrawn was eventually defeated by Ezra and the Space Whales (Purrgil) and has been chilling in the galaxy's far reaches for a while now. With his return imminent, I wonder what he's been up to all this time.
Learn more about Thrawn here.
Morgan Elsbeth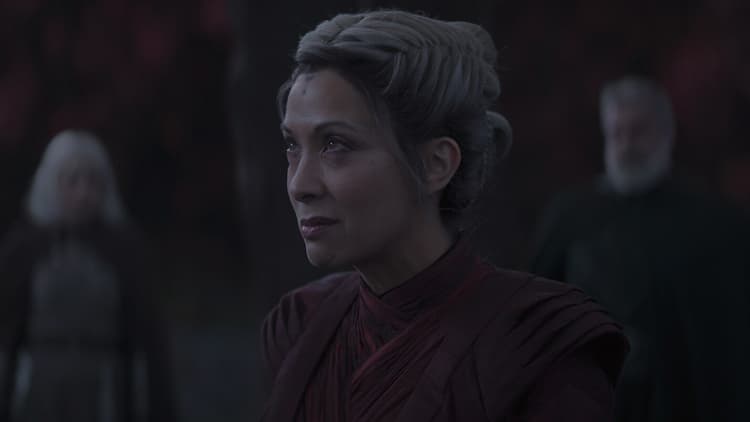 Morgan Elsbeth was first seen in The Mandalorian Season 2, where she was the Magistrate of the city of Calodan on the planet of Corvus. She wielded a spear made of pure beskar and used the Chimera as an insignia for her troops. She played a significant part in the Imperial Navy during the war by plundering worlds for their resources. Ahsoka Tano and Din Djarin ultimately defeated her, and the former questioned Elsbeth on the location of Thrawn. She was arrested for being an Imperial Sympathiser, and that's where everyone believed her story ended. But now, she's escaped her containment and is helping Thrawn achieve his ultimate plan.
Baylan Skoll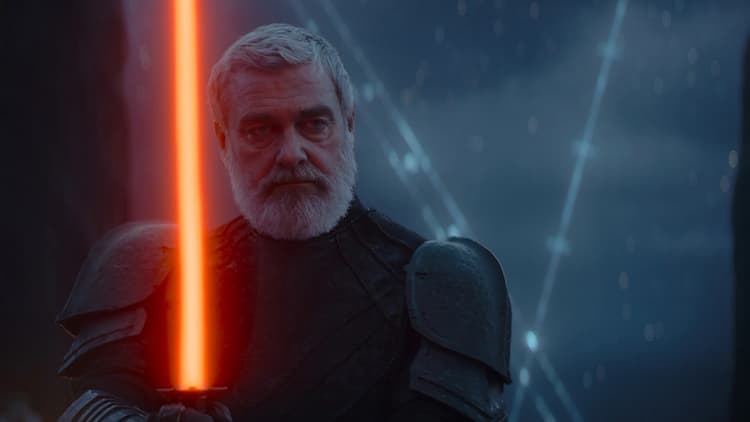 A former Jedi who survived Order 66, Baylan Skoll is now a mercenary for hire. He has shifted towards the dark side of the force but isn't a Sith. He wields an orange lightsaber and was acquainted with Anakin Skywalker (this is how he knows Ahsoka). Skoll and his apprentice freed Elsbeth from her confinement and are now working to help Thrawn with his plans. But who knows if he'll stay loyal? He is a mercenary at this point, so maybe a betrayal is in store.
Shin Hati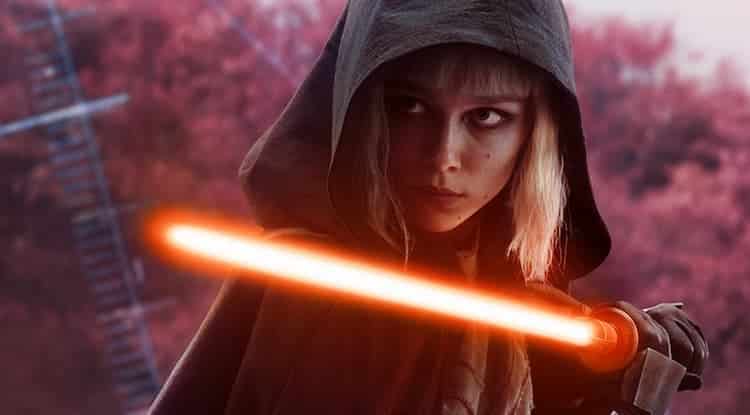 The young apprentice of Baylan Skoll, Shin Hati. This eager pupil wields an orange-red bladed lightsaber, implying she may be closer to being a full-on Sith than her master. Hati aided her master in freeing Elsbeth from New Republic custody, murdering countless guards. She's curious about what will happen once Thrawn makes his long-awaited return. Will she betray everyone? Or will she see the merit in Thrawn's plan? Either way, she will be a menace that Ahsoka and the others will have to deal with.
Now you're all ready for Ahsoka when it drops its two-episode premiere on the 23rd of August on Disney+. More characters will undoubtedly appear throughout the series, but you'll be alright now that you know the basics. Keep it locked on Couch Soup for all the news and reactions for Ahsoka, including weekly article recaps and the Watching Now Podcast: The Ahsoka Chronicles.
Are you excited for Ahsoka? What characters do you think will show up? Is Thrawn for the streets? Let us know in the comments where we can talk about all things Ahsoka.