On March 10th, 2023, an official announcement was made that charged the Red Dead fanbase with immense excitement. An event called Tombstone Redemption would be held for Red Dead fans in Tombstone, Arizona, on July 29th and 30th, 2023.
Rob Wiethoff, Roger Clark, Benjamin Byron Davis, Alex McKenna, and Peter Bloomquist were announced as the first five cast members appearing at this highly anticipated event in this renowned town. The true historical tales of the Wild West would be paralleled by the fictional tales of the Van der Linde gang. The lines between reality and fantasy would be blurred as fans of history and gamers descended on this Western town to make monumental memories.
Being a huge fan of the games, I knew I needed to be in attendance. Less than an hour after the official announcement was made, I had my flight, rental car, and hotel booked. My trip itinerary was set, and I started shopping for a new pair of cowboy boots. Members of the Red Dead community were buzzing. I couldn't wait to get out to this legendary town to meet the cast of Red Dead Redemption!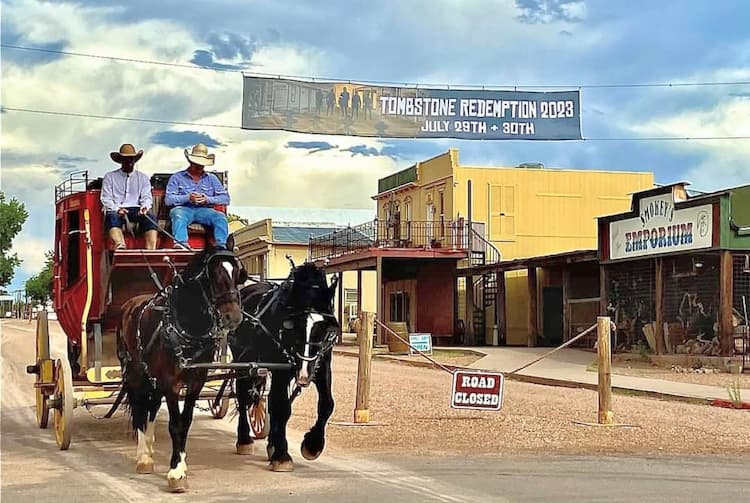 I was excited to tour Tombstone and see the sites! I had researched its past, but I wanted to hear its history from the locals since this history was their history. It amazed me that certain legendary men and women still were having their stories told 143 years later. Their life stories are preserved so well that it was easy to imagine them walking this town in the distant past. Their lives still bring a colorful remembrance of a town too tough to die.

Their portraits hang in Wyatt Earp's Oriental Saloon & Theater
A man by the name of Kenney Palkow has earned his reputation in Tombstone. He's a man that gets things done. He had a plan! Kenney will go down in Red Dead history as someone who rallied the fanbase for an unforgettable event. He worked tirelessly to ensure things went smoothly. He kept adding unique details to the event to keep the fans busy and allow us to explore Tombstone.
Some activities for the event included taking a tour in a replica Blackwater Stage Company stagecoach, playing Texas Hold 'em, where the winner would take home a 1 kilo .999 fine solid silver bar, the Blackwater Heist shootout, ax throwing and the Outlaw Zipline where a lucky fan could win a custom PS5 signed by the cast, (one of eight being given away as prizes for various activities over the weekend.) Saturday night featured a rodeo. Fans were encouraged to stop by the visitor center, which was transformed into the Blackwater Bank, to collect a bank bag full of 'loot' and where special town maps resembling the game maps were handed out.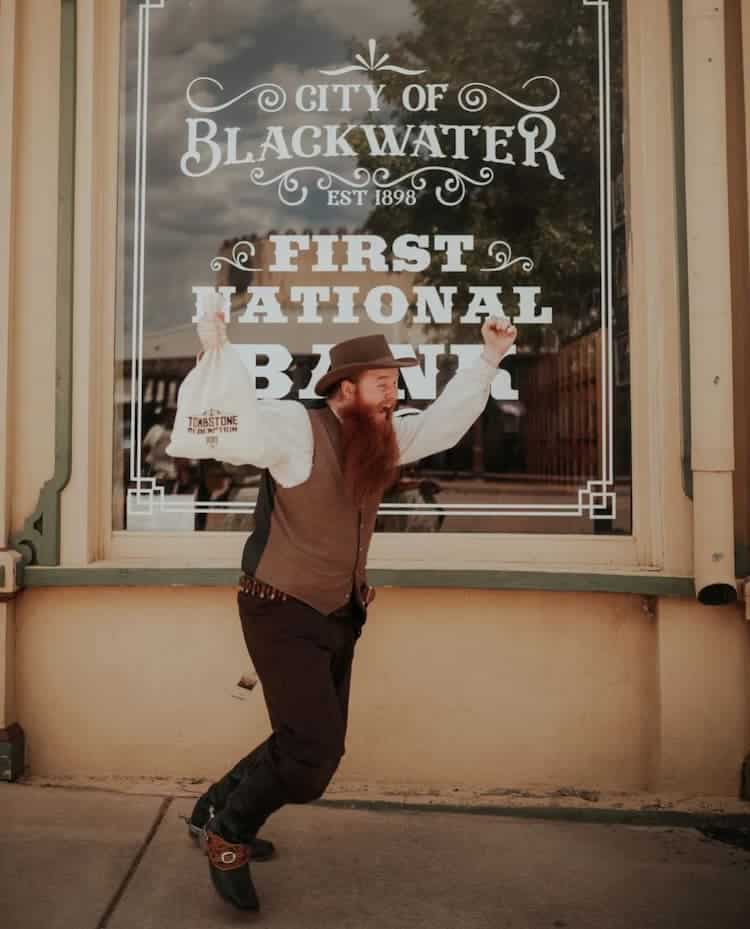 Hollywood armorer and gun coach Joey Dillon did four free shows over the course of two days. Replica gun rigs of John Marston and Dutch Van Der Linde could be won in a raffle. The gun rigs were donated by Mernickle Holsters. Unique items were for sale at the event.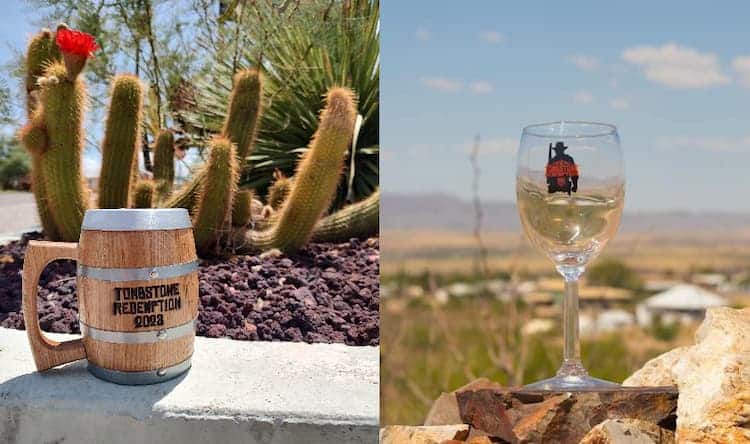 "Everything is coming together. Exactly as I planned." – Dutch Van der Linde
Cosplay was highly encouraged for everyone attending. Whether you wanted to dress up in late 1800s fashion or base your outfit on one of your favorite characters in the game, a large number of attendees got into the spirit of the festivities.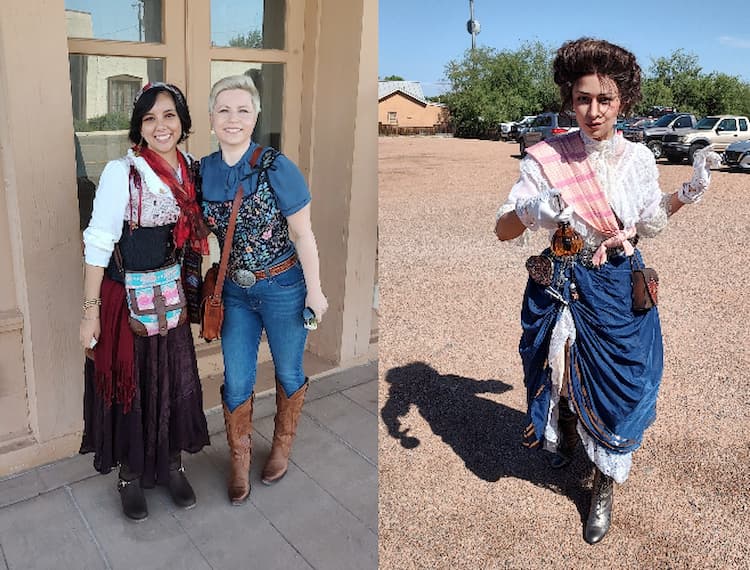 On my first day, I ran into a Madam Nazar-inspired cosplayer & on my second day, I ran into Harriet Davenport. Madam Nazar (Collector Role) & Harriet Davenport (Naturalist Role) are featured in Red Dead Online.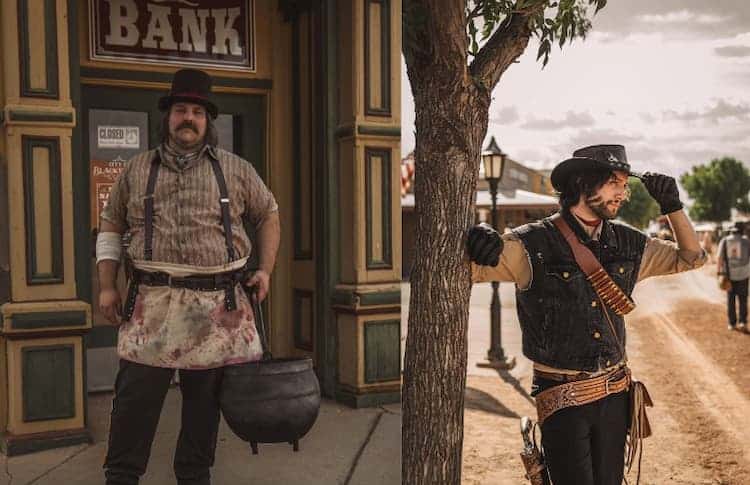 The main event was meeting the cast of Red Dead Redemption. Kenney was able to assemble a rockstar crew: Rob Wiethoff (John Marston), Benjamin Byron Davis (Dutch Van der Linde), Alex McKenna (Sadie Adler), Peter Bloomquist (Micah Bell), Curzon Dobell (Hosea Matthews), Steve J Palmer (Bill Williamson), Gabriel Sloyer (Javier Escuella), Mick Mellamphy (Sean MacGuire), Kaili Vernoff (Susan Grimshaw), Jo Armeniox (Karen Jones), Meeya Davis (Tilly Jackson), Samantha Strelitz (Mary-Beth Gaskil), Jim Pirri (Angelo Bronte) and the OG from Red Dead Revolver, Robert Bogue (Red Harlow). Unfortunately, Roger Clark (Arthur Morgan) and Jim Santangeli (Simon Pearson) had to cancel and were greatly missed.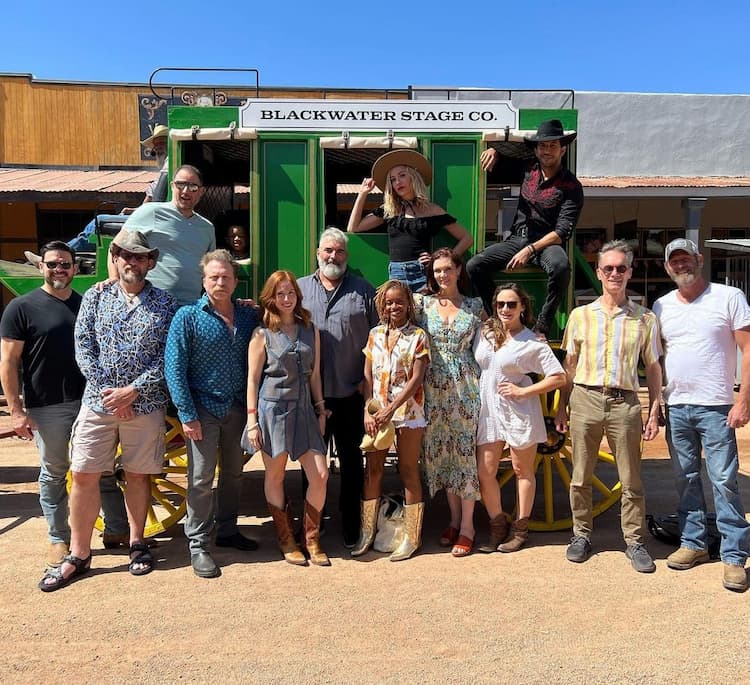 On Saturday, the cast was sworn in as honorary citizens of Tombstone by the Mayor just before the doors opened for the fans to meet their favorite outlaws.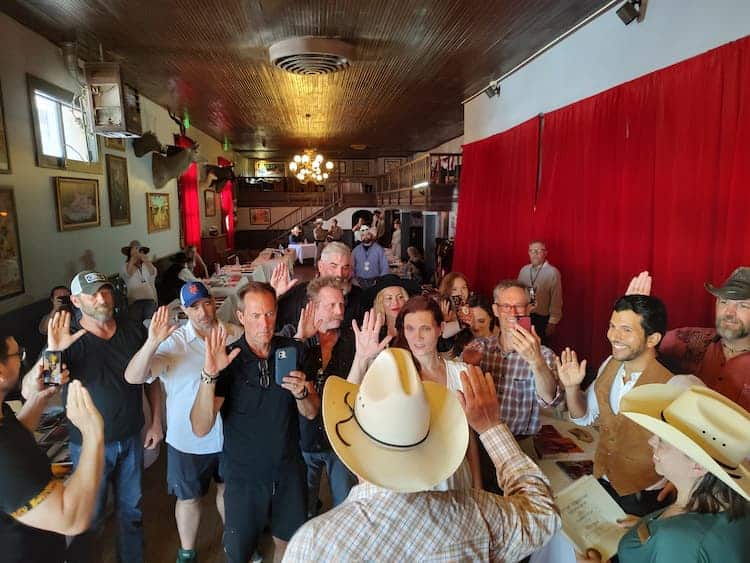 Watch the moment here: https://www.youtube.com/watch?v=nF5qhqTwN0U
A panel was held in historic Schieffelin Hall on Saturday and another on Sunday, allowing fans to listen to the cast talk about their experience working on the game, visiting Tombstone, and meeting the fans.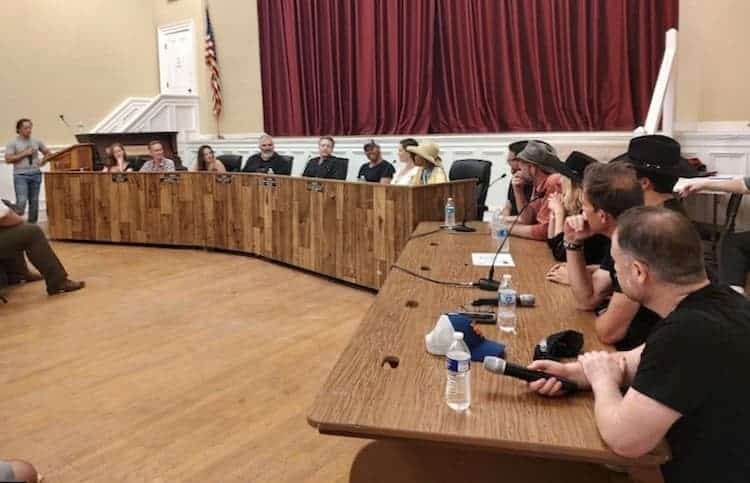 You can check out Sunday's panel here: https://www.youtube.com/watch?v=3SUzrR2u2GA&t=33s
Wyatt Earp's Oriental Saloon & Theater was the unique backdrop for the autograph and picture sessions. It was the perfect setting to meet this wild band of outlaws. Walking into the Oriental Saloon felt like you were walking into camp. Camp is the base of operations for the Van der Linde gang in Red Dead Redemption 2, where you go to rest up, complete certain game upgrades, and hang out with other members of the gang to obtain a better understanding of intricate plot points and facets of the other characters' personalities and backstories. The familiar likenesses and voices of the actors ringing throughout this intimate space allowed us as fans to have an extraordinary experience where the well-known, beloved fictional tales of the Van der Linde gang bled into our very own reality for the weekend.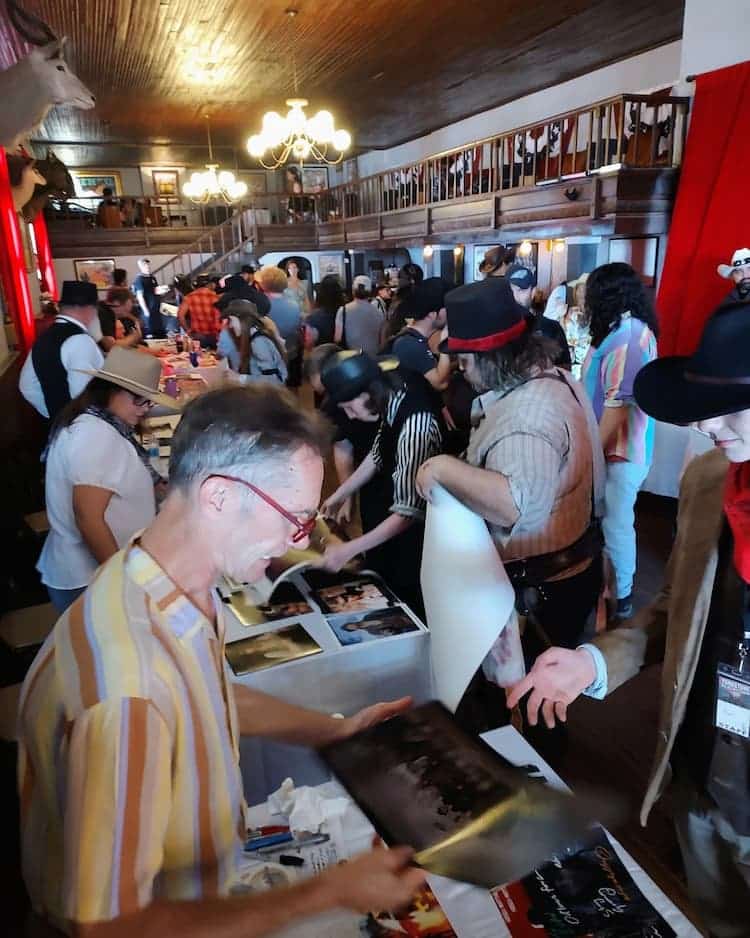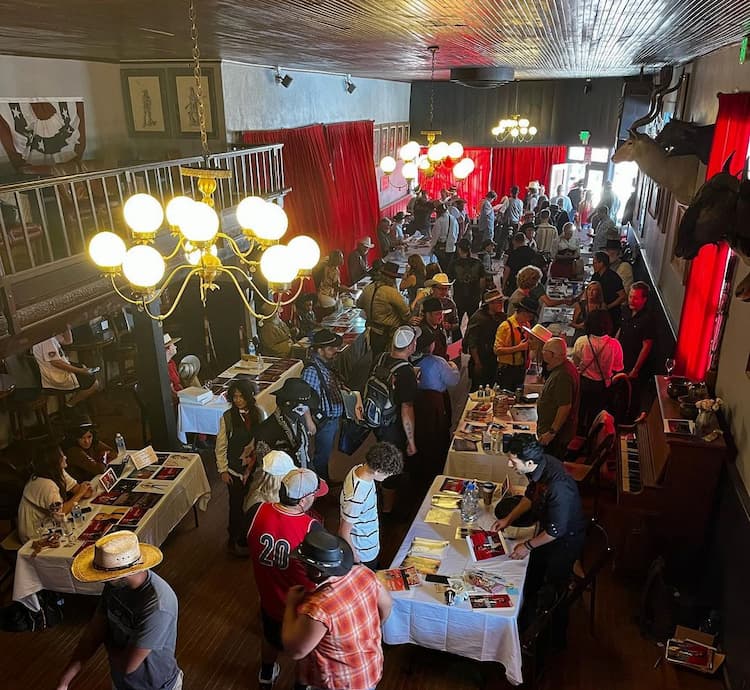 I've been to many comic cons and met a wide variety of actors and artists, but there is something remarkable about the cast of Red Dead. They immediately made us fans feel as if we were all accepted as extensions of their 'family.' Every single interaction I saw during the meet and greet was genuine and heartfelt. If you ever get a chance to meet any of them, I implore you to mosey over and introduce yourself.
Taking Tombstone
The town of Tombstone lent an extra special backdrop to this unique experience.

At breakfast on my first day in town, I overheard some of the town's 'old timers' discussing their trepidation at having a bunch of youths come into town for this new fan-dangled video game event. Some other locals sat at a table near us, and we got to chatting. They had questions. It seemed the locals didn't understand the phenomenon that is Red Dead Redemption. My husband and I explained a bit about the game, how revolutionary it's been to video games, and how this was a very special event for everyone who was making the pilgrimage to meet the cast.
Friday night, there was an influx of new arrivals in town. We were all eyeing each other, wondering if the new strangers were here for the event. Some of us were bold enough to come out and ask, "You here for Tombstone Redemption?" Saturday morning, all bashfulness was tossed aside as many strutted the boardwalks in this old desert mining town in their best cosplay, a cowboy runway. New strangers in town immediately became fast friends as effortless introductions were made. Online friends became real-life friends. There was an air of openness and camaraderie in the scorching Arizona summer heat. We were all happy, shiny, sweaty people having a blast in the Wild West.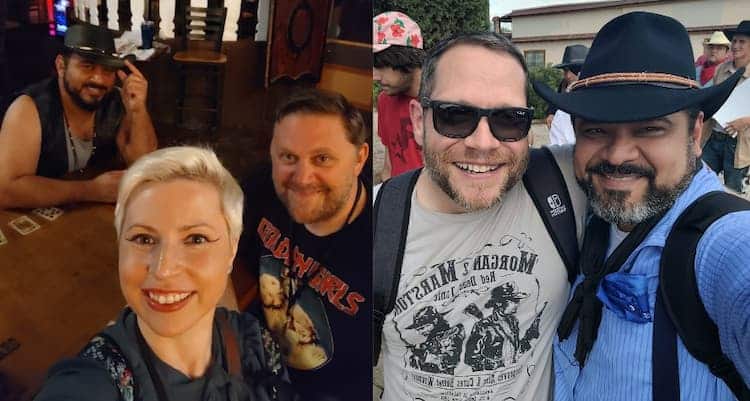 It's estimated that 10,000 people descended on Tombstone to celebrate the largest gathering of the Van der Linde gang since the game's creation. The actors stayed late into the night, ensuring every fan who came out for the event who stood in line in the heat was greeted.
Once the event came to a close and the residents of Tombstone saw us fans in action, the reports came in. The townsfolk and shop owners commented on how respectful and awesome the Red Dead fans were. In the wise words of Ms. Grimshaw, "Manners is everything." The Marshal's presence during the event was much appreciated as they kept a close eye on this well-behaved crowd of outlaws. There were no unruly 'incidents.' Cue the high honor chime. The shop owners saw an influx of profits during the event, breaking 30-year records for the month of July. Tombstone saw how powerful the Red Dead Redemption fan base is.
The remarkable thing about Tombstone Redemption is that Kenney did not use normal means to advertise for this event. He used Instagram and Facebook to deliver regular updates to keep us in the loop for any new developments. He kept us excited with new announcements about featured aspects of the event and exclusive, unique merchandise that would be available. Those who planned to attend spread the word about when and where on their own social media platforms. The power of social media summoned 10,000 people to the Arizona desert to share a weekend they won't soon forget.
Kenney did a phenomenal job organizing Tombstone Redemption! We fans will be forever grateful to Kenney for bringing us all together to celebrate Red Dead Redemption!
The Cast Talk About Their Experience:
Rob Wiethoff (John Marston): "Even though we have been in touch on a regular basis through a text chain and the occasional Zoom call, it had been five years since most of us had seen each other in person. It was so nice to be able to spend an incredible weekend with my friends again! The fans of the Red Dead series have always been incredibly supportive, and they certainly showed up to celebrate the event in Tombstone. While we as a cast enjoy the love and support from everyone, it's always cool to see that the fans enjoy loving and supporting each other as well. It's an incredible community. A huge thank you goes out to everyone who made this weekend so enjoyable for everyone involved."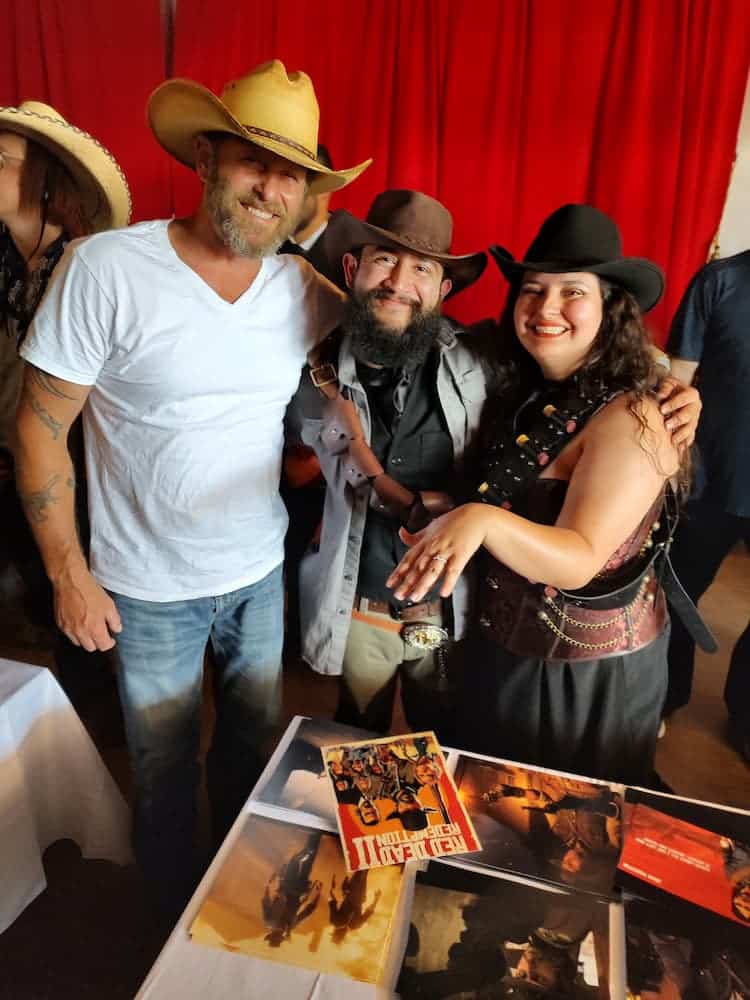 Congratulations to Andrew Escandon and Hailey Hutchins on getting engaged at Tombstone Redemption!
Benjamin Byron Davis (Dutch Van Der Linde): "I have been fortunate enough to be a part of Red Dead since 2009 (I think that's when I got hired in the first place), and little could I – or anyone – have imagined that 14 years and two titles later these games would be so celebrated and still have such a robust and growing group of fans.
Even more unimaginably – nearly 5 years after the release of RDR2 – is the astonishing turnout for Ken Palkow's brainchild 'Tombstone Redemption.'
The idea that the initial crowd estimates I had heard of 1,000 to 5,000 people who would journey to Arizona to celebrate Rockstar Games' epic outlaw saga seemed outlandishly large to me. That we ended up with more like 8-10,0000 people (even after seeing it with my own eyes) seems impossible.
Further, that those folks would have the fortitude to brave long lines in scorching heat to meet so many of us from the ensemble (and would get to the end of that line with smiles on their faces?!?!) is humbling to the extreme.
Even more astonishing is how far so many folks traveled to be there… road trips from Maryland, Idaho, Illinois, Texas, Washington State, folks who had come from Canada and Europe, and I would be remiss not to mention the singular Harriet Prebble who bravely traveled all the way from New Zealand, had her bag stolen (including all her travel documents) and still managed to document the whole event with elegant aplomb on her popular TikTok account. True Grit incarnate.
The fans of Red Dead Redemption are unmatched in their creativity, grit, kindness, and, most importantly to me – their support of one another. It just blows my mind how incredible these folks are… So many of the fans who came to Tombstone told stories of meeting online through their mutual love of RDR2 and that they were meeting face-to-face in Tombstone for the first time. More than a few folks I met were now married after having bonded over the game. The generational connection these games provide is also gratifying. Many stories were shared of Grandparents connecting with their grandkids over these games. I am remembering just now of an exhausted father finally out of the heat (sort of: the Oriental Saloon was pretty warm too) telling me when his son had asked to attend and he learned there might be long lines that he nearly balked. "I have never known anything in this world worth standing in line so much as an hour for," he told me after having just waited in line for 4 hours, "Then I realized there was something worth waiting in line for longer than that," and he proudly pointed at his son.
I cannot tell you how lucky I feel to be a small part of this enormous enterprise, and I am so grateful to the people of Tombstone for hosting us so warmly, the mayor for honoring us so unexpectedly, Kenney for dreaming this up in the first place, the extraordinary folks at Tombstone Monument Ranch for making us feel so at home, and now and forever – the exceptional people who love this game so dearly. The fans of Red Dead are who made this whole enterprise possible, and I will do my level best to honor them whenever I have the chance.
We are outlaws for life."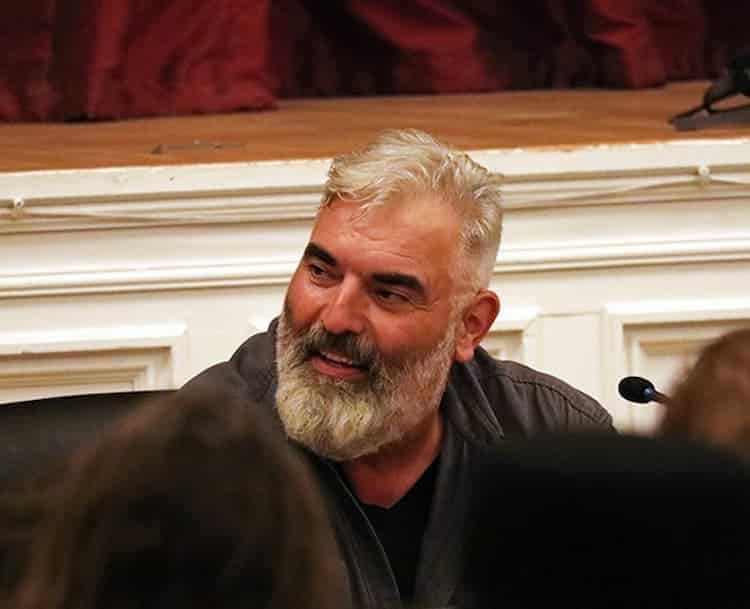 Peter Bloomquist (Micah Bell): "The people of Tombstone, the business owners, the volunteers, and the guests created such a welcoming and positive atmosphere. It was a privilege for me to be a part of something so special. That weekend in Tombstone will always hold a special place in my heart."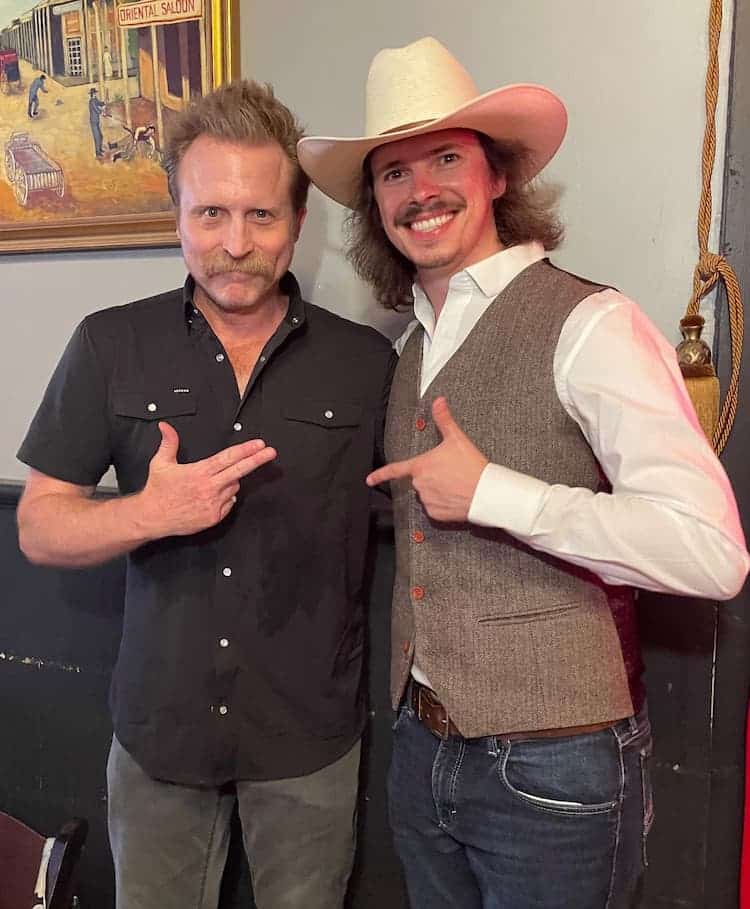 Kaili Vernoff (Susan Grimshaw): "Truly, I was most excited to see my beloved gang. As a cast, we are incredibly close, and I imagined strolling through Tombstone with all of them, catching up and laughing our asses off. But clearly, I hadn't known how many of our loyal, dedicated fans would show up. And that, of course, is the story of the weekend. I met the most wonderful people! I heard about their journeys in-game and in their lives. I heard what brought them together and what brought them to us. As a storyteller, you can only send your work out there and hope it reaches the people who need it, who cherish it. But getting to meet those people? And to HUG them? That was a privilege beyond my wildest imagining. I am forever grateful to Kenney and the town of Tombstone, who took such wonderful care of us. I'm still smiling."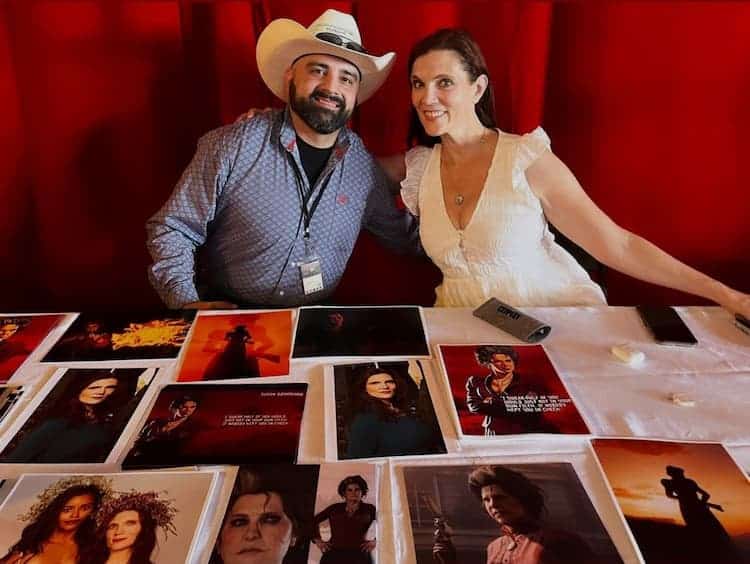 Jo Armeniox (Karen Jones): "I think I can speak for all of us that we had no idea what the turnout would be. And my goodness, was it incredible to see!"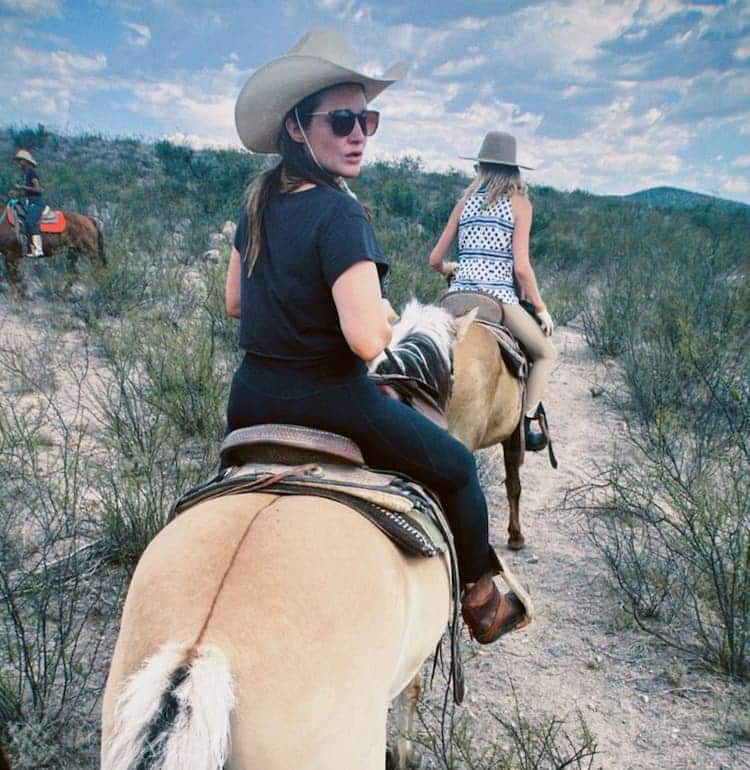 Samantha Strelitz (Mary Beth Gaskill): "It's hard to describe the feeling of experiencing the Red Dead community take over Tombstone, decked out in full cosplay. They tripled local business and waited upwards of six hours in the scorching heat to hang. They drove across the country from as far as Maryland, flew in from Hong Kong and New Zealand, and while they must've been exhausted, they greeted us with smiles, stories, and incredibly thoughtful gifts. Among them was a handmade embroidered character quote and a portrait drawn using ink made from gunpowder. The talent was insane. I can honestly say we have the best fans in the world."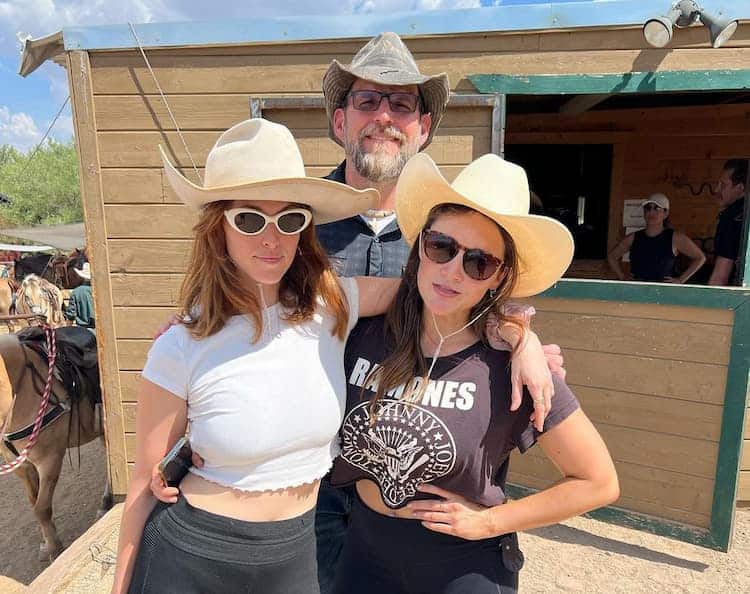 Sam, Steve & Jo
Steve J Palmer (Bill Williamson): "A week later, and my iPhone camera is still loaded with pics I've yet to post! It was such a magnificent experience, and we owe it all to Ken Palkow & Rob Wiethoff for getting the ball rolling on this. All the fans were so generous with the gifts and fan-art they gave us. We were so humbled with all the love and support they gave. Heck, I got a stuffed turtle I named Albert Danielson, for crying out loud!! He's spectacular! The cast is still chatting daily on our gang text thread about TOMBSTONE REDEMPTION, and anticipating what the 2.0 version in 2024 will be like. We've just heard that it'll take place in a brand new location, so we're looking forward to the day when all that will be revealed. What I DO know is that other cast members from the RED DEAD franchise who weren't in attendance that weekend, are already contacting Ken to participate next year. Who knows? I'm thinking it might even be TWICE as big next time around."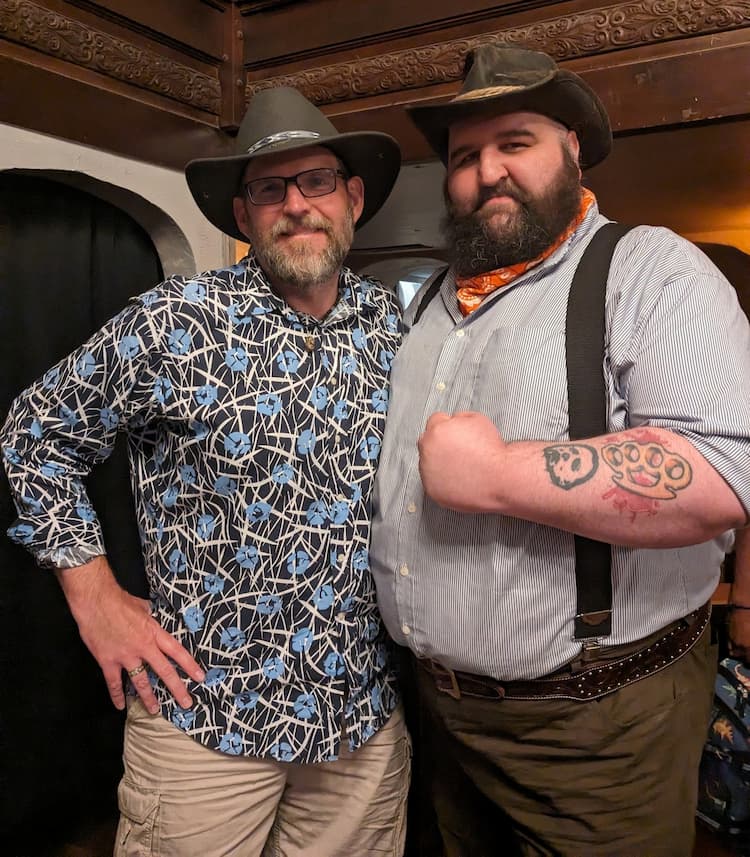 Mick Mellamphy (Sean MacGuire): "Tombstone Redemption was one of the greatest fan events I've ever personally been part of. Meeting so many fans who came from across the US and overseas with their families is a testament to the nature of this game and the fandom it inspires. The positivity of the Red Dead Community shone through in every single outlaw, cowpoke, and oily turd I had the pleasure of meeting in spite of the long, long lines, hours, and high temps. Most conventions usually focus on the bigger draws from a variety of games, series, or shows. Having an entire weekend celebrating the Red Dead series in such a setting as raw and wonderful as Tombstone was mind-blowing to say the least. I almost lost my head being so happy meeting so many fans of this brain-bursting community. The welcome we received from the locals of Tombstone was a pure treasure."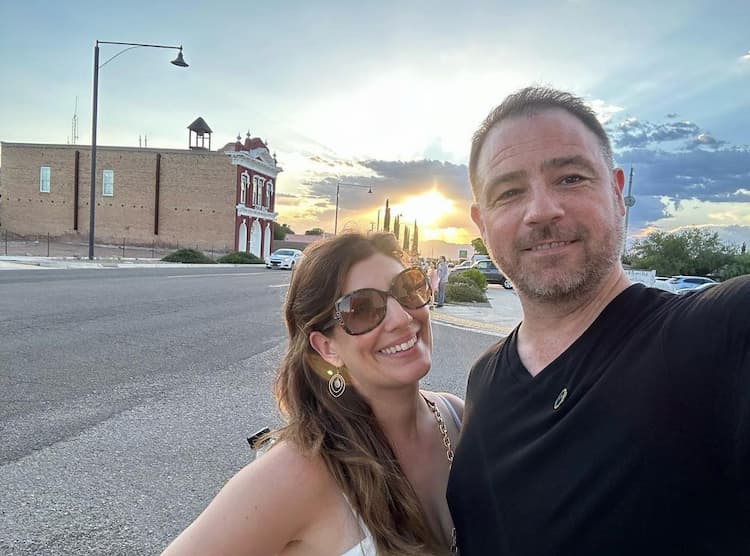 Jim Pirri (Angelo Bronte): "I could not have had a better experience at Tombstone Redemption. Truly, I made some great friendships with the locals, who could not have been more welcoming. And was blown away by the passion and love for the game of the fans, who were willing to stand all day in the blistering heat just to meet us. Hearing their stories of how the game helped them through some tough times, or taught them something about themselves, left such an impact. I'm still resonating from it and feel so grateful and proud to be a part of the gaming community. It's such a powerful medium, especially when driven by a strong narrative, people who are unfamiliar with it have no idea of what a positive force it can be. Tombstone will always hold a special place in my heart."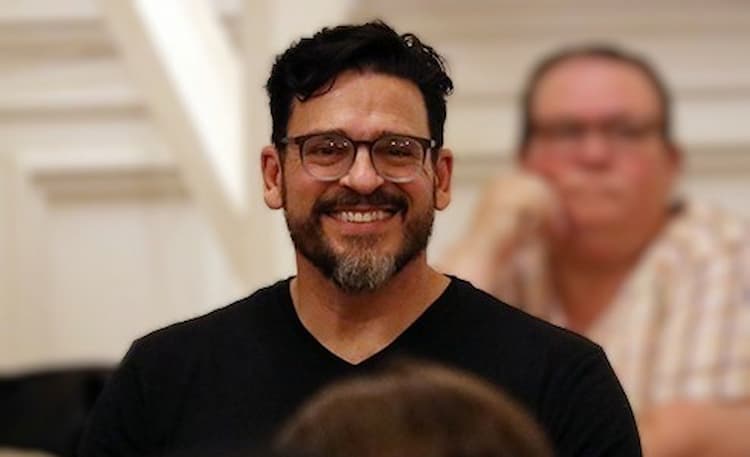 Robert Bogue (Red Harlow): "They said it's in the middle of nowhere. Maybe 100 people will come. At the most. It's too hot. It's too far. Wow. Never never underestimate Outlaws! 10,000 fans! And enthusiastic enough to deal with the heat. Dedicated enough to trek to the town in the middle of the desert. It was an awesome experience. I was so energized by everyone else's positive energy!"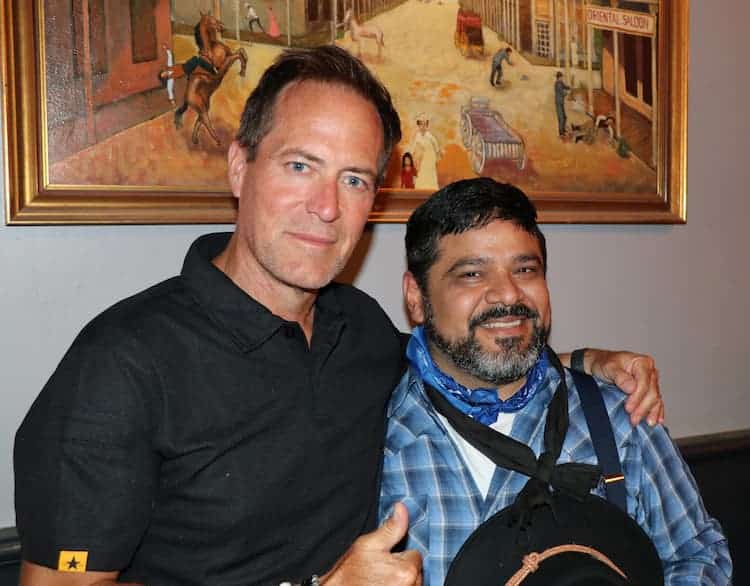 Will There Be A Next Year?
There will be Redemption 2.0. It will not be in Tombstone. The show is going on the road! The date and location have yet to be announced, so be sure to follow the official Redemption 2.0 socials for updates. We are on the edge of our seats, waiting for the next announcement! Kenney wants to make sure we all have a great time, so do your part and RSVP! This will help with planning and logistics.
As the memories we made over a hot, hectic weekend in this notorious old western town fade into the recesses of our minds like the setting sun behind the mountains in the desert, we can look forward to a new event just on the horizon.
Outlaws for life!