Michelle and Erika here! We're part of the Couch Soup Contributing team! We had a really exciting opportunity to represent Couch Soup at an Activision Blizzard event in Los Angeles, CA (YES, LA!), promoting their new game- Crash Team Rumble!
We know what you're thinking. By "Crash," are you talking about the fluffy, adventurous, wild bandicoot we know and love?" The answer to that is yes, of course we are! We are here to give you the breakdown of the event, the game, the excitement of meeting Crash, and the unfortunate events that unfolded after that required Michelle to get a push from Erika and Crash himself. Let's dive in!
Starting with getting to Activision HQ (how cool is that to say), we were met by some staff who shuffled us off to where others were waiting to go into the room. Here, we met some awesome people who were also invited to be a part of the shenanigans. Everyone was excited to be there and participate in the day! As soon as everyone was ready, we signed some paper-work (I gave away my firstborn willingly) and entered the event.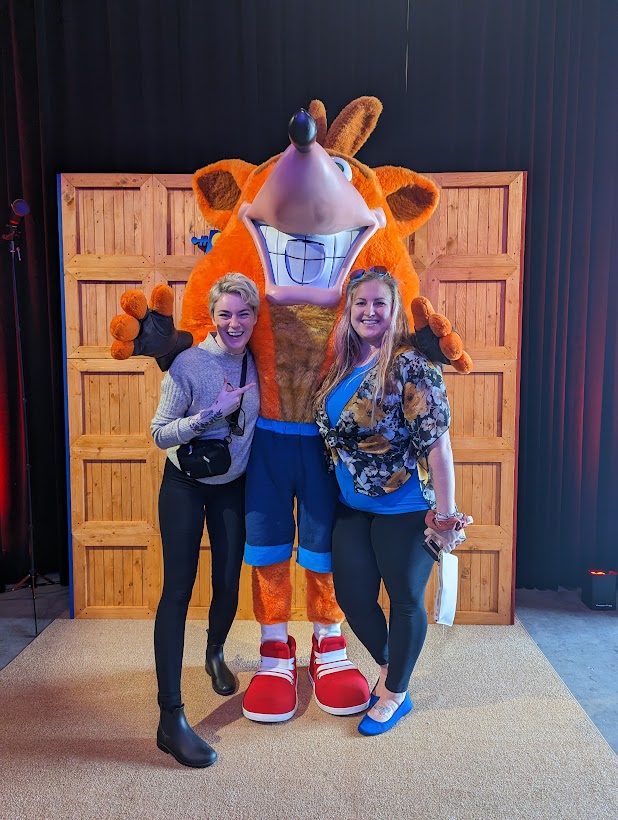 Upon entering, we were met by Crash himself! Photo op! The room was decked out in themed decorations, music, and drinks/snacks! There was initial awkwardness as everyone entered as no one was sure where to start exploring first until Marisa (Activision PR) welcomed us to the event. Along one wall were several tables with monitors, headsets, PS5s, and computers to record our gameplay. It was game time!
They first got us started by taking a short 4-5 minute tutorial to explain the game's objective and get used to the controls. You're immediately immersed back into the world of Crash! Similar movements and actions, but with a different purpose for this game. How cool! Once we all finished the tutorial, it was match time. Time to get sweaty!
So, what is the game, you may be asking? Let's hear it straight from the Senior Studio Coordinator for Toys for Bob, Sydney Del Signore! When discussing the game type and strategy, her comment was:
"We're trying to figure out what genre it is. So we're saying 4v4, competitive, strategic, platformer, right? Which you haven't seen that before. You've seen other Crash games in the past that have done different things but you haven't seen the platforming experience in a multiplayer."
She is exactly right! You play a team of 4, and there are multiple beloved characters to choose from. For the event, we had Crash, Tawna, Coco, and a Dingodile. Each character holds a specific area of strength for the team. You have scorers, boosters, and defensive players. For our team, Erika was Tawna and a badass scorer, Michelle was Coco as a Booster, Lawrence Sonntag was a Dingo, and Danny Pena was collecting points. The aim of the game is to be the first team to bank 2000 wumpa fruits before the other team! There's a home bank for each team, and all 8 players are on the same map. Think of it as, Super Smash Bros meets Destiny 2's Gambit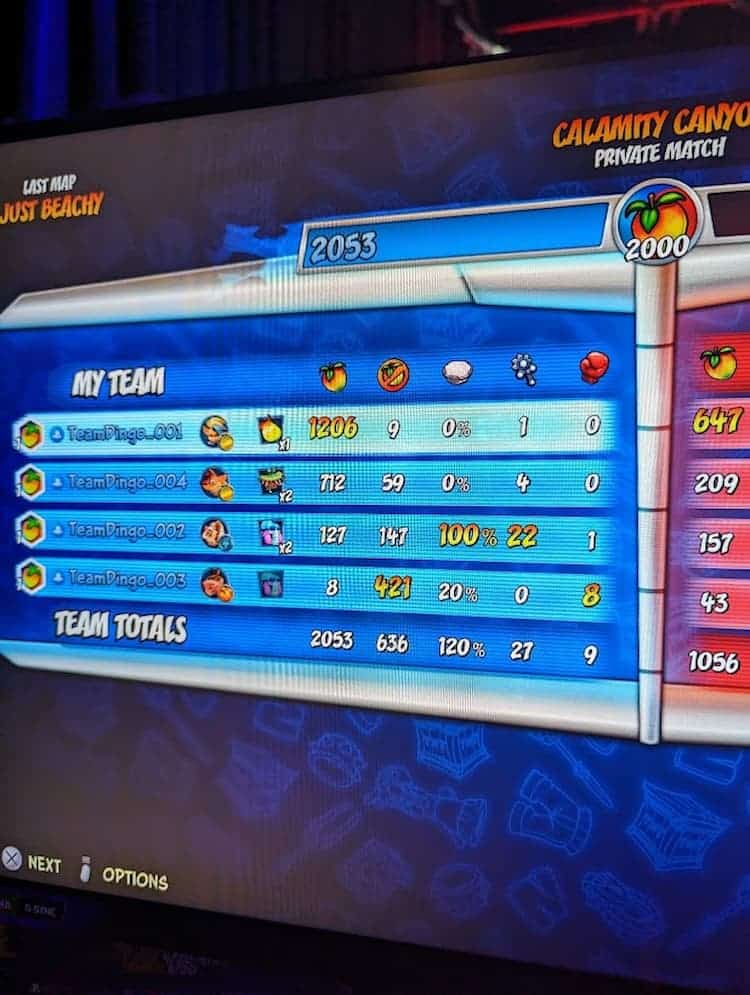 The platforming comes with the booster characters, as there are gem pads that boost the value of the wumpa dump for your team. The catch is there are 3-4 of them in multiple areas of the map, and there's a timer that you have to maintain to win the gem pad. If the enemy team stands on a pad long enough, they will turn the timer in their favor! There are also relics to collect, which Michelle took on as her job with the boosting. Multiple relic pads throughout the map offer different "enhancements" to help your team. Depending on the map, there are beach balls or barbed wire balls that envelope you, and you can roll around destroying other players. There are jump pads that get you to the highest point on the map, and there is always one major upgrade per map. There's a UFO (you can hear Syndey talk about that in our interview), an Uka Uka (voodoo spirit mask) station, and a bonus bank per each respective map. These cost 30 relics and take a while to earn! The beach balls are 5 relics, and the jump pads are 2.
The Scorer's job is to collect as many wumpas as possible and bank them! If your team gets the bonus bank open, it doubles the value of your deposit, so it is worth it! You can defeat other players with the traditional spin, squash, or slide move. Then there are the Dingos. These guys have a gun that can destroy the other team's health pretty quickly. They also have a powerful spin, so they are good for either defending your own bank or camping on the enemy bank and keeping them from scoring!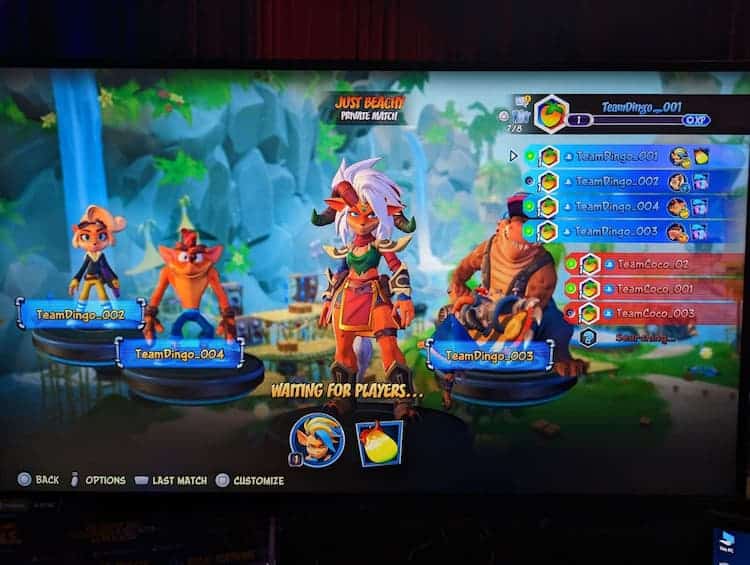 On top of these perks, each character gets an added bonus you can use throughout the game. There is a cooldown bar, so you have to wait to use them, but there are enemies you can drop to defeat the other team, there are plants you can use (like the venomous tentacula!), and there is a healing fridge that tethers to your team and heals them as needed. In the same menu, you choose this added bonus. You can also select character customization options! Each character has different options, including skins, hats, backpacks, etc.! The options are A LOT of fun.
Put all this chaos together,and it is the most fun, platforming, strategic Crash game they could have created! Before we realized it, it had been over an hour of playing, and the staff was ushering our group off our consoles to allow others to play. The only concern we can think of is that it is potentially a 'flash in the pan.' What we mean is it's super fun for a pretty long time, but if there are no updates or more characters to choose from or maps to play, it can lose it's excitement quickly. However, according to Sydney, there are some items in the pipeline so that hopefully isn't an issue!
Toward the end of the event, we were able to interview Sydney, and you can hear the rest of that interview (plus the fun being had in the background) below!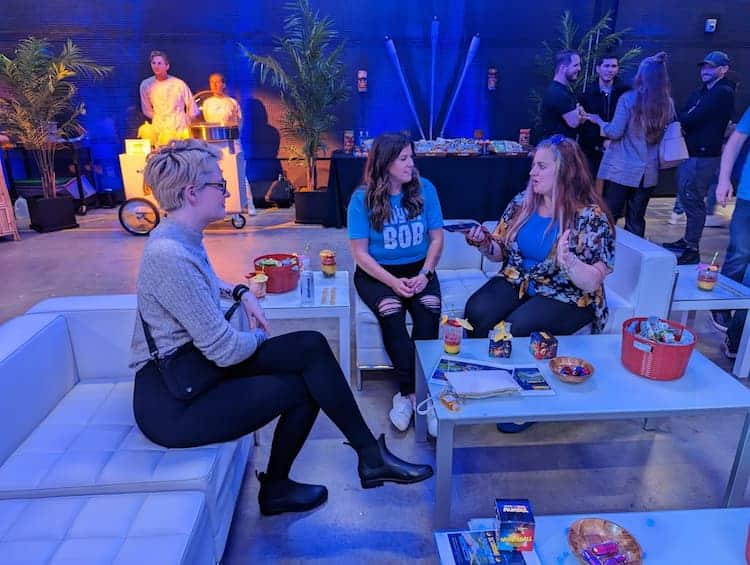 On our way out, Michelle had too many wumpa fruit drinks, and her crash car petered out. Erika and Crash to the rescue for a boost!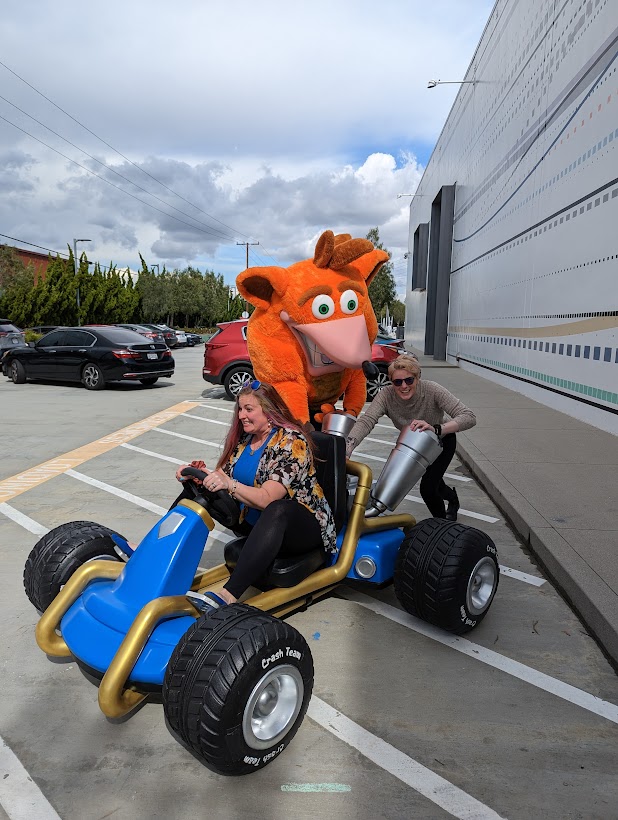 Crash Team Rumble is all you would expect it to be: cooperative, challenging, and hilariously fun! The open Beta begins April 20th and ends April 24th, so be sure to Bandicruit your friends and get your team going for a great time!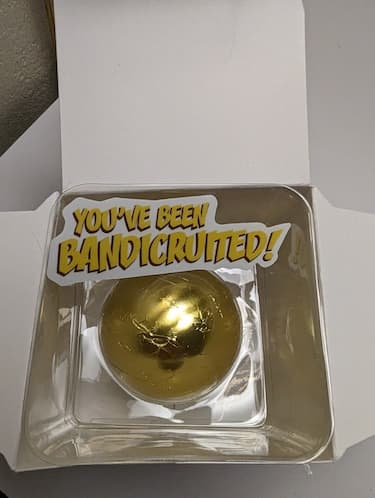 When you're "ready to face my wrath, Crash Bandicoot," we would love to challenge you!
Crash Team Rumble releases June 20, 2023. If you missed the social posts during the event, be sure to catch Couch Soup on Twitter, Instagram, and Facebook!