Australia. We're a land known for many things, mainly our artistic talent we export overseas – your Hugh Jackman's, Kylie Minogue's, and the like. We're also known for having sports that are better than baseball, better than gridiron, and slightly less intense than ice hockey because, honestly, you guys kill in that sport.
We've also got some great comedic talent, from stand-up icons like Wil Anderson, Adam Hills, and Jim Jeffries to the incredible writers, producers, and actors you see on the Australian small screen.
Unfortunately, it doesn't always seem that our type of comedy travels well across the high seas into the American and UK markets. That's why when I saw the new Australian comedy series Colin from Accounts advertised as coming to Binge, I assumed it was going to be another typical boy meets girl rom-com that's been around for years with nothing more than a backdrop change from the US suburbs to the Australian suburbs. So far, so standard romcom schlock, but you know what they say about assumptions…
After binging the entire series in two days, I might as well change my name to Adrian the Ass because Colin from Accounts is one of the best Aussie sitcoms to come out of the country in years. It takes the standard suite of romance cliches and cleverly tinkers with them to put a decidedly Aussie spin on it. It's excellent, and I wish it was something Australian showrunners and networks would invest in instead of their current show offerings.
The setup for the show, much like real life, is deceptively simple. Brewery owner Gordon (Patrick Brammall) meets nurse-in-training Ashley (Harriet Dyer) when Gordon runs into an escaped dog after Ashley flashes him while crossing the street. After rushing the dog to the vet, they both find out that his back legs are now paralyzed, and he will need constant care.
With both of them wanting to be responsible and not wanting to see the dog put down, Gordon and Ashley decide that Gordon will pay for the dog's costs and Ashley will house the dog. The only problem is that Ashley's just been evicted from her rental property, so guess where Ashley and the dog have to stay?
What? A Best Western? I don't even think we have that over in Australia… No, the answer's no. Are you paying attention? Just scroll back up, read up until this point again, and have another go. I'll wait…
Is the second guess Gordon's apartment? You know what, even if it isn't, we'll just crack on because I've got to keep this article moving.
So yes, at the end of the first episode, Gordon, Ashley, and the dog they're affectionately named Colin from Accounts are all stuck in an apartment together. Let the sparks fly! Over the next eight episodes, we, as the viewer, witness pissing in drawers, parties, an accidental dick pic, and some of the best Aussie comedy I've seen in a sitcom for a while.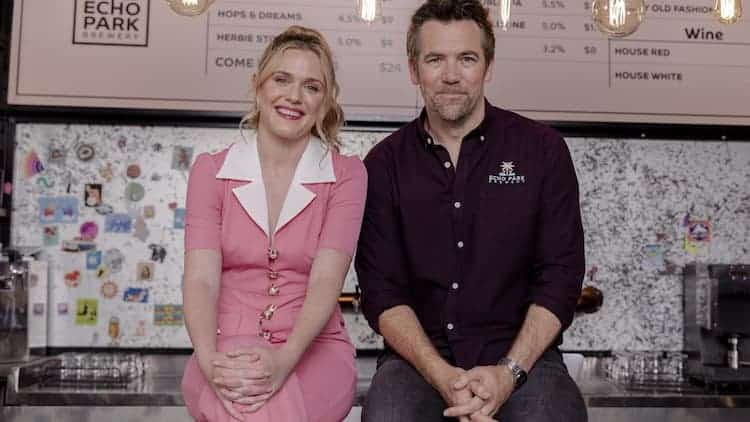 If the pissing in drawers hasn't sold you on this (and why wouldn't it?), then you should know that this series has some substantial Australian comedic talent behind it. The series was created by Harriet Dyer and co-written with her husband, Patrick Brammall. Dyer is a well-known Australian actress that has starred in multiple great drama and comedy projects, but this is the first series she's taken a role behind the scenes in. For his end, Brammall is a mainstay of Australian comedies and was the main draw of the show for me.
Having the co-writers being married and with a significant age gap (Brammall 46, Dyer 34) has benefited the comedy and the characters. It feels like Brammall and Dyer have injected their life experiences into the title characters, both in their personalities and the interplay between them. The dialogue between the two mirrors that of a married couple comfortable with each other poking fun at each other in that cheeky Aussie way.
The rest of the cast is a smorgasbord of Australian talent, and they each absolutely nail their roles. Gordon's veterinarian ex (played by the impressive Annie Maynard) and the slimy Professor Lee (the exceptional Darren Gilshenan) deserve special mention for stealing the spotlight from the main characters.
If you're looking for your next favorite comedy series, want to check out some Australian comedy to see how we do it down under, or want to just see some picturesque locations on Australia's east coast, be sure to check out Colin from Accounts.
Colin from Accounts is available to watch on Amazon Prime for those outside Australia.