For me, Star Wars Rebels is comfort food. I love the stories and characters, and I can put on an episode at Disney+ (or binge a few at a time) when I just want to sit and chill after a stressful day. Now, I'm also getting bites of that comfort food in other Star Wars productions! Since Rebels launched in 2014, I've snacked on a charcuterie plate full of delicious Rebels references across the films and streaming series. Here are just a few: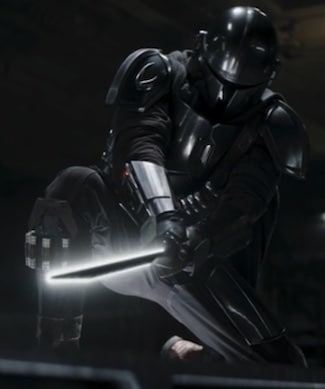 Like binging on processed carbohydrates, each of these nibbles just leaves me hungry for more! I'm ready to pick up where Rebels left off. Fortunately, that's coming closer to reality with the upcoming series Star Wars Ahsoka. Beyond that, though, Rebels launched a lot of new ways that the Star Wars franchise could evolve: new characters, new concepts, and new understandings of the Force. Let's look at my top five ways that Rebels set up other franchise stories.
5 – Darth Vader's Inquisitorius is a thing.
Between Rebels, the Star Wars comics, and Star Wars: Jedi Fallen Order, we have a good understanding of what the Inquisitorius is: a group of Dark Side Force-users who carry out Darth Vader's hunt for remaining Jedi and Force-sensitive children. If they can capture and convert the Force users, great. If not, killing them seems equally acceptable.
Star Wars Rebels introduced us to the leader of this group, the Grand Inquisitor. Though he met his demise in Rebels, we got to see him about five years prior to those events in the recent Obi-Wan Kenobi series. Kenobi also included the Fifth Brother, who also first appeared in Rebels.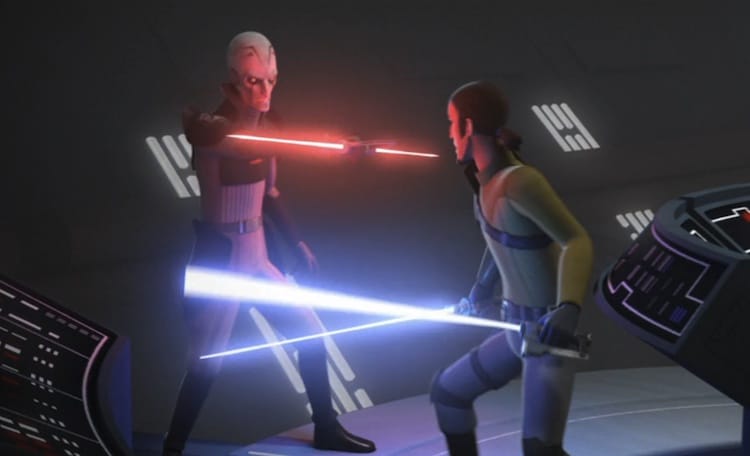 Thanks to the foundation that Rebels laid, we've already seen other members of the Inquisitorius beyond those we met in Rebels: Trilla, the Second Sister, was in Fallen Order, and Reva, the Third Sister, featured in Kenobi. The Star Wars comics have introduced even more inquisitors and backstories (worth a read if you love Dark Side lore). There is a lot more that franchise stories could do with the inquisitors going forward.
4 – Ezra, Ahsoka, and Palpatine experience the World Between Worlds.
The World Between Worlds is a junction of time and space that seems to be an entity in the Force. We first learn about this in Star Wars Rebels when young Jedi Ezra Bridger unlocks and enters a portal in the Jedi temple on Lothal. The World Between Worlds appears as a vast black space dotted with tiny stars and overlaid by a network of white pathways between circular gateways. Each gateway represents some moment in time for someone who is strongly connected to the Force.
In the episode "A World Between Worlds" (S4:E13), we learn that Emperor Palpatine is also aware of this realm, and he tries to capture Ezra and access the realm through one of the gateways. He's unsuccessful, but Palpatine's awareness of the World Between Worlds could come up again in other Star Wars productions that fill in the blanks in his backstory that lead up to Rise of Skywalker.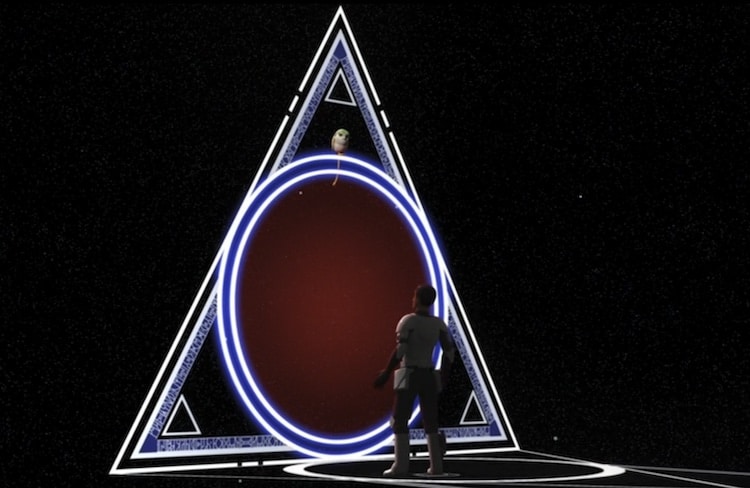 More notably, though, Ezra used one of the gateways to save Ahsoka from Darth Vader on Malachor. The two "Twilight of the Apprentice" episodes that closed Rebels Season 2 had left uncertainty in whether Ahsoka had survived that encounter. After Ezra saves her, though, Ahsoka acknowledges the power and danger that the realm represents. She chooses to return through the same gateway that Ezra pulled her out of, back to her own time.
This not only sets up a future for Ahsoka, it also offers another device that Star Wars productions could revisit for deux ex machina type moments. But like any deux ex machina, a device like this should be used sparingly!
3 – Hera and Kanan have a kid named Jacen.
When did Kanan and Hera ever have time to do the deed? I admit that every time I watch the last season of Rebels, I try to spot the possibilities. In my headcanon, they're off doing it pretty much any time they're off-screen together. But sexy fantasies aside, I'm here to talk about the product of those moments: their son, Jacen Syndulla.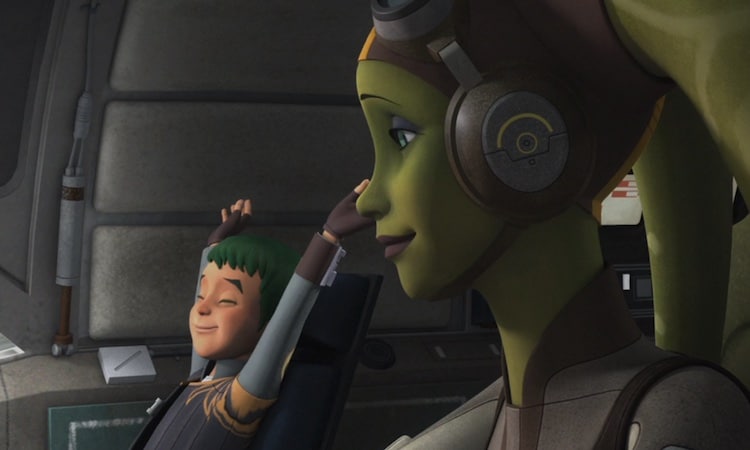 If you read the Expanded Universe (EU) Star Wars novels of the 1990s (now called Legends), you'll recognize the name "Jacen" from Leia's and Han's Force-sensitive twins, Jacen and Jaina Solo. Filoni has said that Hera naming her son "Jacen" is a way to honor Jacen Solo and how important the EU was to fans back in the 90s.
Jacen Syndulla sets up some interesting possibilities going forward, particularly if he is Force-sensitive. We know that Hera is in the Ahsoka series, so maybe we get a glimpse there of a young Jacen, who would be about 9 or 10, assuming that the series picks up during the time of The Mandalorian. Could we get an unexpected yet brilliant child character featured in Ahsoka like we did in Obi-Wan Kenobi? Will Ezra return and become a master for his former master's son? I am bursting to find out!
2 – Sabine wielded the Darksaber successfully in combat.
If you've been watching The Mandalorian, you know that the Darksaber is a unique and symbolic lightsaber created by a Mandalorian Jedi named Tarre Vizsla a thousand years before that time. Tarre also founded the original Death Watch. It was the modern, reimagined Death Watch led by Tarre's descendant Pre Vizsla (from The Clone Wars) that took Din Djarin in as a foundling.
Also from The Mandalorian, we know that Din Djarin is the Darksaber's current owner, that he won it from Moff Gideon, and that he can't hand it back to its former owner, Bo-Katan Kryze, because of a superstitious tradition about winning it in battle. What isn't stated in that show is that Bo-Katan actually first got the Darksaber from Sabine Wren during the events of Rebels as a symbol of a united Mandalore under her leadership.
Fast forwarding through some historical details from Clone Wars and Rebels, Sabine takes the Darksaber with her after finding it on Dathomir. Though she is not a Force user, Sabine trains with Kanan and Ezra and learns how to successfully wield the Darksaber (Season 3, Episode 15, "Trials of the Darksaber"). She is able to connect with the saber, saying that it feels like it is getting lighter as she continues to use it. After training, Sabine continues to use the Darksaber in combat until finally giving it to Bo-Katan Kryze.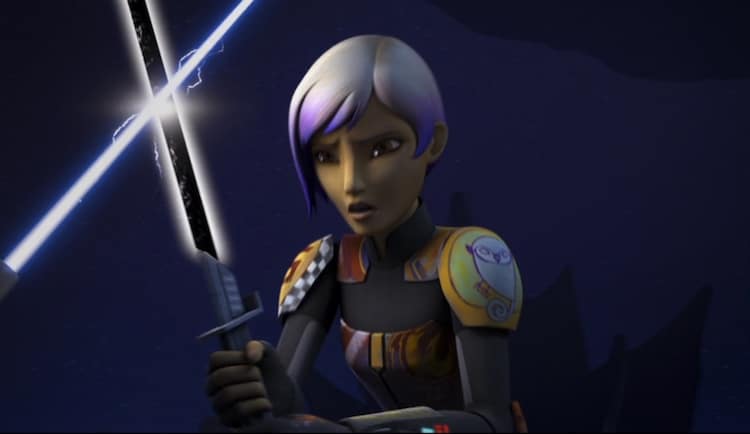 Din Djarin hasn't been so lucky. We've already seen that he hasn't been able to proficiently wield the Darksaber in a fight, saying that the blade feels too heavy. Here's where I'm thinking we could potentially see Sabine come into the picture: she could train Din on how to use the Darksaber, how to connect with it. Or, in contrast, the Darksaber may find its way into Grogu's hands, becoming his first (that we know of) lightsaber. There's definitely a set up here between the presence of the Darksaber and Sabine's past experience with it!
1 – Sabine commits to searching for Ezra.
We've learned from Ahsoka's appearance in The Mandalorian that she is searching for Thrawn. Grand Admiral Thrawn was particularly close with Emperor Palpatine, and I totally recommend the Thrawn novel series from Timothy Zahn for a full experience of his canon backstory (especially in audiobook form). Thrawn was last seen about 1 BBY (1 year before the Battle of Yavin) in the events of Rebels when Ezra Bridger trapped himself and Thrawn and pulled them into hyperspace, saving Ezra's home planet of Lothal from the Empire. Both of their whereabouts have been unknown for a decade when Ahsoka appears in The Mandalorian.
I was ecstatic to hear that the exclusive Ahsoka teaser at Star Wars Celebration reportedly showed the live-action version of a scene from the epilogue of Rebels that set up the search for Ezra and Thrawn. It's the scene that shows Ahsoka looking very Gandalf the White along with Sabine Wren, who is standing in front of a mural she painted of the rebel crew of the Ghost. In the narration for that scene, Sabine (Tiya Sircar) reflects on what it was that Ezra meant when he said, "I know that I can always count you." What she figured out was that Ezra was counting on her to bring him home.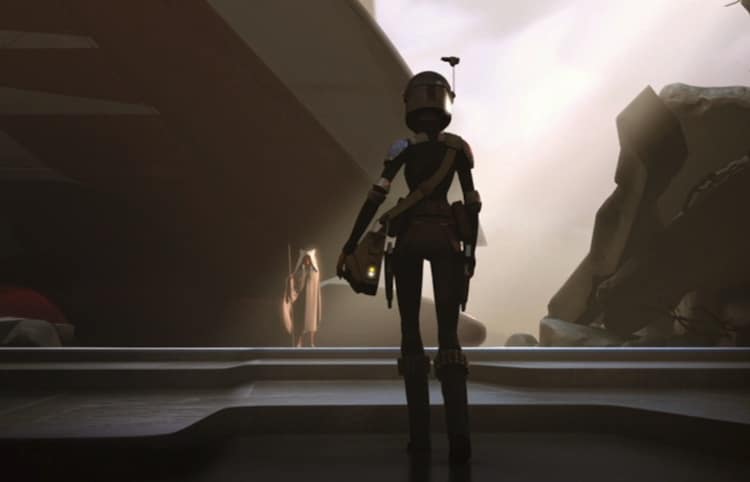 We know officially that the upcoming series Star Wars Ahsoka includes Rebels characters Sabine Wren (Natasha Liu Bordizzo) and Hera Syndulla (actor unknown, though possibly Mary Elizabeth Winstead, who is cast in the series). Given that, and knowing that they've replicated that epilogue scene in live-action, it stands to reason that the series will include Ahsoka and Sabine teaming up to search for Thrawn and Ezra. Will they find one when they find the other? Which one will they find first? The Ahsoka series just can't come soon enough for me!
What other Star Wars Rebels moments are setting up future storytelling opportunities that you're looking forward to seeing?