Konosuba is one of the best anime series you can watch right now. Its unique blend of comedy, action, and a little drama, makes it stand out amongst the sea of average isekai we get every season. I said as much in my first article for Couch Soup (which you can check out here). So, it's no surprise that I was excited about the announcement of a spin-off series focusing on the explosion-obsessed mage Megumin, Konosuba: An Explosion on this Wonderful World. This spin-off has everything the original series has. The story is just as absurd and entertaining, the characters are still unhinged lunatics, and the production quality is top-notch. I was a bit worried about the series because of the studio change, but after that first episode, my worries were gone.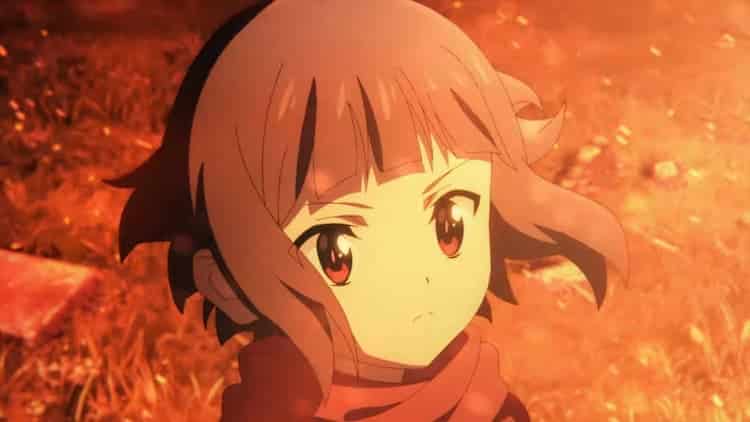 Konosuba: An Explosion on this Wonderful World takes place before the events of the main series and focuses on our favourite explosion mage, Megumin. The series adapts the light novel of the same name and follows Megumin's journey through the Crimson Demon magic school, her departure from her home, and arriving in the town of Axel. Along the way, the usual Konosuba shenanigans ensue. Accidentally releasing an all-powerful demon? Check. Adopt a random black cat? Check. Somehow putting a whole caravan convoy in danger? Check. And it wouldn't be Konosuba if there weren't any money troubles (it's half of the series' charm).
The first third of the show revolves around Megumin, Yunyun, and a group of aspiring Crimson Demon mages trying to navigate a "unique" high school life. This is where we see the beginning of Megumin's journey to become a master of explosion magic (which everyone mocks). We also get a better look at the Crimson Demon village, previously seen in Konosuba: Legend of Crimson. After graduation, Megumin and Yunyun set off on their journey, and their first stop is the cult [cough], I mean the religious town of Arcanletia. If you've seen the main series, you know about this place and its "recruitment" tactics. The series then ends with the explosion fiend arriving in the town of Axel, where her explosion magic blows up any chance she has of finding a party. That is until a certain useless goddess and adventurer show up. All in all, the story will keep you laughing and engaged throughout.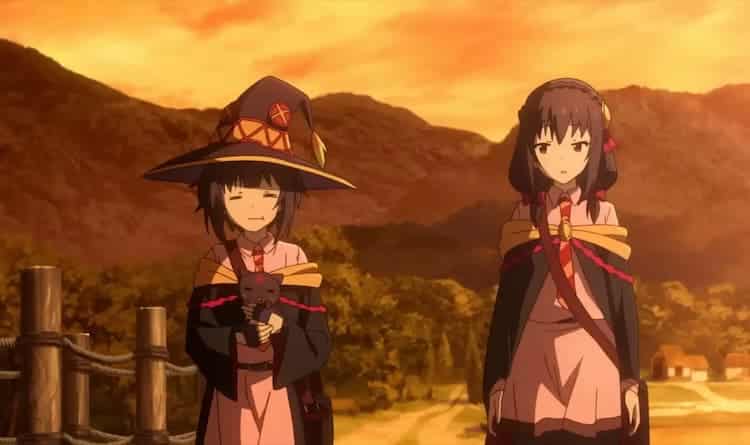 One of my favourite parts of Konosuba is the amazing characters, and it's no different here. Returning characters Megumin and Yunyun are back, and their friendship/rivalry is still a highlight. Erica Mendez and Kayli Mills return to voice these two in the dub, and they put in a voice acting masterclass. Erica continues to bring an unhinged brilliance to Megumin, leaving me rolling in laughter every episode. Kayli, as Yunyun, makes me laugh and feel sad at the same time with her frantic explanations and shyness. A few other characters also return, but I don't want to spoil them; they're funnier when you least expect them.
Aside from the old cast, this series introduces a whole host of new characters that are just as unhinged as all the rest. Some standouts are the Nun Cecily (or Big Sis Cecily as she wants to be called), voiced by Amanda Lee. The loser of the Crimson Demons Bukkorori, voiced by Sean Chiplock. There is also the rather persistent demon Arnes, voiced by Dawn M. Bennett. These additions to the Konosuba world, alongside all the other new characters, were a joy to meet, and I hope some of them return in the main series (I just want Cecily and Aqua to meet).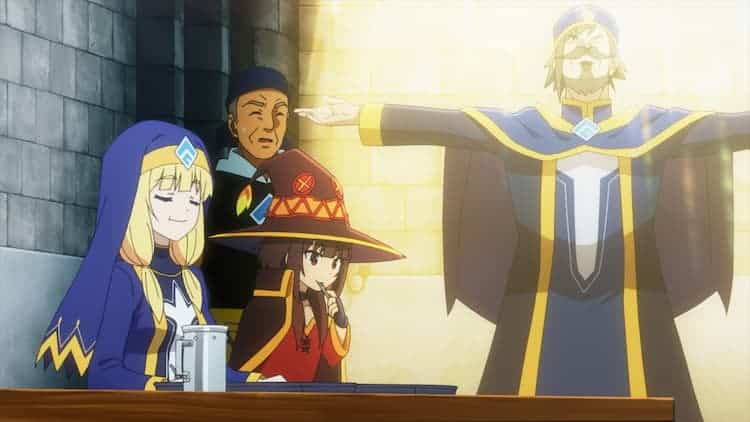 When this series was announced, I was a little worried. Konosuba already had two different animation studios working on it, Studio Deen and J.C.Staff. If you know anything about anime production, you know that a studio change can mean the worst for a show (just look at Seven Deadly Sins). Studio Drive was in charge this time, and I was anxiously waiting to see if this was another case of lowered quality. You would not believe my relief when I saw the first episode, as I witnessed one of the best explosions of the entire series. My doubts were instantly silenced after seeing that magnificent explosion (oh god, I'm no better than Megumin). This quality persists throughout the entire show, and not only the explosions. The characters, backgrounds, and magic all look excellent, with no drop in quality to be found.
The sound design is also incredible. I've already mentioned how the explosions are masterfully animated, but their sound is just as impressive each time. The other magic also has amazing sound effects, especially the healing magic used by Cecily, which has the added touch of a choir whenever it's cast. But nothing tops the explosion. The music, while nothing extraordinary, does the job of further adding to each episode. And that classic Axel town theme is also here, which will bring back so many memories for fans of the original series.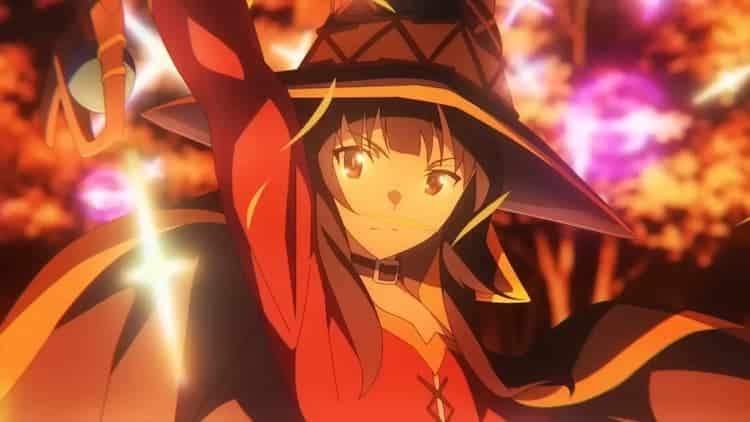 Now that this spin-off series has wrapped up, all my worries for the third season of Konousba have been eliminated. I mentioned earlier that studio changes are normally a curse for an anime, but Drive has proven that the series is in good hands. I hope that Drive adapts the bonus stories found in the light novel. There are some excellent moments in there that I would love to see brought to life, but I won't get too greedy. We're already getting a season 3 after what feels like an eternity.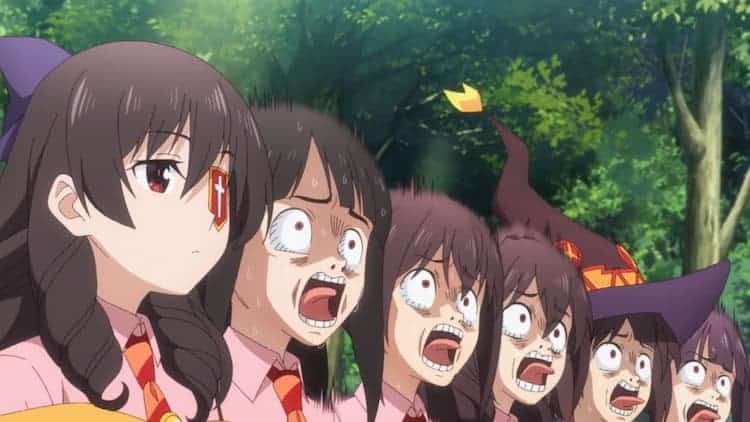 Konosuba: An Explosion on This Wonderful World is an absolute joy to watch for fans, new and old. The story of how Megumin became the deranged explosion maniac we all know and love is entertaining and hilarious. It's always great to see returning characters and the new additions fit right in. The animation and sound design are stellar and alleviate my fears for the series' future. If you haven't checked out Konosuba: An Explosion on This Wonderful World yet, do yourself a favour and watch it right now. And after that, watch the main series for the hell of it; it'll be the funniest thing you watch this year. Konosuba and its spin-off are streaming on Crunchyroll in both sub and dub.
Have you watched Konosuba: An Explosion on This Wonderful World? What did you think? Are you also enthralled with explosions? Let us know in the comments where we can all agree that Cecily likes Megumin a little too much.