Those of us who are gamers–whether that be tabletop role-playing, board games, and/or video games–look up to so many big names in the industry. Neil Druckmann, Hideo Kojima, Matt Mercer, and many more hold special places in our hearts. But we often don't consider the people who are behind the scenes. This series is meant to highlight the people in the gaming industry that aren't currently in the limelight but should be because they're part of the group making our gaming experience the best it can be!
I'm here to make their voices heard and show their talents.

For the third part of the series, I'd like to introduce you to Violet, a queer Twitch Partnered streamer with an amazing community.

Nearly nine months ago, I was part of a Twitch raid from AshleyRoboto to a channel I hadn't heard of before called "ThatNerdViolet." The immense love and excitement Violet shared with her new viewers was so wholesome and inviting that I ended up staying for the entire stream!
I immediately felt such good vibes that, after only a few hours, I subscribed to her channel and have rarely missed a stream since.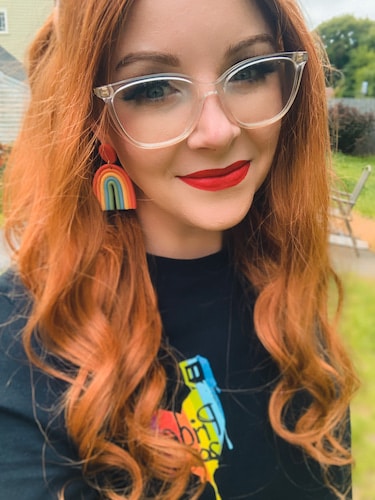 But why did I subscribe so quickly? What made me stick around Violet's stream from the get-go? These are some of the questions I set out to answer when I sat down with Violet to chat about her history with Twitch streaming.
At the beginning of Violet's streaming career, her online handle was actually "VVViolet Delight," which was a play off of Shakespeare's quote, "Violent delights have violent ends." And how cute is it that she went with VVViolet Delight? Eventually, she got sick of the many single letters in the name, and with Twitch's Affiliate Program being launched, what better time for a rebrand? And from there, she became "ThatNerdViolet."

Now onto the adventure: Violet has been an avid livestream viewer for many years. In fact, she was familiar with the platform when it was known as Justin TV, before anyone knew how big the site would become. There was just something she loved about live interactions vs. pre-recorded content, making friendships and connections on the fly, and being able to see people react to things live.
It was truly the showmanship and entertainment aspect and making careers out of being a gamer that was so intriguing to Violet, as someone who has been a gamer since she was six years old.
At the time, her partner (now spouse) was streaming EVE Online between jobs and averaging an astounding 40-50 viewers per stream. It seemed so fun, but Violet was worried she wouldn't be very good at it… But Kip – being an amazing, supportive partner – would never let that stand. "Let's try it out," they said. "I'll get you a camera."

The year before she began streaming was a rough and lonely one, as her mother had recently passed away. It was just her and her father living at home together, and her goal for her streams was to look for friends; it was a search for people who shared her interests and passions. That drive continues to keep her going, even as streaming has become her full-time job. Chat interactions are so important when streaming, maintaining a sort of companionship with the viewers.
One of the greatest things she says to people is: "Even if you don't come by for a few months, I don't mind if you've found a new streamer. If you're prioritizing your personal or professional life, I just want you to know that's okay."
It astounds me when Violet recognizes a name in chat that's not been there for a while! She even encourages us all to use chat interactions to show that person some special love and attention. It's so incredibly special. She really does form friendships and connections through Twitch, and even without the monetary incentive, Violet would still stream to maintain those bonds.
The community she has built is one where not only can we have heavy discussions together, but her streams are an escape for people. Some use the stream for body doubling, making friendships, or just to have a good time in a safe neurodivergent space.
Before Violet was a streamer, she was an English teacher… So what does the transition from a traditional job to Twitch actually look like? For Violet, that means a full stop at 8pm. At that point, she's done with streaming and the behind-the-scenes work. It's time to take care of the house, the dogs, and her spouse. Time away from the computer is important. A traditional 9 to 5 job tends to promote a natural work-life balance, but when you're your own boss, creating those boundaries and rules for yourself and sticking to them is extremely important.
Something that unexpectedly prepared her for streaming was her high school students and their consistent efforts to get under her skin, make excuses, and get out of tests… These experiences prepared her for the trolls of the internet because she had already formed that thick skin and positive communication skills to bounce off those comments.
One of the downsides to streaming is how sporadic the cash flow can be. Some months can be packed with sponsorships and others not so much. It's not as simple as quitting your job and then starting streaming. It's important to have a nest egg or a way to get health insurance from your family because Twitch does not offer any kind of health insurance to its creators. You have to make sure all those boxes are checked. It's also important to set reasonable expectations for yourself because there is a quota to meet before you can get a Twitch payout.
Balance in streaming can feel like a myth because there's always a feeling of "I'm not doing enough at work. Or at home." And that's okay, says Violet. Simply make a list for yourself in Google, notes, or even use a whiteboard. Do what you can without overwhelming yourself. Even if it's just three tasks in a day, just hit those main points and feel proud of your work. If you're unable to do as much streaming as you wanted to in a day, or if you have to end early, don't worry. You also have your personal life to care for.
When it comes to personal time and relationship with her spouse, they are a team. Kip respects what Violet does with her Twitch streams. Violet had been a caretaker for many years of her life and had had their time disrupted, so at 10pm each and every day, they would always do something for "together time." Maybe they watch a movie or TV show, or maybe they play a game. But they always end the evening with time alone together.

As a teacher, Violet was told, "leave your baggage at the door." But streaming is a lot more personal than teaching. It's tough making careful decisions on what to share and what not to share with the world. But after having a particularly serious health scare, Violet adopted a new outlook on life: one akin to something out of a Studio Ghibli movie, romanticizing having coffee, a yummy snack, that first big morning stretch. Every day she is grateful to be here with us, sharing her life and further strengthening connections with others.
For Violet, streaming wasn't something she planned on doing full-time. It just worked out that way, and I know myself and many others in her community are grateful to have her in our lives.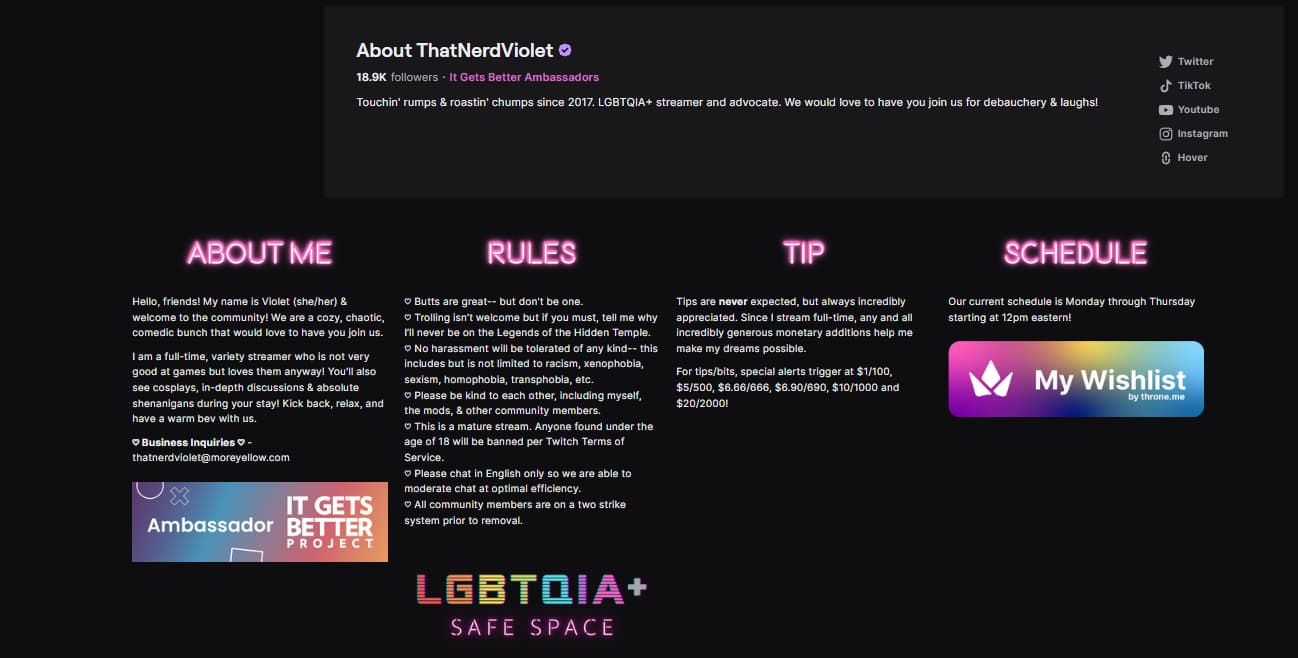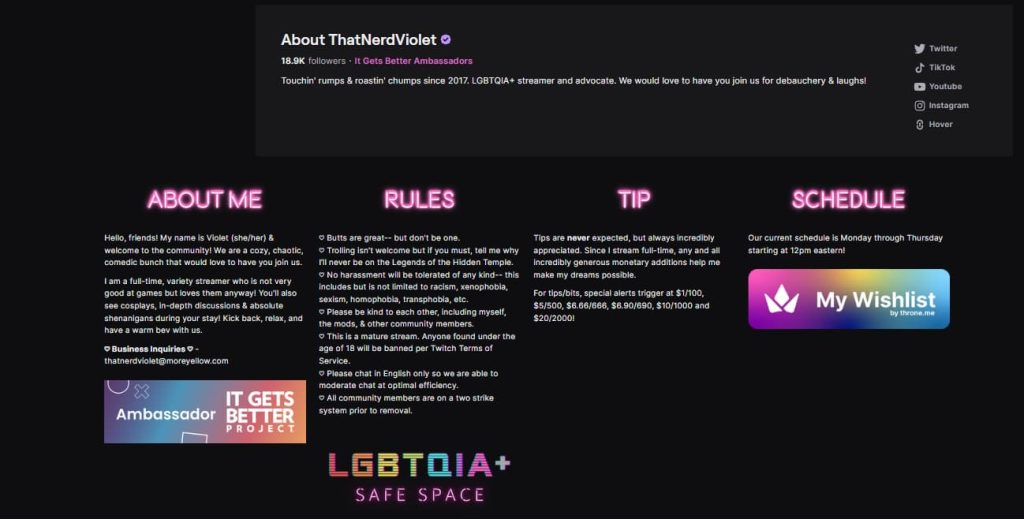 The past six years she'd been on Twitch, Violet had been identifying as straight while she was coming to grips with her own possible queerness. She began to utilize the tag system on Twitch and placed the "LGBTQIA+" tag on her streams which opened up her community to a lot of new and wonderful people.
Once she was ready to come out to herself and her partner, she did so on the internet as well. This ended up being hugely important for her community, and it opened up avenues for her to be an ambassador for "It Gets Better." This changed the channel in a truly positive way, creating a safe, inclusive space for like-minded individuals and bringing a level of kindness and support to people's personal journeys. Those who come in spreading hate and homophobia are shown the door, and if they're the really aggressive type, they're banned from both Violet's Discord server and livestream.
When you come into Violet's streams, not only are you instantly enveloped in love and laughter, but you'll notice something is different… Violet wears wigs! At first, it was a personal safety thing for her and her family, not wanting to be recognized out in the world. Her first ever wig was modeled after Daenerys Targaryen from Game of Thrones. After she wore it several times, she went on Amazon and bought more! There are so many wonderful wigs she wears, and she really does love encouraging people to give it a try!
Her ability to pull off wearing these many wig lengths and colors inspired me to get my own wig for my Dungeons and Dragons livestreams. It really was such a joy to tell Violet how she has inspired me in my own live-streaming journey. (A journey that she has joined me on before! Check out my TTRPG D&D channel here, and Violet's guest episode here!)
Violet has been nothing but inspirational to so many people on Twitch through her true care and devotion to her fanbase. When it comes to Violet's caring community, everyone gets a slice of the pie. (But not IRL, we don't share pizza!)
Please check out Violet through the links above! Make sure to give your favorite streamer a pat on the back for working hard every day to show off games you might be interested in and playing alongside the audience and community. Streaming really is a full-time job, and these entertainers work tirelessly to create content for you!