Spoiler Warning: I'm speculating about what we'll see in House of the Dragon season 1 and beyond. If you don't want to risk possible spoilers, depart!
It's no secret I'm literally counting the milliseconds 'til the August 21st premiere of House of the Dragon. Plus, with the new DracARys app, I've got my own baby dragon and I feel like a true Targaryen, okay? Don't judge me.
So, me and Michelle Holstine (who hits you with regular installments of her series "Boobs, Booze, and Reviews") have teamed up to pick the coolest shots from the most recent trailer. As a fellow Game of Thrones fan and chef of a Flea Bottom Summer Chicken and Vegetable Soup that's way better than a good ol' bowl of brown, Michelle was kind enough to tell me what stuck out to her most in the new footage. With her suggestions in mind, I may or may not have super-watched the trailer at one-quarter speed three times in a row and grabbed some clips of what we're all screaming to see. Let's jump in!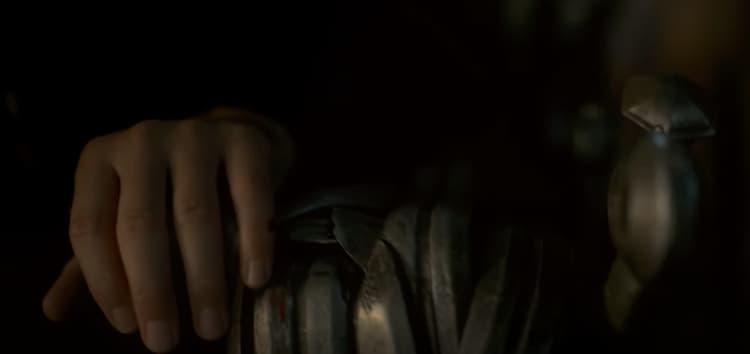 10. A King Should Never Sit Easy
This image might not seem "all that" at first glance. However, this right here is a pivotal moment: Viserys cuts his hand on the Iron Throne. This is a big deal because it's rumored that everyone who injures themselves on the Iron Throne is spurned. The wound gets infected, Viserys grows sick, and without him fighting to keep the balance between the two factions, the Dance of the Dragons takes root.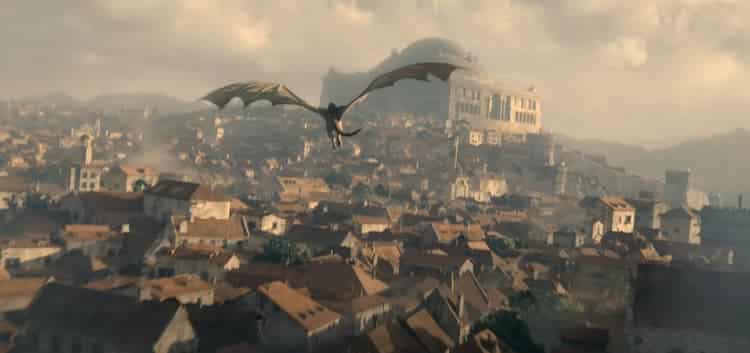 9. The Dragonpit
I couldn't believe it when I saw this shot. Remember that scene when Cersei and Dany finally meet in GOT, and they stage the meeting in the Dragonpit? In HotD, like the Targaryen dynasty, the Dragonpit is in its glory days. Maegor the Cruel built the pit and, to put it lightly, it wasn't such a great idea. While magnificent and very convenient, you can't tame dragons. Raising them in captivity was a bad move, and it serves as a metaphor for the strife growing between the two sides of the Targaryen family. Their forced proximity makes everything worse. But for now, we get to revel in this colossal structure and all the fearsome beasties therein.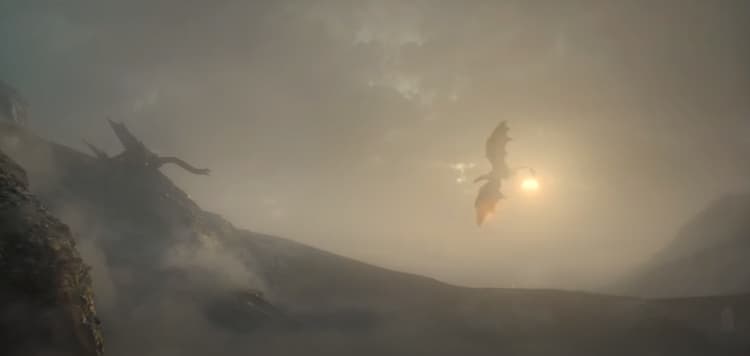 8. The Dragons are Dancing
My best guess is that this is a shot of Caraxes and Syrax, Daemon and Rhaenyra's dragons, respectively. You can actually see the sun coming through Syrax's wings (assuming it is Syrax), which is a magnificent touch making everything look so realistic. Why is this shot so epic? Because it shows that House of the Dragon will give us Dragonstone in all its gloomy glory. When Dany makes it there in Game of Thrones, it's a shadow of her family's legacy. The Dragonstone we'll see in this show is a testament to the Valyrian Freehold, complete with dragons roaming the skies during a time when being named "Prince or Princess of Dragonstone" was an enormous honor that meant said party was the chosen heir. Thus, this peek at some of House Targaryen's most famous dragons definitely topped my list of cool shots.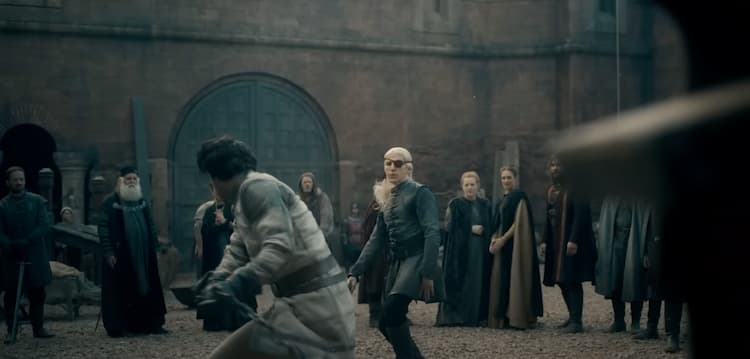 7. Rivalry
Why'd I choose this picture as a cool shot? One word: rivalry. Notice in the trailer that Criston Cole (presumably) breaks Daemon's shield, but later on, Aemond dodges and blocks a similar blow? Suffice it to say Aemond is a major player in this show, and there's a reason that Vhagar (assuming that's the big dragon at the end) was looking at Aemond with that wicked dragon smirk.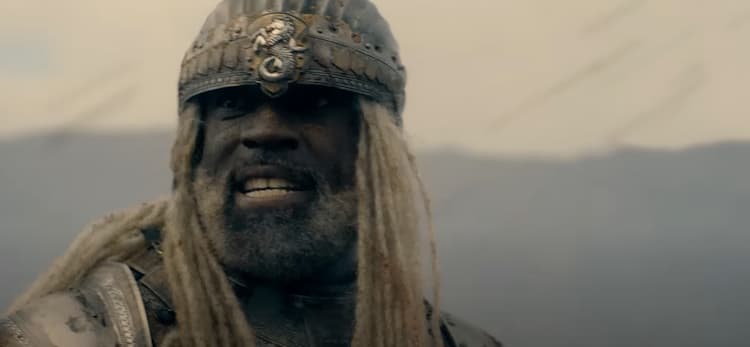 6. The Sea Snake in Battle
This shot is just badass. Corlys joins the War for the Stepstones (more about that later), and I think that's what we're seeing here. He's the head of vast naval fleets, and he's probably leading the ground advances while Daemon flies overhead on Caraxes. The greatest seafarer in the Seven Kingdoms is known for being "wise in peace and valiant in war," and his quest for legacy will not be forgotten.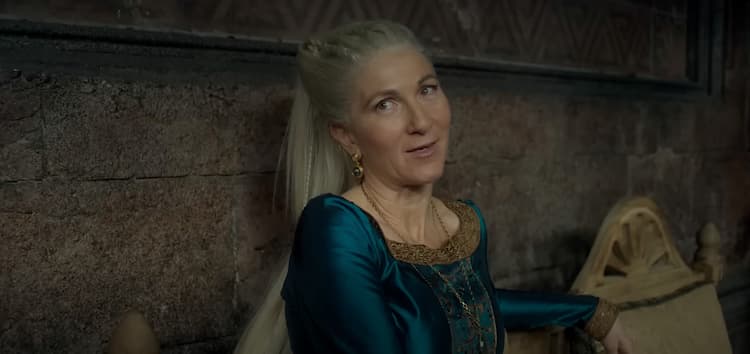 5. Rhaenys
Michelle picked this as one of the coolest scenes because, first off, Rhaenys is known as the Queen Who Never Was, a title that pisses her the hell off. She was next in line for the throne much earlier in the story, but was passed over for the sake of a male heir. All her dialogue in the trailer really sticks out, and we think she'll be a mentor figure for Rhaenyra. Their relationship may shape much of the story through Rhaenys's advice and life experience.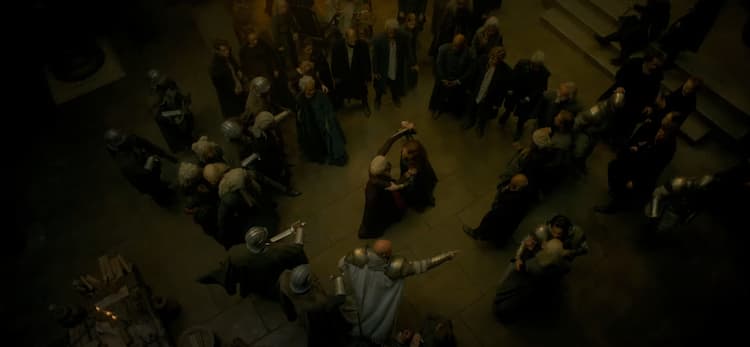 4. The Crux of It All
This shot is incredible. Just incredible. In it, Rhaenyra and Alicent lock together in a violent embrace. It shows the entire point of the show: the vicious power struggle between these two women who will stop at nothing to seize what they view as theirs by rights. Who decides who's right, though? And who deserves the Iron Throne, if anyone? There are no heroes here. In this story, you'll have to decide for yourself.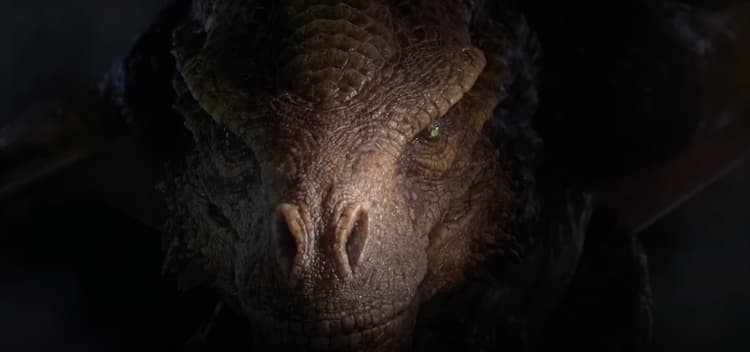 3. Vhagar?
Okay. At first, when I saw that giant dragon foot, I thought we were getting a flashback or dream sequence with Balerion. But based on the show's timeline, that's only a teensy possibility. Thus, I'm pretty sure this is Vhagar. Some think it's Syrax, and, if so, cool. But Vhagar is the largest and oldest living dragon at that time, and I suspect the little kid looking up in the nighttime shot is Aemond approaching Vhagar for the first time. If that is Vhagar, I love how it's almost like she's smiling when she sees Aemond, with this wicked gleam in her eyes. These two together are a match made in hell.
2. Caraxes
Caraxes looks phenomenal. I love the snake-like neck; they really took the nickname "Blood Wyrm" and went with it. You can even see the saddle here, which serves as a reminder of how routine dragon riding was at this time in history. I suspect we'll also see just how important these saddles are as the series goes on…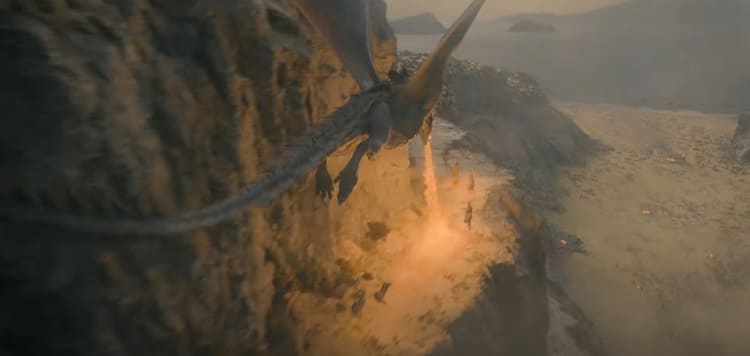 1. War for the Stepstones
Caraxes torching soldiers in this shot is just fire (pun intended). I pictured the War for the Stepstones as gritty and cruel, and it looks like we're getting just that. Daemon's and Corlys's quest to carve a kingdom out of salt and blood looks as grueling and vicious as I expected. Possible finale, anyone?
Are you tuning in on August 21st for the first episode? What are you most excited to see?