Talking Zombies, Hobbits, and Mocap with Nicole Tompkins
Over the past few decades, gaming has evolved from readable text to 8-bit sprites to a cinematic experience. Video game titles now have the same or more depth than a Hollywood Blockbuster. Nicole Tompkins has taken part in the evolution of performance capture or the recording of an actor's movement, voice, and facial expressions to bring an animated or virtual character to life. Her first role as Idril in Middle Earth: Shadow of War was just the starting point. She also has taken on the lead role of Jill Valentine in the Resident Evil 3 Remake. And currently as Daniela Dimetrescu and Elena in the new Resident Evil Village.
I had the pleasure of speaking with Nicole to talk about her career in performance capture, gaming, and maybe we played a game or two to pass the time!
Can you tell us about your acting journey from your beginnings in Middle Earth: Shadow of War to now?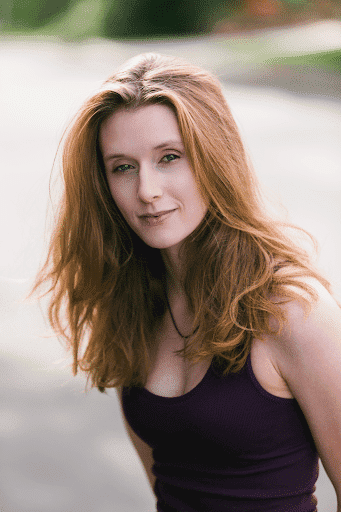 I did a lot of film and TV and started to do voice-over work because my agent told me I am good at doing this. I like to be in the booth and be a silly actor. I submitted 4 lines for a role of a 16-year-old British girl for some sort of fantasy game for an audition. I got a callback afterward in the Warner Brothers lot and thought, "This is the coolest thing ever!" Little did I know it was Middle Earth: Shadow of War. This was my first time doing motion capture. It was a cool experience because I was surrounded by great people to work within the gaming world on the acting side. And I had a great introduction to how the gaming world can be.
I went back to more movie gigs and got the Jill Valentine role in the Resident Evil 3 Remake. I went through the casting process and found myself in Tokyo playing a lead in a Resident Evil game which was a very cool jump. I had so much fun and had the time of my life getting to do that working with Capcom.
The cinematics and motion capture director for Resident Evil Village, Steve Kniehibly, approached me to be in Village since I worked with him previously on the Resident Evil 3 Remake. And he also brought in all the actors who were previously in Resident Evil Biohazard, and Capcom agreed with bringing them in. We came in and worked hard to make something new. And here we are, at the Village, and it was this chaos of an amazingly huge cast of interesting characters, and I am grateful to be in the middle of it. That's what's happening in the game world and in my life right now.
Tell the Replayers about a career highlight that you're proud of from day one to wrap.
I have so many! Definitely being part of the Resident Evil world at all is a massive career highlight. I get to work with such a great company and interact with such an incredible fanbase. I am surrounded by so many talented and inspiring people working in both Resident Evil 3 and Village. It's always the people that you're with that define your experience working on a project.
And everyone who works there wants to be there. That's one of the favorite things I love about working in video games in general. The crew is a fan of the Resident Evil games, the video game industry, and love what they do. They are passionate about what they do, and there's nothing like that!
What is an obstacle that you've come across in your acting career?
I say this all the time when people ask me for acting advice: You get so many No's in the industry, and you learn to not take it personally. You will eventually get a yes if you're meant to do this and you're passionate about it. It's never personal. They never are. And that's interesting since any artist knows how personal their work is to them. And yet, the decisions behind the scenes are never personal. It takes a lot of persistence.
I think one of the challenges I have to overcome is to continue to show up authentically and with optimism, passion, and excitement, knowing there's a chance you will, or you won't get the job. Even when you do get the job, the project may even not see the light of day. Projects shut down for all sorts of reasons. So knowing there's always a unique challenge, roadblock, or setback and just continuing to show up alive and not letting those obstacles bring you down or be cynical. Let it continue to fuel you and what it is you want to do and strengthen you.
Who is an inspiration or an influence in your acting career that you've worked with?
I feel like everyone I've ever worked with grows on me in some way, and I love that about acting in general. I can point to any person that I've worked with and know what I've learned from them or what excites me.
I have so much love and appreciation for Jeff Scheine, who played Carlos Olivera in the Resident Evil 3 Remake, and Chris Redfield in Resident Evil Village. He's such a talented human. We have a lot of mutual respect for each other and enjoyed working together. We have similar values of approaching the craft and in life: showing up with as much humility as possible and always doing your absolute best. I respect him a lot, and there's a lot of ways that he inspires me.
I am also super inspired by Laura Bailey, Troy Baker, Travis Willingham, and Ike Amade on Shadow of War. I was super young at the time, and they just took me under their wing and taught me how to fly. And I did! Troy also directed and acted in Shadow of War and a lot of that dynamic inspired me and that's super cool! These people are incredibly talented.
You can't look at someone like Laura Bailey with her career, personality, and the way she shows up and not be inspired by her. She is also one of the women in video games that made me realize that this is a career that can be rewarding. And more recently, Maggie Robertson, who plays Lady Dimetrescu in Village. I love her so much! There are so many people that inspire me. And that is just on the acting side!
There are producers, writers, producers, booth directors, and all the behind-the-scenes people. And it always takes a village behind any person that has any success or performance that you like. There are so many people that have contributed to who and where I am, and I am indebted forever to just look back and nod and be excited to watch everyone else's success in all sorts of areas in life. That's one of the best parts of doing this.
We took a little intermission and played a game of word association. I used words and characters that are associated with the Resident Evil franchise and here is what Nicole says the first thing that comes to mind:
Zombie
Apocalypse
Nemesis
Neil (Newbon)
Leon
Nick Apostolides!
Ethan
Hands (with a giggle)
Daniela
Having a good day!
Back to our regularly scheduled article!
How are we doing so far? How am I doing so far?
Dandy! We're doing great! We're chilling so far!
We dabbled into performance capture a little. What's been that experience so far compared to traditional film, stage, and screen?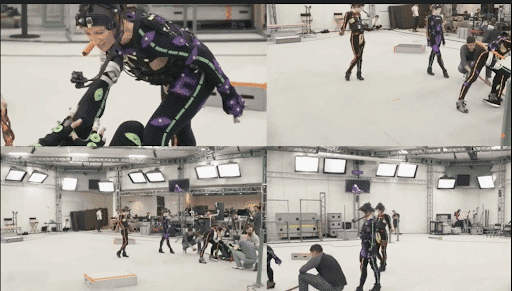 Performance capture is a beautiful marriage between film and theater in many ways. There's physicality involved. You end up doing long takes or full scenes because we're not waiting to move the camera or get a specific angle because any take could be your close-up. In so many ways it's like theater. You're doing a lot of pretending. You're with objects that don't look the way that they will. It takes a lot of imagination.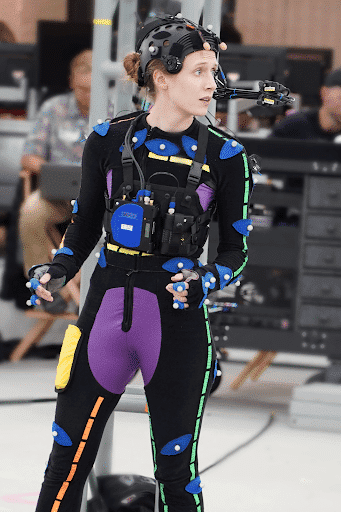 Simultaneously, there's something incredibly cinematic and technical about performance capture. We're wearing an incredible amount of technology on our actual persons. And there are specific marks and places you end up having to hit. Or ways to look or be there at this moment. So timing becomes a thing. Starting and stopping positions. Doing your T-Pose before and after a scene. Much like a film set, it can get really technical when it comes to how it operates
I have been very lucky to just be in a lot of sets that value the story enough to feel like we're actually making a movie. Every performance is important and has this grounded naturalism. These games are turning into playable movies with incredible cinematics and emotionally driven stories and concepts. And I think it's really cool because it gives us that much more material and depth to work with and dig into.
Check out the video below on how a performance capture session can turn into a cutscene in a video game-like in Resident Evil Village:
What are some memorable moments to share when you did performance capture?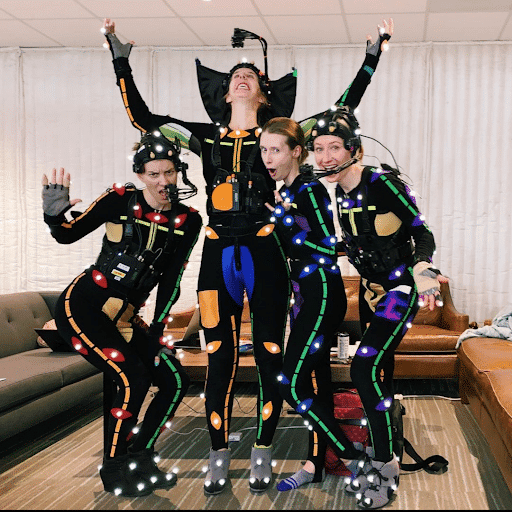 I definitely have some fond memories of when we do our ROM (Range of Motion) in the morning. That is when I get my suit, connect the dots to our character, and track all the dots for the day on our person. We had some ROMs where we would end up doing a little dance to get the dots all lined up. There's music on, and all of us do the motions at the same time. It's a hilarious adventure of joy and silliness of us all in these wetsuits with velcro everywhere just jamming out to some intense song.
That and freaking mocap heels are a thing! There are always mocap shoes. But we had mocap heels because walking on heels changes how I physically walk. So for Daniela, Alcina, Cassandra, and Bela Dimetrescu, who are the witches in Village, we had to wear heels for the whole day. One because they're very tall, and two, there is an in-dresses kind of movement. And that was kinda fun. My feet are done by the end of the day for sure! I would be like, "All right, cool. Kick 'em off. I'm done! I'm out!"
Tell us about how you approached the role of Daniela as you do your performance capture during Village.
I felt like we were deciding on the day what these characters were going to sound like and how they walked. These ladies are very flirtatious and intentional on the part of the writers. For Daniela, it was pretty easy. She's clearly kind of disconnected from reality, and like I said: She's having a good day! She's incredibly flirtatious and wants the player's attention, not desperate for it.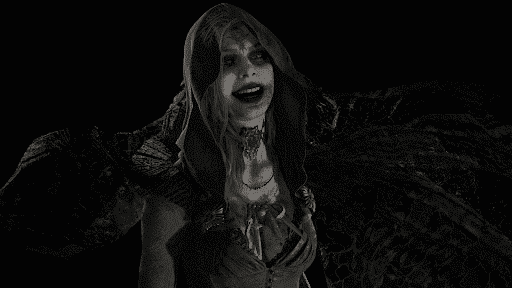 There were days where I coordinated with Bekka Prewitt, who plays Bela, and Jeanette Moss, who played Cassandra. We wanted to show up as individuals but also as a cohesive thing because they look similar. A lot of people got them mixed up based on how they looked. But we knew our subtle character differences, and we had room to work with. Along with Maggie Robertson as Alcina, the head of the house, it came together as a cohesive unit. In the game itself, the team did a fantastic job of adding Easter eggs throughout the entire castle that teaches the player more and more about who they have been throughout time.
You've been part of legacy franchises like The Lord of the Rings and now Resident Evil, is there a wish list for future roles or a particular studio that you would like to work with?
Let's be real: I would like to work with Naughty Dog! I played all of the Uncharted series and The Last of Us. They are just so groundbreaking in everything they do. They have fantastic talent, artists, and people. They find ways of evolving their games and create compelling stories and, specifically, interesting characters. Whether it's a light, levity-filled character like Nathan Drake or super serious like Ellie, you can't look at a character in a Naughty Dog game and not say, "That's interesting." The worlds they create are deep, layered, and emotional as well as entertaining. They're a fantastic studio and I would love to hang out with some close people at some point.
I would also love to work with new, original IP's. It's fun how original IP's start, and there's something compelling about it like The Last of Us, Horizon Zero Dawn, and even Control. I love how a new world is created that is unique. I have had the pleasure of working on legendary IP's. And there is something so satisfying about that because I came from an established world and fanbase. I throw my best at it and be like, "Hey, this is my version of this thing!" And, thankfully, I am warmly welcomed by everyone who enjoyed those games. But as far as being part of a new IP, that would be satisfying and cool for its own reasons. There's something in my future and I don't even know what it is yet!
Which franchise made you nerd out more: Lord of the Rings or Resident Evil?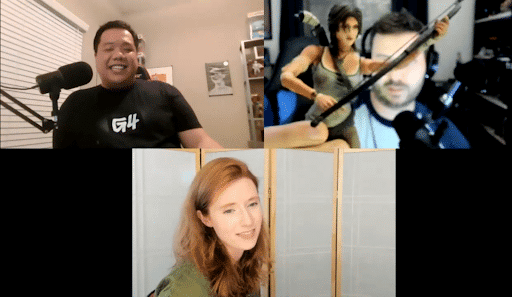 Jill Valentine is the coolest role I've had the joy of playing, let's be honest. However, I will throw it to Shadow of War. There's nothing like walking in your first video game role being a Triple-A Lord of the Rings game. I was like, "I'm sorry, what? That sounds amazing! Really?! Is that what we're doing?! Okay, cool!" There's something about it that made me so giddy inside.
Even with Resident Evil, I knew it was a big deal when I booked the role (for Jill). I was super excited to take it on and be part of it. But I didn't have much context of how immersed I would end up with the Resident Evil community and the fans and how expansive that would be. Especially when Resident Evil 3 came out, we were heading straight into lockdown for COVID. So I ended up with all this time connected with all these humans online that were playing this game and enjoying it! The age range of fans is incredible, from nostalgia players who loved the games from the '90s to new players who are discovering it for the first time. It's an incredible diversity of people, and I think that's really special.
What have you been playing recently that you have enjoyed?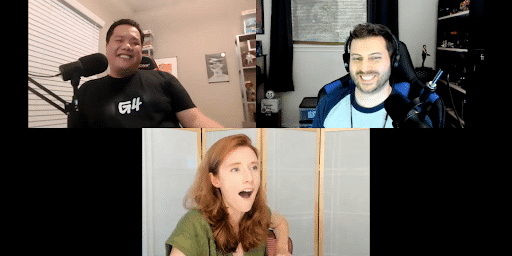 I've been playing a lot of stuff on Twitch. I love bringing the other cast members from Resident Evil Village and playing along with them on Twitch which is super fun! I play them because I want to see our performances and celebrate with the people that are involved. Also, people online suggest games I can play and make a list out of it. I also played the Tomb Raider trilogy on stream but out of order accidentally! Someone gifted me the third game (Shadow of the Tomb Raider) thinking that it's the first in the series. It was the person's favorite game of the trilogy. As I was playing it into Act One, I told my chat that I feel like I might be missing some context! Chat replied, "You're playing the third game, Nik!" I was like, "Oh. Okay, cool." So I played the third one, then the first one (Tomb Raider), and now I'm playing the second one (Rise of the Tomb Raider), and I'm enjoying the second one. I love the Japanese island of the first (game). But it felt claustrophobic and that was their intention.
What do you want to share with the Replayers what you're currently doing and where can we find you on socials?
If you want to come hang out on a stream sometime, I have been streaming Resident Evil Village and bringing a lot of the cast members from that particular game lately. You can find me at www.Twitch.tv/nicoletompkins.
Or come say "Hey" on Twitter or Instagram: @nikileetompkins on either. That is where I get to post new projects and exciting things when I can do that. Until then, Love will be there and you'll find out when the time is right!
During the interview, we added one more game to close out. Fellow contributor Daniel Morris and I wrote suggestions and put them in a hat. Nicole acts out the scenes based on those suggestions. It's reminiscent of the segment on the TV show "Whose Line is it Anyway?" The suggestions are Resident Evil, entertainment, or pop culture related. Let's see how she did:
Thanks again Nicole for interviewing! Also huge thanks to Daniel Morris who helped facilitate this interview.
Have you heard of Nicole Tompkins before this interview? What stands out from her growing career in gaming? Let's hear them in the comments and talk about it!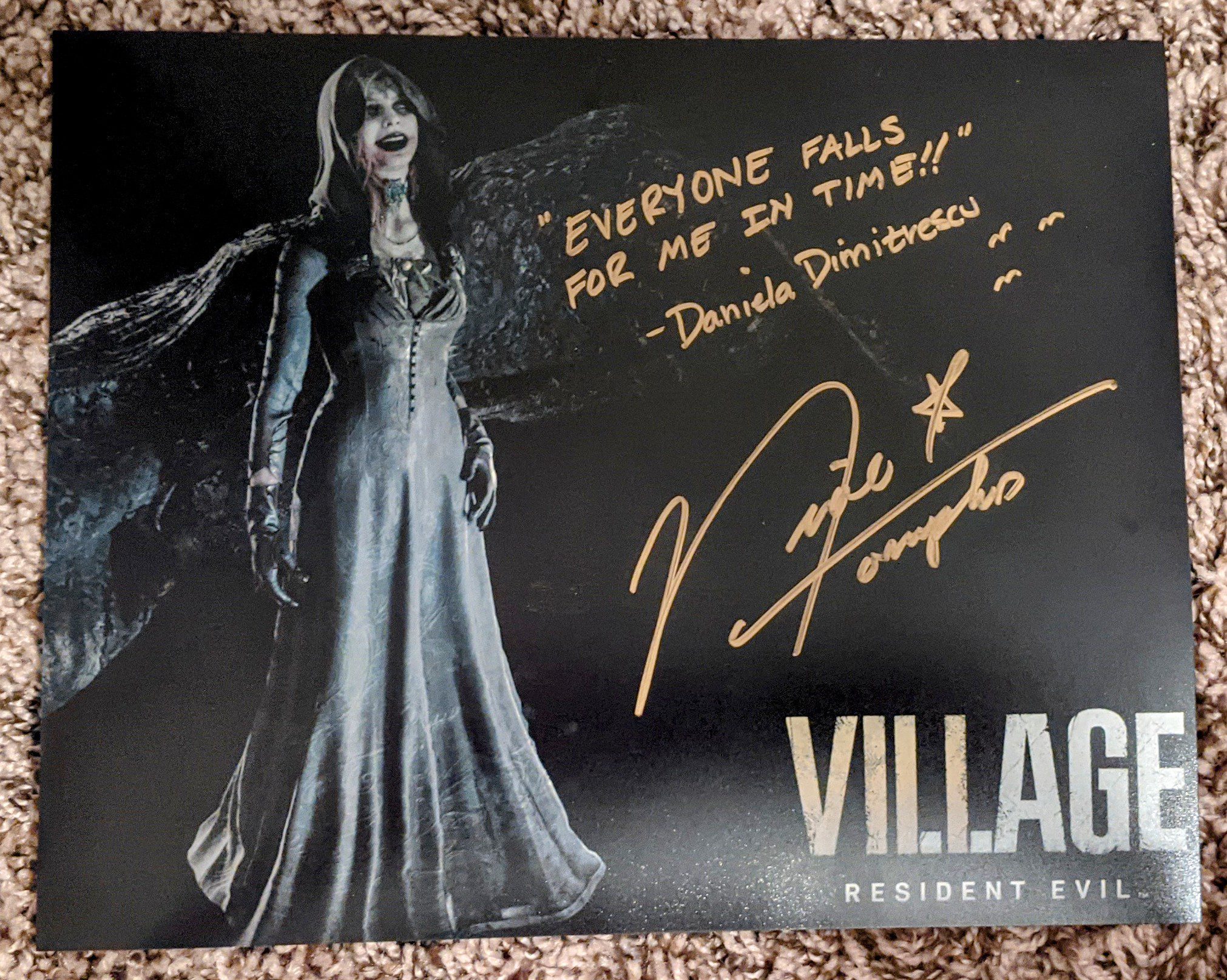 Also here's your chance to win an 8"x10" Daniela Dimetrescu print signed by Nicole Tompkins (valued at $50)! Enter below.